Now that most Los Angeles County residents have received their ballots for the June primary election, it is time to address one of the most significant races in the state of California, namely the contest to see who will lead the LA County Sheriff's Department for the next four years.
Will the present sheriff, Alex Villanueva, be given the go-ahead by voters for a second term?
Or will the person who is arguably the most controversial law enforcement leader in the nation be ousted by one of his challengers?
If Villanueva does turn out to be limited to a single term, first he will almost certainly face a runoff in November.
But against whom?
To better consider that question, here's a look at the pros and cons of the top six who wish to replace Sheriff Villanueva.
In no particular order they are:
Robert Luna
Earlier this month, the LA Times surprised a lot of LASD watchers by endorsing former Long Beach Chief of Police Robert Luna. Luna has a solid background in law enforcement, in particular at the Long Beach Police Department, where he climbed the promotional ladder from patrol officer to chief, rank by rank, in order to lead the department for seven years.
Now he wants to lead the LA County Sheriff's Department.

So is Robert Luna the best person to heal and reform the nation's third largest local law enforcement agency?

Well, the LA Daily News seems to think so since, as of Monday afternoon, May 16, the Daily News seconded the LA Times' opinion by announcing its own endorsement of Luna.
"Enough of the nonsense," the Daily News editorial board wrote. Then, when referring to some of the present sheriff's recent actions, the DN board pointed to what they described as Villanueva's "incoherent thuggishness."
Okay, so let's look further into what kind of alternative former LBPD chief Luna would provide.
Long Beach is a big and complicated city, the seventh largest in the state, but it cannot compare in complexity to Los Angeles County, where the LASD—among other things— oversees the nation's largest jail system, and provides policing for nearly half of LA County's 88 cities, in addition to protecting and serving the county's sprawling array of unincorporated communities. It also supplies security for the the county's Superior Court system, polices county parks, and provides the search and rescue teams that will helicopter you and your loved ones off a mountain top or out of a ravine, if you need it.
Of course, none of this means that an outsider can't successfully lead the the multi-faceted department, at least in theory.
Before Alex Villanueva, we had Sheriff Jim McDonnell, an extremely bright and experienced law enforcement leader who also came to the LASD from Long Beach PD. And prior to LBPD, McDonnell spent decades in the Los Angeles Police Department, rising to be one of the three Assistant Chiefs of the agency under Bill Bratton.
After Bratton, McDonnell was on the final shortlist for chief, although in the end the nod went to Charlie Beck.
When he came to the LASD, however, McDonnell walked into a poisonous culture that was created by the unholy combination of Lee Baca and his shadow sheriff, Paul Tanaka.
In many ways, McDonnell was the needed and capable breath of fresh air when he came into office, and most department members initially welcomed him. Yet, according to many department watchers, McDonnell made the mistake of not immediately surrounding himself with a command staff that was able and willing to show him the huge and gaping bear traps in his path.
And that failure cost him.
In contrast, when eastern cop Bill Bratton took over the Los Angeles Police Department, post Rampart scandal, he surrounded himself with the best and the brightest of those who wanted his job as chief (including McDonnell), and encouraged them to disagree with him when they thought him wrong. He was secure enough to do so, and the LAPD benefited.

If Luna wins, he will walk into a situation that is every bit as swamp-ridden and alligator-filled as that which McDonnell faced.
So, is he up to it?
It's encouraging that Luna has such endorsers as superstar Long Beach Mayor Robert Garcia, and justice-savvy Congressman Tony Cardenas, plus a long list of community leaders and policy makers in the city he served as chief.
And, during his time at LBPD he supported such innovative programs as a Long Beach initiative called the Justice Lab, which aims to divert people away from lockup and into community programs, education, and wraparound services.
Yet, Luna positions himself as more crime fighter than reformer, which is fine up to a point. But there are areas during his tenure as LBPD Chief, which suggest Luna may not have always managed to rein in his troops when they needed reining.
For instance, as Frank Stolz at LAist pointed out, after the 2020 death of George Floyd brought renewed attention to the use of the problematic carotid restraint, Luna banned the use of the strategy, but he did so later than many other police departments. And, according to the Long Beach Post, in the three years prior, between 2016 and 2019, the LBPD used the hold to subdue people more often than any other large police agency in the state.
Also, on the topic of the difficulty of cleansing toxicity from a department's culture, a February 2022 report by SPECTRUM reporter Kate Cagle describes an alleged ongoing instance of extravagant racism under Luna, which calls for more questions and more answers.
So, is this the person best suited to handle the LA Sheriff's Department's deputy gang problem, and other daunting challenges, while gaining the respect of the rank and file, and repairing the disastrously torn relationships with LA's communities?
He presents himself as skilled in building relationships with the various constituencies he served in Long Beach, and wants to do the same in the larger arena of LA County.
However, in order to be the sheriff LA County needs, we'd like to see Robert Luna map a firm and detailed path for change at the LASD, which includes what kind of people he would place on his command staff to help him.
On his campaign site, he lists priorities, but they are not detailed.
And his presentation at the candidates' debate sponsored by the two LASD employee unions (which we urge you to watch) did not really light up the room.
But in other interviews he's been stronger.
" Unlike the current Sheriff, I will be transparent with all community partners, especially the Civilian Oversight Commission," Luna says on his campaign site. "We will listen to all thoughts and concerns from the community and work with them to create necessary reforms. That is what I have done as the Chief of Police in Long Beach, and that is why I have the support and confidence of the community of Long Beach. It is my duty as a public servant to respond to the public respectfully, reliably, and truthfully."
If he is elected, and can accomplish those clear and simple goals, it would be a great relief.
Eric Strong
If Robert Luna is does not have a detailed platform that lays out the changes he would make, Eric Strong does.
LA County Sheriff's Lieutenant Eric Strong is the son of a cop, married to another cop who is a member of the LASD. After serving as a Marine, he began his nearly-30 year career in law enforcement, which began as he followed his father into the Compton PD, then moved over to the LA County Sheriff's Department when the Compton force was disbanded.
Contrasting with his years in law enforcement, Strong tells of his personal experience as a victim of crime, has family members who have been incarcerated and killed by law enforcement, and describes his own had negative interactions with police, which he says he believes gives him the perspective to lead the LASD "at this critical time."
The statement is given some credibility by the fact that, along with Cecil Rhambo, he has the most detailed and persuasive reform platform.
For example, he had this to say when WitnessLA asked him what he would do to address the problem of deputy gangs, a goal that is a prominent part of his "priorities."
"We have to stop beating around the bush," Strong said. "We have to stop acting like they're a social club, or a softball to team."
One of the things the LASD needs to do, he said, "is make it so that deputy sheriffs who come forward about misconduct they've witnessed, are not the ones that are ostracized," but rather are the ones who are "recognized and praised for doing the right thing."

He was equally thoughtful about the issue of innovative community policing, and improving the LASD's relationship with its contract cities, and more.
There is, however, one problem in electing Eric Strong as the next LA County Sheriff. Strong is a lieutenant.
He has worked in a lot of areas of the department, and served as an acting captain. But he hasn't climbed higher than lieutenant on the LASD ladder.
So does that matter? Well, yes and no. It depends on whether or not he gets the right help.
As one experienced LASD source said of Strong, he "has command presence," but not command experience. Yet, if he's wise, said the source, he may be able to fix that lack by surrounding himself by the right people, and telling us how he plans to do so.C
Cecil Rhambo
If we are looking for the strongest CVs among the candidates, that prize goes to former Assistant Sheriff Cecil Rhambo. When he retired from the Los Angeles Sheriff's Department, he was an Assistant Sheriff. This mean that, save for the sheriff and the undersheriff, Rhambo was at the top of the LASD ladder.
Plus he has had genuine breadth of experience within the department, working as the captain of the Compton patrol station, after the city voted to disband its own police department. During his three years in this role, crime came down, and community involvement seemed to rise.

He also developed the LASD's Community Oriented Policing Bureau.
After the LASD, the former Assistant Sheriff was hired as the Assistant City Manager for the City of Carson, then City Manager of the City of Compton.
At the moment, Rhambo is the Chief of the LAX Police.
He also has an impressive list of supporters, and a detailed reformist platform that appears to be well thought out. Plus, his depth of experience suggests he has a realistic grasp on the campaign promises he is making.
And yet…and yet…
The glaring problem with Rhambo, is the fact that his closet is loaded with skeletons. And a great many of those skeletons are named Paul Tanaka, the notorious undersheriff of the LA Sheriff's Department, whose pay-for-play, with-me-or-against me, work-in-the-gray ethic was ruinous for the majority of hardworking, decent, and courageous deputies who came to the LASD to protect and to serve. Tanaka was eventually tried and convicted in federal court, and sentenced to five years in federal prison.
But when Paul was at the height of his powers, Cecil Rhambo was his right hand guy.

Yet, if in other critical ways Rhambo is the right person for the job now, should we eliminate him?
That's the critical question.
People can change. And we are a culture that rightly values redemption.
But to truly change, one generally needs to admit to one's mistakes. And, as far as we know, Chief Rhambo hasn't done that. At least he hasn't done so publicly.
Plus when he references the Baca/Tanaka years at all, he paints himself in a positive light, pointing out that he testified against Baca at the former sheriff's federal trial.
"I spoke truth to power," he says of that period.
Yep. But it isn't that simple. He also was also reportedly teetering on the edge of being indicted himself thus, when he was called to testify in front of a grand jury, he wisely told the truth—which later led to his in-court testimony against Baca that, in turn, reportedly helped to sway the jury in their decision to convict the former sheriff.
On the other hand he did, in fact, tell Lee Baca not to "f*ck with the FBI," when Baca was busy doing exactly that. So, yes, Rhambo did at times engage in truth-telling to power, although "power" stubbornly failed to listen.

One more thing. Out of his very lengthy and impressive list of endorsers—easily the largest of any one of the challengers—there are a number of well-respected justice advocates and high profile civil rights attorneys, who watched in real time how Rhambo enforced many of Paul Tanaka's malignant directives. In other words, they are clear-eyed about Rhambo's past.
Yet, they are supporting him anyway.

Eli Vera
Former LASD chief Eli Vera has recently retired from the department and became a whistleblower. His retirement also came after Sheriff Alex Villanueva punitively dropped Vera's rank to from chief to commander once Villanueva learned that Vera was going to run for sheriff against him.
Vera is experienced as a law enforcement leader, and very well-liked in many quarters, less liked in others. Like Strong, he is married to a member of the LASD, a sergeant who is also now retired.
Eli Vera has an interesting background. He was born to Cuban mom, who fled the Castro regime to come to Los Angeles, where she raised Vera as a single mother. After graduating high school at 17-years-old, Vera enlisted in the Marines and served as a Presidential Honor Guard. Four years later, at 21, he joined the Los Angeles Sheriff's Department, where he remained for 34 years.
After doing his requisite time in the county's jail system, Vera worked primarily in the most crime-challenged stations in the department's Central Division.
Three decades later, while he is not a firebrand reformer, he positions himself convincingly as an enlightened law-and-order leader, ready to take command should he be elected.
"My 33 years of service have taught me that we can't arrest our way out of the conditions that allow for violent crime," he says on his website. "Preventing crime is the only way forward for public safety today and sustained public safety tomorrow."

The main criticism of Eli Vera has to do with the fact that, in order to advance in the department, he has often aligned himself closely with whomever is in power, namely Lee Baca, Paul Tanaka, and eventually Alex Villanueva.
At the behest of Villanueva, Vera became a significant part of the ill-fated, fiscally costly, and seemingly never-ending attempts to rehire former deputy Carl Mandoyan. (If by some chance you aren't familiar with the Mandoyan saga, you can catch up here.)

Yet, at the same time, WitnessLA has talked to a list of department members, both men and woman—from whom Vera had nothing to gain—who have described the ways in which the former chief gave them good advice and encouragement when they most needed it, while also admitting to some of his own early mistakes—all good qualities in a leader.
Eli Vera has a reasonable list of endorsements, the most significant of which is the endorsement bestowed on April 13, by the Professional Peace Officers Association or PPOA, which is the union that represents those who work at a supervisor level in the LASD. The PPOA endorsement is important mainly because it likely brings with it a noteworthy pot of money.
And while we're on the topic, at the moment, Vera, Rhambo, and Luna, reportedly have pulled in the the most cash of the challengers, which they will need should any one of them make it into the runoff with the sheriff.

Britta Steinbrenner
Britta Steinbrenner is intelligent, experienced, and reportedly respected by those who work around her. And it would be extremely refreshing to have a woman running the department.
A 35-year veteran of the department, when she retired earlier this year to run of sheriff, she was the captain of the County Services Bureau. Her responsibilities were to oversee a 450 person staff who provide building security and law enforcement services for six county hospitals, 85 libraries and 320 county buildings…and more, including the oversight of a $140 million budget.
She was smart, articulate, and likable at the January candidates forum put on by PPOA and the deputies union, ALADS. Yet, despite her rank, her experience does not have breadth, she is reluctant to criticize the sitting sheriff, and she has not gathered anywhere near the level of support that Luna, Rhambo, Vera, and Strong have acquired.
(By the way, the forum, a recording of which you can find here, is very much worth your time to watch if you'd like to see the candidates and the sheriff all together.)
Matt Rodriguez
Last but not least is Matt Rodriguez, who held the rank of captain when he retired from the LASD after 25 years with the department.
(For the record, there are also two other candidates who filed to run, but they have done little more than get themselves on the ballot. They are LA County Parole Agent April Saucedo Hood, and LASD Sgt. Karla Carranza.)

Rodriguez, who is far and away the most politically conservative of the above group of candidates, comes from a family of LASD veterans, with a father and brother who both served for over 30 years in the department.
But, like Steinbrenner, although he has plenty of relevant experience, including other supervisory positions in law enforcement outside of his time at the LASD, Rodriquez has not gathered anything close to the needed supporters to potentially go farther in this exceptionally important race.
So here's the deal.
None of the four top challengers are perfect. Few of us are.
Yet, they are all talented, and they all make a good case for what they can bring to a department sorely in need of a strong, sane, capable leader.
All this brings us back to the present boss of the Los Angeles Sheriff's Department, Alex Villanueva, who reportedly has far more cash in hand than any of those who want his job.
Although, post LA Times endorsement, Luna's $$ total has been rising. For example, on May 13, a PAC supporting Luna received a donation of 500,000 from the Katzenberg Family Trust.
And, presumably using a bit of his cash, on Monday of this week Villanueva put out his newest campaign video, which showed him walking slowly down the aisle of a dimly lit Catholic church. Eventually he stops, kneels, and prays.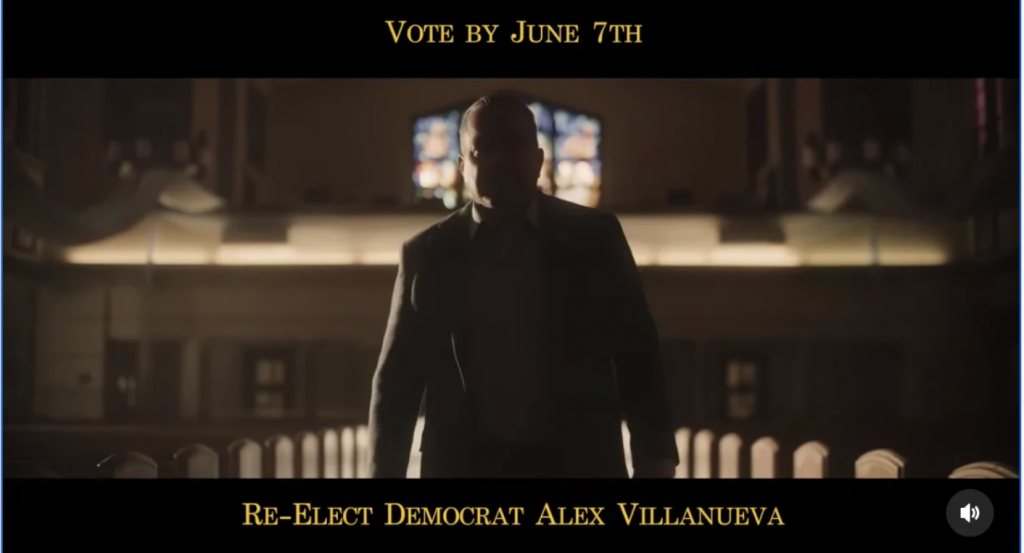 "Lord, give me the strength to protect the public from violent crime … give me the humility and patience to not let the naysayers discourage our brave women and men from serving with honor," Villanueva says in the ad.
Images of stained-glass windows, religious statues and pews are shown amid the background noise of police sirens.
According to the Archdiocese of Los Angeles, the sheriff filmed the video inside Saint Alphonsus Catholic Church on Atlantic Blvd. in East Los Angeles, and did so without seeking or receiving the required permission to do so from the Archdiocese, which they would not have given as it would violate their non-profit status.

On Friday 5/20/2022, the ad vanished, reportedly" frameborder="0" allowfullscreen> due to objections from the Archdiocese.
In any case, please vote.