The Verdict
On Wednesday, March 15, a few minutes before 2 o'clock in the afternoon, an eight-man four-woman jury sent a note to U.S. District Court Judge Percy Anderson indicating that, after deliberating for approximately fourteen hours, the twelve had reached a unanimous verdict in the trial of former Los Angeles County Sheriff Lee Baca.
Once the lawyers, the defendant, and everyone else who could fit in the courtroom had assembled, the jury foreperson handed the court clerk the requisite paper form containing the verdict. From the clerk it went to Anderson. Once Anderson glanced at the form, it went back to the clerk who read the jury's decision aloud.
For the charge of conspiracy to obstruct justice, the jury finds the defendant: guilty. Obstruction of justice: guilty. Making false statement to federal investigators: guilty.
The "guiltys" hit the courtroom air with the psychic force of mortar fire. During the reading, Baca was at first erect and largely expressionless in his well-tailored dark brown suit. But, as the guilties continued, despite the habitual control the former sheriff exerts on his facial expressions, he appeared to be stunned, his lips slightly parted, his gaze inward facing, as if a firecracker had exploded unexpectedly behind his eyes.
During the reading, Baca's wife, Carol, sat alone and very still on the second bench on the defense side of the courtroom. Eventually some Baca friend came to sit next to her, but it took a while. Finally, David Hochman, the corporate attorney brother of lead defense attorney Nathan Hochman, came to sit on Carol Baca's other side. The brother is an outgoing man who had been there every day of the trial, and his protective gesture seemed genuine—and welcomed.
---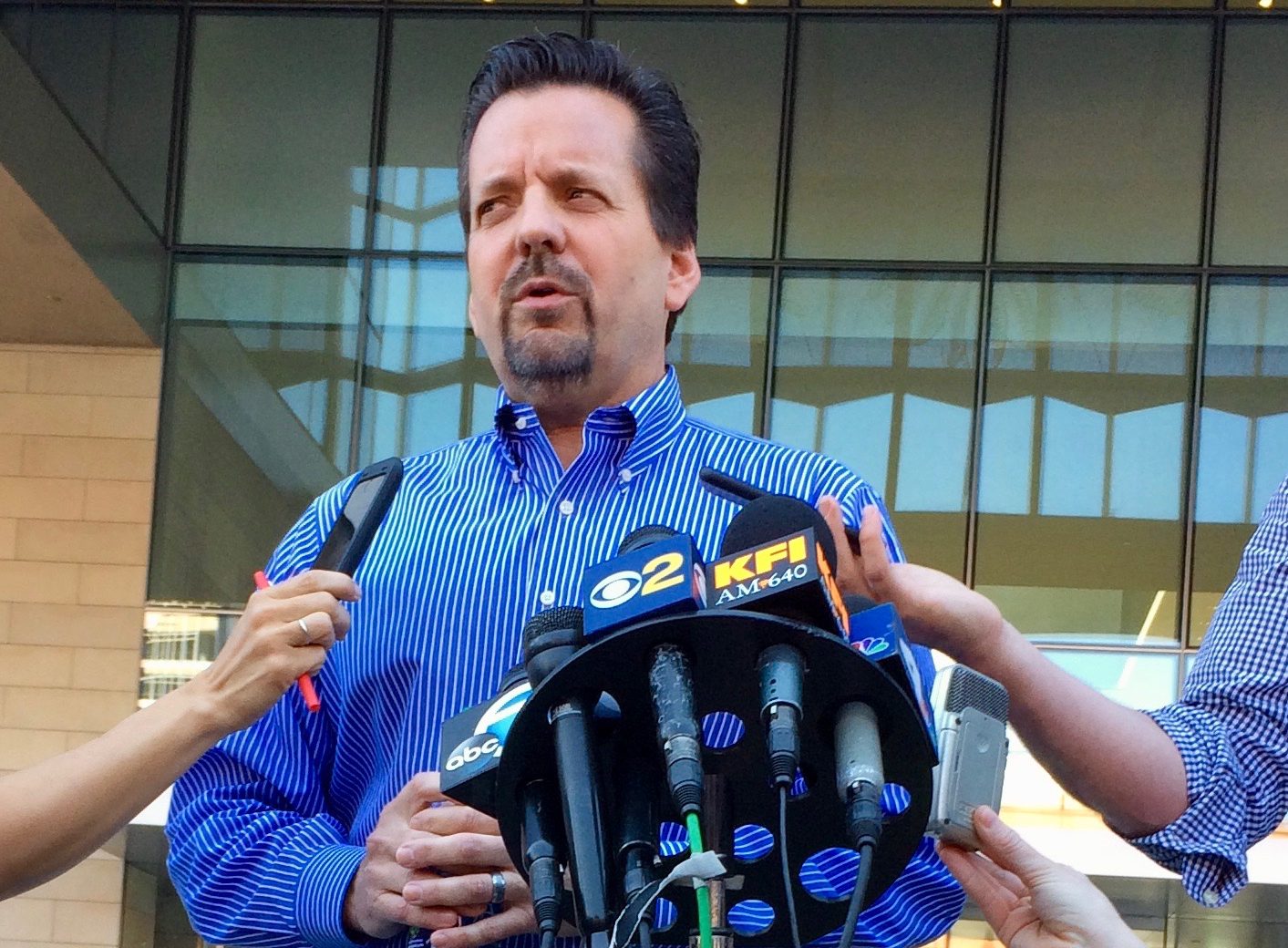 The Juror
Post verdict, the jury foreman made himself available to talk to reporters outside the new federal court building located at the corner of 1st Street and Hill, which opened for business in December of 2016. The foreman was 51 years old and would only identify himself as Juror No. 8, although he did admit to working in "sales." (Because of the high profile nature of the Baca trial, the jurors were anonymous, and went only by numbers.)
No. 8 said that on Tuesday, when the group took its first unofficial vote, eight of the jurors were already in the guilty column. On Wednesday, the remaining four each took the floor and presented their reservations, the foreman said. "And we very methodically went through their questions, and listened."
When explaining the panel's process, No. 8 praised his fellow jurors repeatedly. "I couldn't pick a better group of 11 people to spend that time in the jury room with."
Asked what persuaded the not-guilty four to move to the guilty column, the foreman said there was no one fact that turned the tide, but that everyone seemed to have his or her own "aha moment."
Yet, he said several times, as a group, they were quite affected by the testimony of former assistant sheriff Cecil Rhambo.
Rhambo, if you'll remember, testified that he told Baca not to "f— around with the feds," that the FBI's contraband cell phone was perfectly legal, and if the LASD threatened any FBI agents "that's obstruction of justice."
"Rhambo took the highroad," said the foreman. "He said, 'What you are doing is not correct.'"
According to No. 8, although he and his fellow jurors were now convinced that Baca had committed crimes, they didn't find the former sheriff unsympathetic personally. "We felt he was trying to protect his empire," No. 8 said of Baca's motives, "the one he worked so hard to attain."
On the other hand, he said the panel was clear on what they perceived as Baca's responsibility for the illegal actions of those under his command. "The leader runs the ship. He made the choice to be there."
When asked about the larger meaning of the high-profile trial and the jury's verdict, No. 8 had a ready answer. "Doing the right thing isn't easy. A lot of times we don't want to stand up and say something's wrong. People want to follow their leaders. But sometimes that's not necessarily the correct path."
With this in mind, the foreman said the jury was particularly interested in the testimony of the four department members who had themselves been indicted as a consequence of the orders they followed.
Just before leaving, No. 8 added that, as a lifelong resident of LA County he still thinks the LA County Sheriffs "do a heck of a good job and, a lot of times they don't get the respect they rightfully deserve. I'm still proud to say they're my sheriff's department."
Yet, when a reporter asked if there was a particularly persuasive part of the defense's argument that caused him to momentarily wobble as he moved toward a guilty verdict, he answered without hesitation.
"For me personally?" said No. 8. "No."
---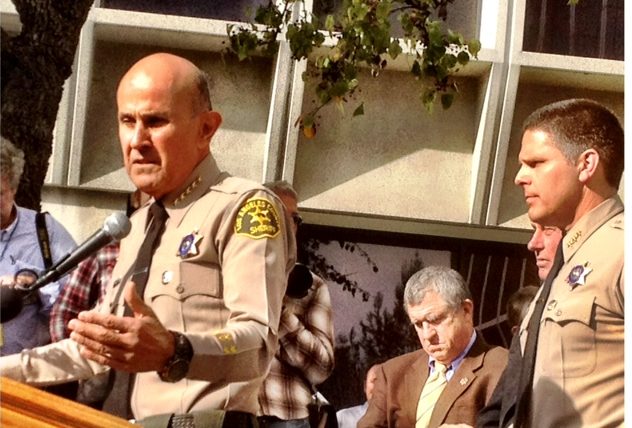 The Long Road to Trial
The journey to Wednesday's verdict has been a long one.
It began in July 2010 when the FBI started looking into a slew of complaints of abuse and corruption by sheriff's deputies in the Los Angeles County jail system. By the summer of 2011, the FBI's civil rights team had interviewed a lot of inmates who told them horrific stories, but they had become frustrated with the difficulty of finding ways to prove the reported incidents.
For years, various civil rights attorneys, justice advocates, and the ACLU of Southern California pointed urgently to abuses in the jails but, aside from a few one-day stories in the local media, none of the accounts of wrongdoing really stuck. Sheriff Lee Baca was an enormously well-liked public official, with strong progressive credentials, and he told reporters and critics that, yes, there might be occasional incidents, but the county's jails were filled with a lot of dangerous characters and sometimes force was necessary.
In the summer of 2011, the FBI investigative team came up with a strategy. They would launch an undercover operation in Men's Central Jail, where the worst of the accounts of abuse seemed to be centered. To do so, they would use a jail informant whom they believed could help them with a sting. And so it was that 44-year-old bank robber Anthony Brown officially became a confidential informant for the FBI.
Brown claimed that he'd witnessed multiple instances of deputy-on-inmate brutality. He also said he had talked to at least two-jail deputies who indicated their willingness to bring in contraband for inmates, in return for money.
The sting was launched. Deputy Gilbert Michel agreed to bring inmate/informant Anthony Brown a contraband phone, in return for cash he received from an undercover agent posing as Brown's friend on the outside.
In early August, however, jail deputies found Brown's phone in a random search. A few days after that, jail investigators learned that the main number Brown was calling and texting belonged to the civil rights division of the LA office of the FBI. By August 18, 2011, news of the FBI phone and inmate/informant Brown reach department executives who reacted by hiding Brown from his FBI handlers, threatening FBI Special Agent Leah Marx Tanner with arrest, and forbidding bribe-taker Gilbert Michel and other potential deputy-witnesses to talk to federal investigators.
Yet, the civil rights team continued to investigate.
On December 9, 2013, then U.S. Attorney Andre Birotte announced the first set of indictments that resulted from the investigation—18 in all. Seven of those 18 were charged with obstruction of justice for their part in the whole hiding-Anthony-Brown-FBI-agent-threatening matter.
In early February of 2014, Birotte announced two more sheriff's department members had been indicted, bringing the total to 20. Yet, aside from two lieutenants, and two or three sergeants, most of those who were charged were deputies.
It was not at all clear if any additional indictments would move up the departmental food chain—never mind that those hiding Brown and/or threatening Special Agent Marx had to have gotten orders from someone.
Still, for a long time, sources close the U.S. Attorney's office said that there was little possibility that the controversial undersheriff, Paul Tanaka, would be held to answer legally, much less the popular four-time elected sheriff.
Sources close to the U.S. Department of Justice said the same thing. "It'll never happen," one well-connected person told us.
---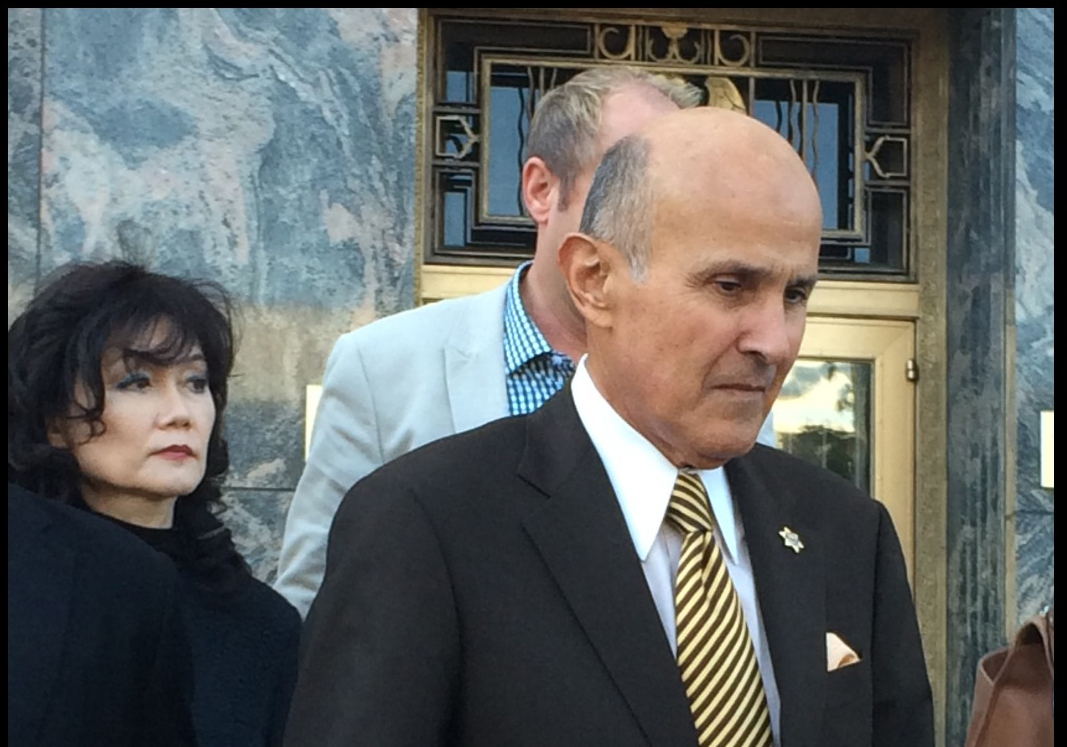 The Wind Changes
The subject came up again in the Summer and early fall of 2014, when the three deputies, two sergeants, and two lieutenants accused of obstruction of justice were convicted in a series of three trials. Media outlets like WLA kept asking the question: if these seven were guilty, what about those who ordered them to do all that obstructing? Nevertheless, the government's legal arm did not show any obvious signs of reaching higher.
A few months later, however, in December of that same year, the winds seemed to change. Word was that there were new rounds of grand jury testimony, and the once powerful Tanaka might, in fact, soon be charged. (We even heard that his attorney was warned that taking a vacation in the next few months was unwise.) On Thursday March 4, 2015, the rumors turned to fact when reporters got early morning texts advising them to get themselves downtown to the offices of the U.S. Attorney, pronto. Paul Tanaka, along with former LASD captain William "Tom" Carey, had just been indicted.
There was no word on whether there were any plans to reach beyond Tanaka. Yet, it appeared that never had all at once turned into maybe.
On February 11, 2016, less than a year after Paul Tanaka's indictment, reporters got another notice to rush downtown for a mystery press conference at the U.S. Attorney's office where they learned that, later that day, the former sheriff would formally plead guilty to one count of lying to federal officials. The alleged lying occurred when the feds questioned him in April 2013 about his part in the events of August and September 2011.
Yet, five months later still, in July 2016, when all parties had gathered the courtroom of Judge Percy Anderson for Baca's sentencing, instead of handing down a sentence, Anderson announced that he didn't like the 0-6 month sentencing scheme agreed to by the government and Baca's team of lawyers. And then, as those in the courtroom watched goggle-eyed, Anderson proceeded to dynamite the plea deal.
A six-month sentence "would trivialize the seriousness of [Baca's] offenses, his lack of respect for the law, and the gross abuse of the public trust….." Anderson said, plus lots more to that same effect.
Rather than try for a new plea deal, which—for a lot of complicated reasons too lengthy to go into here—sounded like a losing battle anyway, Baca and his attorneys elected to go to trial. On August 5, a federal grand jury indicted Baca for the same single count of lying he'd pleaded to earlier, plus two additional counts of obstruction of justice, and conspiracy to obstruct justice.
The first trial of Lee Baca began in mid-December of 2016. It ended approximately ten days later with a jury that declared itself hopelessly deadlocked after 24 hours of deliberation. The unbudgable split consisted of 11 jurors voting to acquit, 1 lone holdout voting to convict. Judge Anderson declared a mistrial.
The near-acquittal caused many to believe that the government would not choose to retry the former sheriff.
But on January 10, 2017, the government announced it would retry him. And the prosecution team began rigorously retooling their trial strategy.
---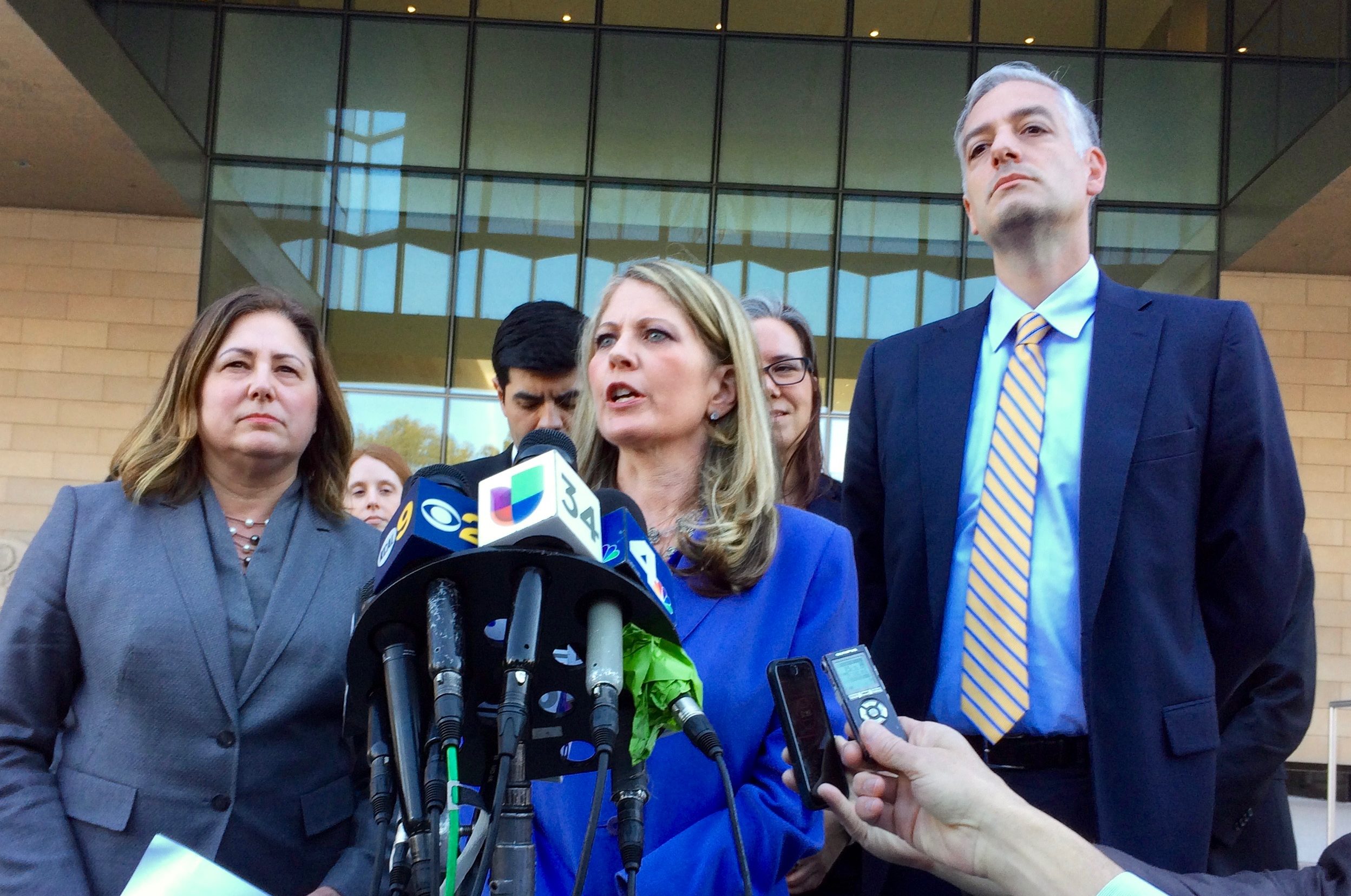 The Aftermath
Although the former sheriff looked quietly poleaxed when the verdicts were read, when he and his small entourage came out to the courthouse steps 90 minutes later, Baca had regained his balance.
Before Baca spoke, lead attorney Nathan Hochman told the waiting cameras that the government had adopted a "win at all costs" strategy. "We fought the good fight every single day in court," Hochman said. "But the jury is only as good at the evidence it gets to consider. Here, the jury did not get to consider all the evidence,"
But the appellate court will, Hochman said.
Hochman was presumably referring to certain significant rulings by Judge Anderson that were unfavorable to the defense, such as Anderson's ruling against allowing the subject of Baca's early stage Alzheimer's to come into testimony, and his ruling in favor of the prosecution's motion to exclude the so-called "previous good works strategy, which the defense had used effectively in the first trial.
Once Hochman finished, Baca took his own swipe at the trial's outcome.
"…I appreciate the jury system," he said. "However I disagree with this particular verdict."
He was looking forward to the appeal, the former sheriff said, adding with typical Baca Zen serenity, "It's just a privilege to be alive. And I feel good."
Baca declined to take any questions, but continued to smile for cameras as he and his wife, flanked by the lawyerly entourage, escaped down the 1st Street sidewalk toward their vehicles, which were parked across Hill Street.
Thirty minutes later still, the brand new Acting U.S. Attorney, Sandra Brown, took her turn in front of the courthouse. She was joined by the head of the FBI's Los Angeles Field Office, Deirdre Fike, and the newly victorious prosecution team, Assistant U.S. Attorneys, Brandon Fox, Lizabeth Rhodes, and Eddie Jauregui.
"The former sheriff has now been held accountable for overseeing a widespread scheme to obstruct justice by issuing orders designed to protect a corrupt culture," said Brown. "Lee Baca knew what was right and was wrong. And he made a decision. His decision was to commit a crime."
---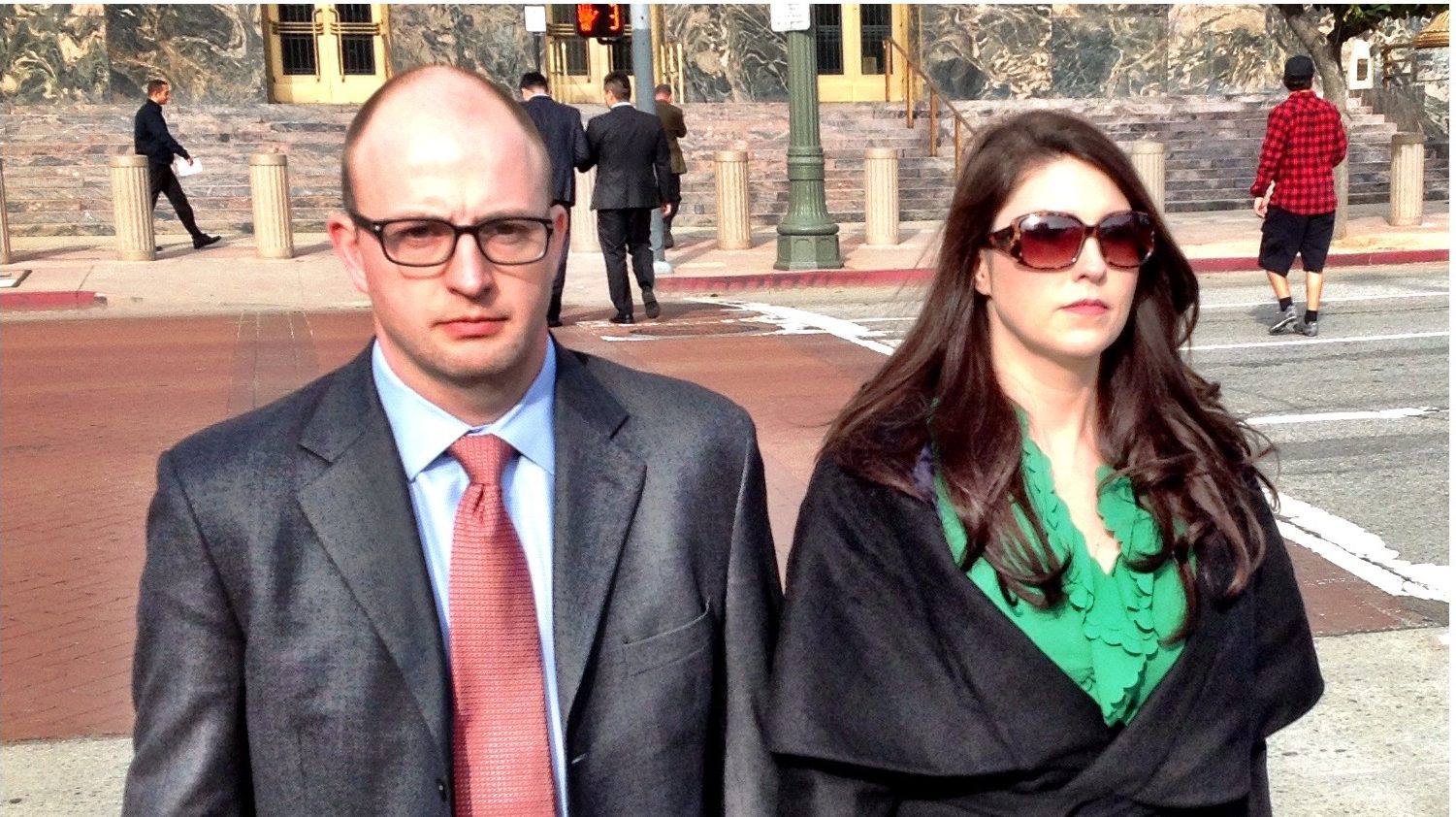 Pandora's Box
Baca makes the 10th department member to be convicted of the obstruction strategy that became unofficially known as Operation Pandora's Box, and the 21st member of the Los Angeles Sheriff's Department to be convicted of federal charges, as a result of the FBI investigation into brutality and corruption that began seven years ago.
Former deputy James Sexton was the youngest of the ten convicted of obstruction charges, and the person who came up with the Operation Pandora's Box moniker. Due to the former sheriff's relationship to the former LASD deputy's father, Ted Sexton, a longtime Sheriff of Tuscaloosa County, Alabama, the younger Sexton had known Lee Baca since he was a teenager, thus testifying at both Baca's trials was emotionally complicated. With all of this in mind we texted the former deputy to find out how he felt about the verdict.
He texted back the following statement:
"Nobody wins when a verdict like this is delivered. Mr. Baca destroyed a lot beyond the public trust and law enforcement partnerships. The damage Baca caused to families and mindset of deputies just trying to do their job is immeasurable."
Sexton also pointed to the department's Core Values, a set of behavior governing principles demanding "wisdom, common sense, integrity and courage," which Baca often mentioned he had written himself.
"Today's verdict may have been averted," Sexton wrote, "if he had thought about those principles before issuing those orders in September of 2011."
In response to orders he was told came directly from the undersheriff Paul Tanaka, and Sheriff Lee Baca, Sexton engaged in actions in the summer of 2011 that led to his conviction on obstruction charges. On December 16, 2014, he was sentenced to 18 months in federal prison, and began his term on August 31, 2016. On January 12, 2017, after four-and-a-half months spent mostly in isolation in SHUs of various medium and high security prisons, Judge Anderson resentenced Sexton in a surprise ruling, and ordered the former deputy released into six months of home detention followed by another six months of formal probation.)
Judge Anderson has called a status conference for 3 p.m. Monday afternoon, at which time he will set a date for sentencing former sheriff Lee Baca. As a result of Wednesday's guilty verdicts, Mr. Baca, faces a statutory maximum sentence of 20 years in federal prison.