Donate to the Urgent Cause of Independent Journalism… and, from now until December 31, 2019, NewsMatch will double your donation to WLA!
The independent work we do here at WitnessLA is beholden to no advertisers, no stockholders, no government grants, no demand for profit.
As we continue daily to probe critical stories that would otherwise be ignored, we have made, and continue to make,  a measurable difference in the world of justice and justice reporting.
Yet our independence also means we rely on people like you to stand with us in declaring that truth matters, no one is above the law, and justice must apply equally to everyone.
So today, please help by donating in whatever way you can—and, until December 31, 2019, your donation will be doubled.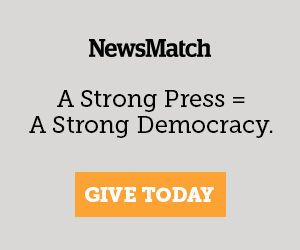 Anything helps. $5, $10, $20, $50….$1000.Every dollar you send will help us hire additional reporters, for expanded reporting.
Your donation is, of course, tax-deductible.
Through our fiscal sponsors at Community Partners, WitnessLA is a 501(C)(3) organization, which means your contribution is tax-deductible to the fullest extent of the law.
Just hit the green DONATE to WLA button at the top of the page—or click THIS LINK—and either one will take you to WLA's NewsMatch page, where you can pay with Visa, MasterCard, Discover, American Express.
Or if you'd like to send a check, send it to:
WitnessLA c/o Community Partners
1000 N. Alameda St. Suite 240
Los Angeles, CA 90012 USA
Make the check payable to: Community Partners FOR WitnessLA
For your records, our fiscal sponsor's tax ID number is: 95-4302067
Thank you for your help. We couldn't do it without you!