Now that Los Angeles County Registrar-Recorder has released its first round of counting just after 2 a.m. on Wednesday, June 8, it appears certain that LA's controversial sheriff, Alex Villanueva, will wind up in a November runoff. And his opponent in that runoff will likely be Robert Luna, the former Chief of the Long Beach Police.

Luna is only one of the eight challengers who hoped to deprive Villanueva of a second term. Nevertheless, at the moment, he has pulled away from the rest of the pack, presuming the lead stays.
LA County's ballot counting process is a long one, so the next major voting update will be this Friday, June 10. And even after all ballots are counted, the results won't be certified until July 7.

Meanwhile, Luna's present strong second place may be due, at least in part, to Luna's endorsements by the LA Times and the Daily News, which likely influenced those voters who wanted to cast their ballots for someone other than Villanueva, but weren't quite sure exactly which someone out of the challengers they should choose.
In any case, Sheriff Villanueva's percentage of the present vote tally hovers at 34.4 percent with Luna at around 24.5 percent.
Next in line after Luna is LASD Lt. Eric strong with 12.5 percent. In fourth place is former Assistant Sheriff, now LAX Police Chief Cecil Rhambo with approximately 7.5 percent.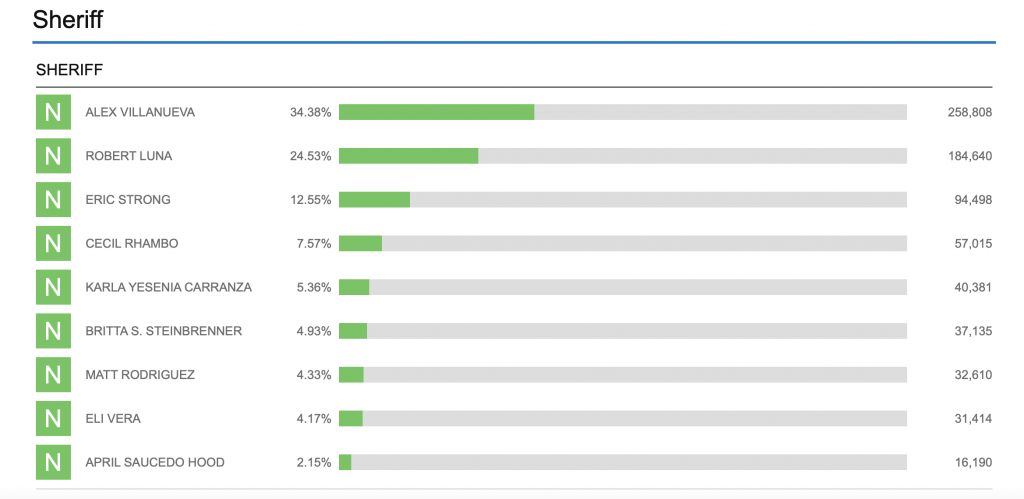 The bottom line is this: although things will change as the counting continues, for the moment approximately 65 percent of the LA County voters who showed up to the polls on Tuesday, voted for someone else other than Alex Villanueva to be their next sheriff.
More as we know it.