At around 4:05 p.m. today, Tuesday, June 14, The Los Angeles County Registrar-Recorder announced the second post-election ballot count update for LA County's Primary Election.
In the race for LA County Sheriff, the tally for incumbent Alex Villanueva dropped a tiny amount from 33 percent to just under 32 percent.
Former Long Beach Chief of Police Robert Luna, whom Villanueva will face in the November runoff, gained only a fraction of a percent, bringing him to 25.98 percent of the votes now counted.
In other words, when it came to the two front runners, there was no meaningful change.
The main question between now and November is who can win the 42 percent of the vote that is distributed among Sheriff Villanueva's seven other challengers.
Luna is reportedly wisely already reaching out to some of those candidates, at least two of whom have endorsed him.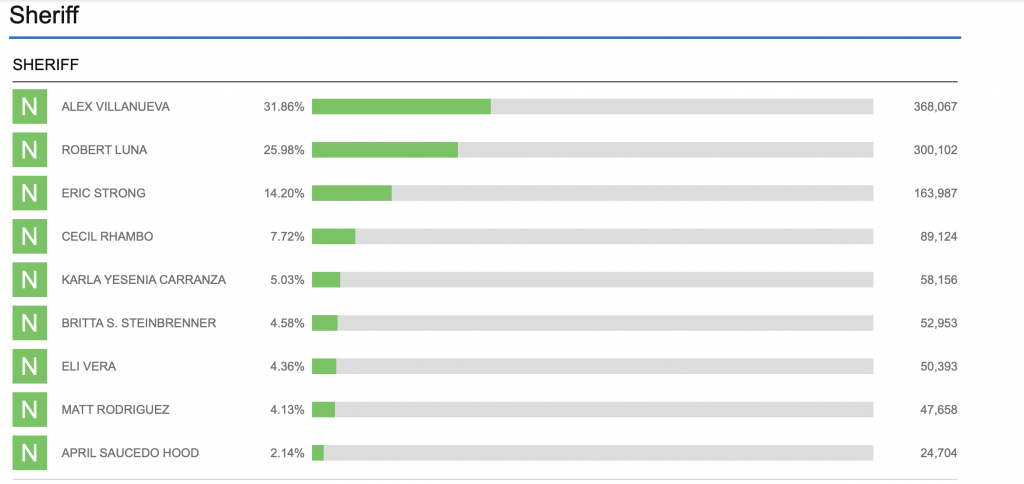 In another race of consequence, community organizer & gifted justice advocate Eunisses Hernandez has taken the lead in the District 1 LA City Council race, pulling ahead of incumbent Councilmember Gil Cedillo, who is hoping for a third term.
In the case of this race, where up until today, Cedillo was in the lead, there will be no runoff. Whoever wins the count, wins the race.
And, today's change showing Hernandez pulling ahead, while it doesn't guarantee anything, is still a big deal.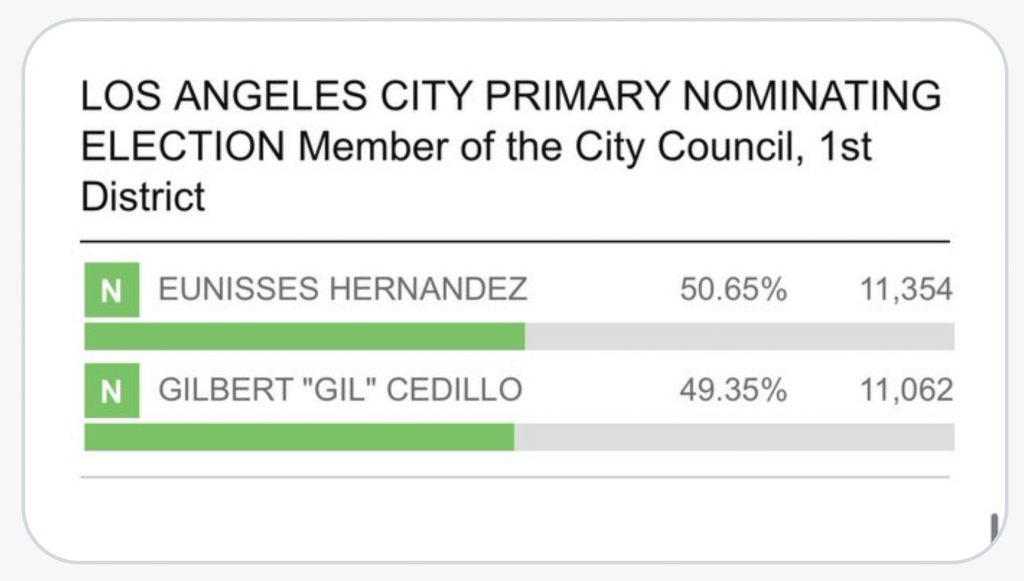 In the race for mayor of Los Angeles, which is another certain November runoff, Congresswoman Karen Bass has pulled a small bit ahead of business mogul Rick Caruso, with the percentage standing at 41 percent for Bass to 38.29 percent plus for Caruso.

Expect a lot of $$ to be spent on this race between now and November.
As to what happens next in these and other races, the total number of ballots already counted is now at 1,258,049, which is 22.11% of registered voters in this low-turnout primary.
This leaves an estimated 365,820 outstanding ballots still to be processed, nearly all of which are either vote by mail ballots or those returned at an Official Ballot Drop Box on election day. (Only 820 or so remaining ballots are conditional or provisional.)

In any case, when the next vote count goes up, naturally we'll bring it to you.
So…watch this space.
Photo of Eunisses Hernandez courtesy of Eunisses for the People