The next round of vote counting for Tuesday's primary election was released by the Los Angeles County Registrar-Recorder shortly after 3:15 p.m. on Friday, June 10. When it comes to the race for LA County Sheriff it appears that the battle to see who will lead the nation's largest sheriff's department remains about the same:
Incumbent Alex Villanueva still is headed for November runoff with Robert Luna, the former Chief of the Long Beach Police.
As you can see from the screen shot below, the sitting sheriff has slightly over 33 percent of the vote, with Luna a bit under 26 percent.
The remaining approximately 41 percent is spread between the other seven challengers. Thus, as of now, around 67 percent of those LA County voters who marked their ballots in the June 7 primary race chose some else other than the controversial Villanueva.
Yet, Tuesday's primary election in general drew a low voter turnout. So those numbers will like change when the various candidates in the various runoffs throughout LA County and the State of California have more time and more money to make their pitch to those who go to the polls.
More as we know it.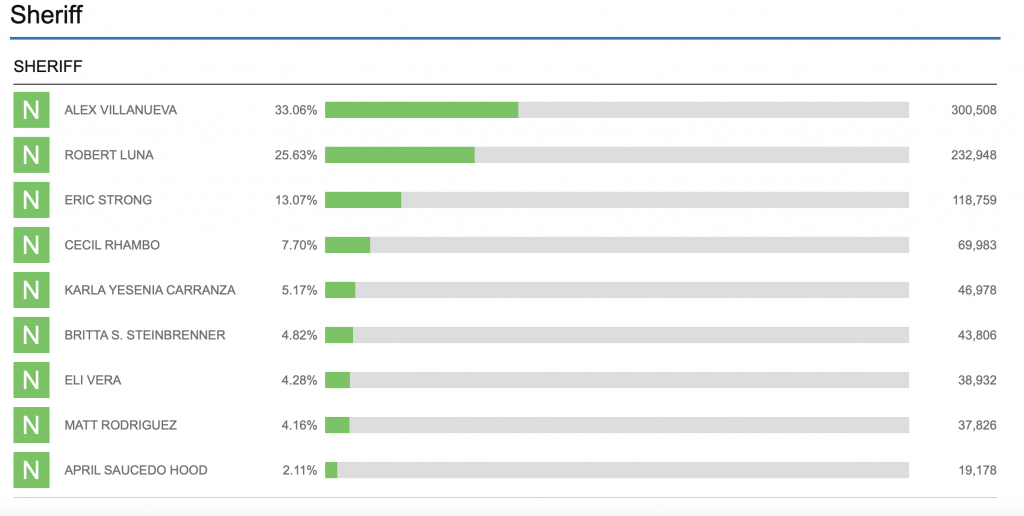 Note: Photo at top is of a note reportedly placed on the windshield of an LA County resident.