On Monday morning, U.S. District Court Judge Percy Anderson sentenced former Los Angeles County undersheriff, Paul Tanaka, to five years in federal prison for the dual crimes of obstruction of justice and conspiracy to obstruct justice.
Before his forced retirement in August 1, 2013, Tanaka was the second-in-command of the nation's largest sheriff's department—according to many, the real power behind the throne—and was widely considered to be the person mostly likely to replace Lee Baca as sheriff.
Instead, Tanaka, 57, is scheduled to self-surrender to federal marshals on August 1 of this year. (Unsurprisingly, his attorneys have already appealed his conviction, which will likely put off any self-surrendering for a while.)
In the minutes before the stony-faced Judge Anderson actually announced Tanaka's 60-month sentence, the judge first took time to deliver a scorched-earth speech to the defendant about his "abuse of the public trust" and the "incalculable harm you have caused this community."
And that was just for openers.
It helps to know that, in addition to Tanaka's trial, Anderson, who was nominated to federal bench in 2002 by George W. Bush, presided over the previous obstruction of justice trials that resulted in the conviction of seven department members for attempting to derail the FBI's investigation into brutality and corruption in the LA County jail system, which is overseen by the sheriff's department. Anderson also presided over the plea deal and sentencing of former deputy Gilbert Michel, who was caught in an FBI sting for accepting a bribe from an inmate in return for bringing said inmate a contraband cell phone. (The inmate, Anthony Brown, turned out to be a federal informant.)
And Anderson managed to yank former sheriff Lee Baca's plea hearing away from another judge to whom it was originally assigned. Thus it will be Anderson who will sentence Baca on July 11.
In short, this means that Percy Anderson is far more familiar with the facts of Tanaka's case, and those cases that surround it, than even the best informed and most diligent jurist would ordinarily ever be.
This has turned to be bad news for Tanaka, for whom Anderson reserved an unusually strong expression of censure.
---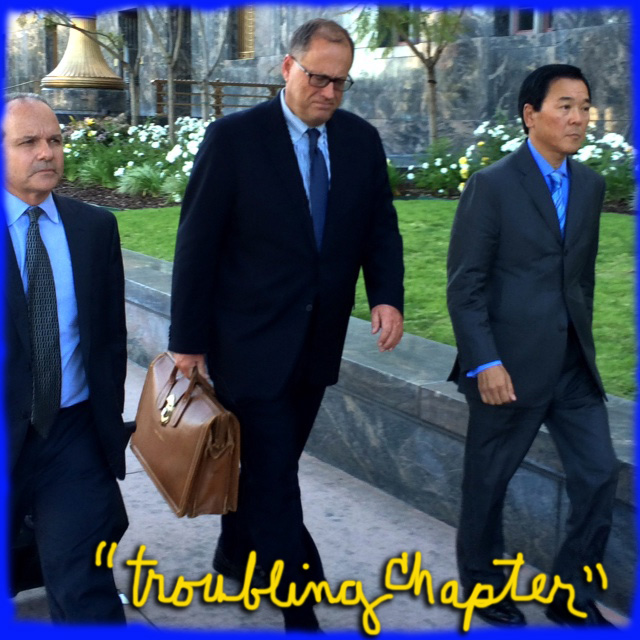 A FRACTION OF THE PROBLEM
Anderson's lecture of the about-to-be-sentenced Tanaka covered a lot of ground, including the fact that the judge found the defendant "evasive, combative and not credible" when on the stand in trial.
Most of the judge's remarkably detailed criticism, however, had to do with the principles with which Tanaka allegedly "operated in his career." The former undersheriff, said Anderson, "rewarded loyalty over honor," and "derailed the careers" of anyone who got in his way. Anderson referenced such controversial Tanaka hallmarks as his infamous "work the gray" statements, which Anderson said communicated that "deputies would not be held responsible for aggressive behavior."
Similarly, the judge said that Tanaka's management style "undermined the authority of supervisors" who attempted reform, and "set the stage" for "an environment of aggressive deputy conduct," and an "us versus them mentality" that resulted in hospitalized inmates, and falsified reports, to cover-up the LASD-perpetrated jailhouse brutality.
The evidence is "overwhelming," said the judge, that the defendant "made no attempt to investigate and build cases against corrupt deputies." To the contrary, Tanaka and his coconspirators attempted to convince witnesses "not to cooperate" with the FBI, seeming to focus only on "avoiding embarrassment" for the LASD.
"The most troubling thing about this troubling chapter" in the sheriff's department's history, Anderson told the former undersheriff, "is that your efforts to shield dirty deputies has been largely successful," despite the government's multiple convictions of deputies for brutalizing inmates.
"Those convicted deputies are a small fraction" of a "deputy culture" that Tanaka allowed to thrive, Anderson said. "Some of those deputies, remain with the department," and have risen to high levels. As a consequence, Anderson said, "the public has little confidence" that the problem has been rooted out.
---
NO REMORSE
During much of this disquisition, Anderson stared down at Tanaka from the bench with the ferocity of a large-winged raptor, noting pointedly at one juncture that "you have shown no remorse."
When U.S. Attorney Eileen Decker held a short post-sentencing press conference on the steps of the court building, her words echoed those of the judge. "His actions harmed the sheriff's department, harmed law enforcement everywhere and the good men and women who strive every day to uphold their oaths and serve justice," said Decker. "The sentence today demonstrated that, indeed, no one is above the law."
In sentencing Tanaka, Anderson went above federal guidelines, which reportedly call for 41-51 months in prison. The 60 month sentence that Anderson finally imposed, was the term the prosecution had requested. Still, one got the sense that, while Anderson thought the five year stretch sent a strong message, he wouldn't have minded going higher.
Tanaka—who wore a closely tailored black suit for the packed hearing, along with what appears to be one if his favorite ties, an elegant blue on blue striped number that went with his baby blue shirt—was stoic and mostly expressionless when the sentence was announced. In fact, perhaps the only time he spoke was when the judge asked him if he understood that if he violated his bail conditions in even the tiniest of ways, bail would be revoked.
"Yes, sir," said the former undersheriff.
Tanaka's family arrived in force for the hearing and, both before and after sentencing, did their best to offer Paul and each other steadying support.
Other court watchers mostly commented on Judge Anderson's unusually vivid pre-sentencing tongue-lashing.
---
SENDING A MESSAGE
"I think that the judge made a very strong statement today," said former Assistant U.S. Attorney, Miriam Krinsky, who was the executive director of the Citizens Commission on Jail Violence, and served as an advisor to Sheriff Jim McDonnell during his first year in office. It wasn't so much about the case, she said. "It was really an indictment of an entire career and a culture of lawlessness that Paul Tanaka allowed to fester," "I think the judge sent a strong message that this kind of gross abuse of the public's trust by those whom we trust with keeping the community safe will simply not be tolerated."
Anderson also seemed to be making the point, said Krinsky, that Tanaka's policy of sidelining anyone who attempted reform, may have produced as situation where, those department members already convicted for wrongdoing, "may be merely the top of the iceberg in terms of misconduct." And that there may be others in the department "who share the views of those who have been criminally convicted."
It's clear, said Krinsky, "that this is the beginning not the end of a process of reform and transformation of this department."
Tanaka's attorneys, Dean Steward and Jerome Haig, also spoke after the hearing. They said they were "very disappointed" at the sentence, of course, and that they completely disagreed with the judge's pre-sentencing remarks.
But they are also "very optimistic about our client's chances on appeal," said Haig. In fact, the attorney remarked as we chatted, that the fact Judge Anderson chose to allow a line of questioning about Tanaka's Viking's tattoo into the prosecution's cross examination during the trial "is a big part of our appeal."
In other words, the drama continues.
In the meantime, a three-judge panel at the 9th Circuit will hear the appeal of the seven department members previously convicted of obstruction of justice on July 5th.
---
Full updated story published at 7:45 p.m.