PAY TO PLAY
Does the Los Angeles Sheriff's Department have an unofficial quid pro quo promotion system?
By Matthew Fleischer
With statistical reporting from James Molyneux and the UCLA Statistical Consulting Center
---
PROLOGUE
This summer, I received a phone call from a source in the Los Angeles County Sheriff's Department who said he had information about Undersheriff Paul Tanaka's pay-to-play scheme.
"Pay-to-play exists in the LA Sheriff's Department," he said. "I know because I paid."
I was shocked. I'd spoken to several donors to Tanaka's various Gardena political campaigns who alleged that donors were given preferential treatment in the promotion process. (Along with being the second in command at the nation's largest sheriff's agency, Tanaka is also the mayor of Gardena, and previously held a seat on the City Council.) But none went so far as to admit they intentionally paid to play—simply that they had been wrangled into donating by colleagues, or were friendly with Tanaka at the time and expected no recompense.
I confirmed the source's name on Tanaka's donor rolls as having given $100 for the year he named, as well as several names of other department members he claims were present at a fundraising event he described attending. He agreed to meet me for lunch to tell me his story, provided I refrained from using his name or including any identifying information about him for fear of retribution from the Sheriff's Department. In honoring that request, I'm calling him Deputy Brogan, though that's neither his name nor his rank.
---
GETTING ASKED TO THE DANCE
In 2004, Brogan was a department veteran who for years had been doing all he could to move up the ranks, without a hint of success. Brogan said his work was not the issue.
"For years I saw people with far less experience working their way up the ladder, and I thought, 'What do I have to do to get ahead in this department?'"
According to Professional Peace Officers Association (PPOA) President Brian Moriguchi, the textbook path to promotion within the LASD depends on a breadth of job experience, good leadership skills, and solid testing.
"Employees should be encouraged to gain as much experience as possible in different departmental units," he tells WitnessLA, "patrol, custody, detectives and administrative positions. That's ideally what you're looking for. Someone with broad experience so they have some knowledge of the work performed by those they supervise. There's also a testing process that occurs. Right now they do a banding process [for sergeants and lieutenants]."
The "banding process" is a ranking strategy that places the highest-scoring test takers in Band 1, virtually ensuring their promotion. Those with middle-of-the-road scores are placed in Band 2, where promotion becomes more subjective.
Because the pool of sergeants looking to become lieutenants is much smaller than the group hoping to move up to sergeant, says Moriguchi, a plurality of those who take the lieutenant's test fall into Band 1. Since there typically aren't enough open positions to accommodate everyone in Band 1, "The process is more political," explains Moriguchi. "That said, the Sheriff has to have some prerogative in promoting upper managers such as captains and above."
Brogan says he had done his absolute best to follow the approved path of job diversity, solid test scores and education, but found no luck. Perplexed at still being repeatedly overlooked, Brogan asked around to find out if there was something else he ought to be doing to get ahead. Eventually, a higher-ranking acquaintance in the department told him of an upcoming event—a fundraiser for Tanaka, then chief of the Administrative Services Division, who, in addition to his LASD post, was at the time running to be mayor of Gardena. Tanaka was a rising star in the department who, Brogan was told, would take care of those who took the time to show their faces and donate money.
Not just anyone could attend.
"You had to be asked," says Brogan. "It was like the mafia."
Brogan's higher-up agreed to sponsor him, provided he donated to Tanaka's campaign in advance.
"It was a last resort," says Brogan. "What did I have to lose?"
So he wrote a check on the spot. A few days later, he showed up in the late afternoon at the Commerce Casino to cash in on his face time with Tanaka. Brogan was unprepared for what he saw. At 4 p.m. on a weekday, the casino was already packed with LASD personnel.
"The parking lot looked like [an LASD] patrol station," Brogan remembers. "There must have been 50 to 60 county cars."
The event was held in one of the casino's private back rooms. Brogan says when he arrived, and throughout the event, James Hellmold and Eric Parra (both currently on the Sheriff's Commander Management Task Force) were working the door, picking up checks from sponsors.
"There was a bar and everyone was drinking," Brogan remembers. "Drink there with Tanaka and the boys and drive your county car home."
Tanaka was at the center of the room, holding a cigar in one hand and a drink in the other. Virtually all in attendance were LASD personnel—mostly sergeants and lieutenants—nearly all brought in under the patronage of higher-ranking officers.
"Commanders and chiefs were required to bring at least five donors," says Brogan. "Our sponsor brought five of us in to see Tanaka. He shook our hands, said 'Thank you for your support,' and then we went off to the different parts of the room and stood around with all the other people.
"It was about being seen."
Brogan milled around for a while after his brief encounter with Tanaka, hoping his presence would be noticed and appreciated. Eventually, however, he left the gathering, revolted by his own behavior.
"I was sick over it. That night my wife told me, 'Don't you ever donate money again.'"
Brogan's angst became even more powerful later when he realized he'd been duped, that his purpose at the fundraiser was not to advance his own cause but to augment the status of his "sponsor." In the months and years that followed, he was never given preferential treatment in the department based on his donation: no promotion and no cushy transfer.
"They used other people like me, dummy, to come in and pay."
---
FACE TIME AS COIN OF THE REALM
Brogan wasn't the only person I spoke with who attended the gathering. Larry Landreth, then a sergeant at Internal Affairs, was also in attendance with his partner.
"We were both on Band 2 for lieutenant's tests," remembers Landreth. "Alex Yim was a friend of mine who told me: 'You need to be seen, I'll get you some face time. He needs to get to know you so you can get promoted.' I've always liked Alex. He'd been good to me. And considering the political ramifications of being on Band 2, I went."
Landreth says he and his partner arrived at the casino after work, when the party was already in full swing. Unlike Brogan, who wrote a check, Landreth paid $100 cash at the door to get in. "It was a small room and it was packed. I remember seeing [department members] Chris Nee and Christy Guyovitch there. Almost everybody was drinking."
They eventually saw Yim, who had recently been promoted to commander. (He's now the chief in charge of the Custody Division.)
Yim thanked them for coming and took the pair up to meet Tanaka, whose acquaintance Landreth had yet to make.
"There was some chitchat, and then he started in with the jokes. 'Motherfuck IA [Internal Affairs]' this and that.
"I was so upset, I left almost right after."
Landreth did not get his promotion.
---
DOES $100 REALLY BUY A PROMOTION?
It's been more than nine months since WitnessLA first published its investigation into LASD Undersheriff Paul Tanaka, and how pay-to-play promotions based on donations to his Gardena mayoral campaign have not only undermined accountability and trust, they've had disastrous consequences in the LA County jail system and the Sheriff's Department at large.
The response to the story from those still working in the department and recent retirees was overwhelming; the piece earned a wave of comments on our site from LASD personnel, along with private emails and telephone calls on the issue from those inside and close to the department. The story also prompted LA County Supervisor Gloria Molina to draft a proposal that would prevent county employees running for office from soliciting donations from their employees.
Following our reports, the blue ribbon Citizens' Commission on Jail Violence, appointed last year by the LA County Board of Supervisors in the wake of the county's expanding jails scandal, also looked into the matter, analyzing 13 years of donations to Tanaka's political campaigns and comparing them with recent promotional records.
In its recent final report, the commission found the following:
336 Department employees contributed to the Undersheriff's campaigns over the past 13 years. The reports, which cover four elections, show that Department employees contributed a total of approximately $108,311 to the Undersheriff's campaigns from 1998 to 2011. While the average contribution was only $187, some contributions were considerably larger. A subset of 43 Department employees contributed approximately $38,150 (or 35% of the total contributions from the Department).

Among current employees, six of the Department's 11 division chiefs (or 54.5%) have contributed to the Undersheriff's campaigns; 19 of the 31 area Commanders and assistant division (non-sworn) directors (or 61.3%) contributed to his campaigns; and 38 of the 76 Captains and directors (or 50%) contributed. In addition, several Department employees received reimbursements from the Undersheriff's campaign funds for expenditures related to his campaign. For example, employees have been reimbursed for telephone bills, block party expenses and other, unspecified campaign expenditures. [See pp: 81-85, 87 of CCJV report]
As a consequence, the Commission recommended the Sheriff's Department create a policy regarding "the acceptance of contributions from employees in the Department generally, or from employees whom the candidate supervises directly or indirectly."
Despite the unseemly appearance of the data, the response from the Sheriff's Department to allegations of pay-to-play has been complete denial.
"The undersheriff of the L.A. County Sheriff's Department is not swayed by people who donate to his Gardena mayoral campaign or those who do not donate," LASD spokesman Steve Whitmore told the Daily News. When WitnessLA spoke to him about the alleged practice, Whitmore again insisted it was a non-issue.
Indeed, we too were at a loss to explain how $100 was all it took to get ahead in the department. If paying to play was that cheap, why wasn't the Tanaka donor list even longer?
Yet, after months of compiling stories from insiders and conducting our own analysis of campaign contributions and recent promotions, we became convinced that a pay-to-play system was, for many years, employed in the Los Angeles Sheriff's Department. But its execution, it appeared, was more complicated than simple donation patterns would suggest.
For instance, although Deputy Brogan was never rewarded for his face time and modest donation, his "sponsor" was, receiving a bump up the hierarchical ladder in the very next promotion cycle—as did several other "sponsors" who attended the event in Commerce.
So if there was a pay-to-play strategy, how did it work?
---
PROMOTIONS BY THE NUMBERS
Prior to the jail commission's report, in early summer, we contracted a team of graduate students from UCLA's Statistical Consulting Center to run our own analysis of the career advancements of LASD donors to Tanaka's various Gardena political campaigns.
Since 2008, 316 deputies have been promoted to sergeant. Of that number, eight were Tanaka donors—only 2.53 percent. As you move higher up the ranks, however, those percentages of donors grow:
• 13 of 57 sergeants promoted to lieutenant—22.81 percent
• 14 out of 33 captains—42.42 percent
• 7 out of 16 commanders—43.75 percent
• Both chiefs promoted since 2008 and Assistant Sheriff Cecil Rhambo were also repeated donors.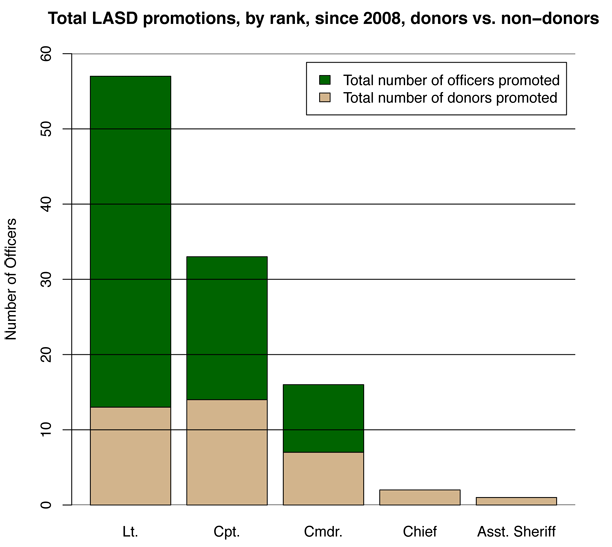 Many of those promoted weren't just donors. Like Alexander Yim and Brogan's "sponsor," a group of those on the favored list were actively fundraising for Tanaka.
It should be noted that promotions to sergeant and lieutenant are largely determined by a series of tests—although, as previously mentioned, Band 2 promotions can be far more subjective—while promotions to captain and above are considered "political." There are no tests involved and decisions are made on personal relationships and recommendations.
The data seems to suggest that donations largely did not affect the promotions of sergeants and lieutenants—likely because the testing requirements would mostly prevent outsize influence by upper management on the promotional process. For captains and above, however, donations appear to have a clear impact on the "politics" of promotions.
Remember, only 336 LASD personnel have donated to Tanaka's campaign since 1998—out of a department of nearly 18,000. Yet 24 of the past 52 upper-management positions filled, including the three most powerful, have gone to Tanaka donors.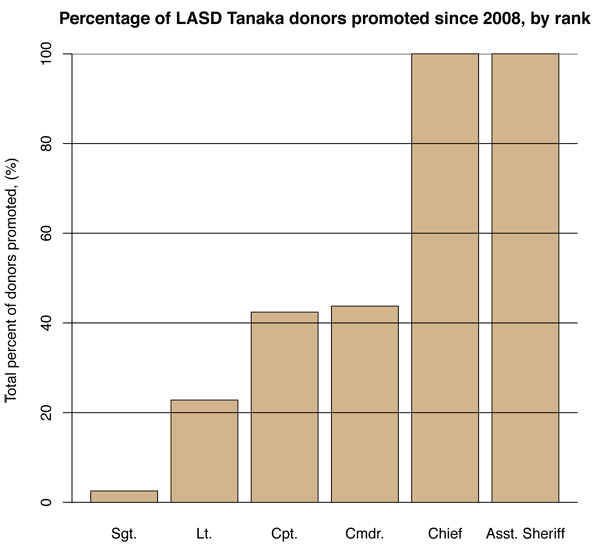 That, however, still doesn't explain the presence of so many lower-ranking LASD personnel on Tanaka's donor rolls. Were they all duped like Brogan? Or was there some kind of reward for their patronage?
To find out, our team of graduate students ran what's called a "logistical regression" on transfers to six marquee positions inside the department since 2008: Homicide, Gang Unit, Major Crimes, Community Oriented Policing Services (COPS), Parole Compliance Team, and Special Enforcement Bureau (SEB). Logical regressions are attempts to determine if you can predict the outcome of an event based on a limited number of variables. If you donate, are you more likely to be transferred to a high-profile assignment?
The answer was yes.
• Sergeants were more likely to be transferred to desirable posts if they donated on or before March 6, 2009 (significant at the 99% confidence level).

• Deputies were more likely to be transferred to desirable posts if they donated between May 26, 2008, and March 6, 2009 (significant, 99% confidence level).
In other words, deputies and sergeants, who couldn't always be promoted straightforwardly because of poor test scores or lack of appropriate experience, were instead rewarded with transfers to high-profile assignments.
Interestingly, in the most recent round of promotions and transfers in May this year—made after our initial report on pay-to-play in the department roused the ire of the Board of Supervisors and the rank and file—empirical evidence of favoritism in promotions and transfers almost completely vanished.
---
THE "EXECUTIVE" SMOKING CLUB
A short while after the first part of our investigation into pay-to-play was published, we received an email containing an intriguing series of screenshots taken from an LASD computer. The shots depict an internal email list of about 100 LASD personnel, hosted on the department's Exchange network, called "Executive Staff Mtg." Interestingly, Sheriff Lee Baca's name is nowhere to be seen.
"What kind of 'executive' list doesn't include the Sheriff?" the source of these photos asked us rhetorically.
Instead, the list shows a hodgepodge of ranks from units across the department, from deputy up to Undersheriff Tanaka. The presence of such a list, openly displayed on the department's server, is an anomaly in and of itself. According to sources, lists on the department's Exchange email system are typically used so that particular units throughout the department—those who work together, but perhaps during different shifts—can communicate with one another easily. For instance, a patrol station or a jail might have its own email list.
Instead, virtually everyone on the "Executive Staff Mtg" list is a donor to Paul Tanaka's Gardena campaigns. It includes names like Commander David Waters and Captain Bernice Abram, both of whom have come under investigation–for ordering LA County employees to do work on his personal motorcycle on the job, and participating in a national drug ring, respectively–as well Chris Nee and Wesley Sutton, Tanaka's handpicked lieutenants whom he assigned to Men's Central Jail in 2006 to purportedly clean up problems identified by then-captain John Clark. It was later discovered that Nee and Sutton neglected to complete a startling 52 use-of-force reports between them. As we've previously reported, when then-CJ operations lieutenant Casey Bald attempted to crack the whip on Nee to complete his paperwork, Nee demurred, allegedly saying: "I don't work for John Clark, I work for Paul Tanaka."
Immediately after we received, these photos we contacted a reliable source inside the department to see if "Executive Staff Mtg" appeared openly on the department's server for all to see.
Indeed it did.
Less than 24 hours after we began calling around about the list, however, it was removed from the server.
The presence of such a donor list on the department's server suggests that Tanaka's Gardena campaign business was openly discussed on county time, using county resources. But, sources say, the list had a more menacing undertone: It indicates formal membership in Tanaka's smoking club—a public reminder of who in the department had juice and shouldn't be crossed.
The undersheriff's smoking club, as we previously reported, is held in a tented and climate-controlled patio, complete with a refrigerator, sink, barbecue island, and elaborate cigar-smoking section, that was built in 2008 in Sheriff's Headquarters in Monterey Park. The smoking patio, as it is known, has been reserved as an exclusive club for Tanaka and his campaign donors inside the department. To use the facility, sheriff's deputies need a unique, sequentially numbered coin—known as a "challenge coin"— presented to the bearer by Tanaka himself.
"I would classify the patio as an executive meeting space," LASD spokesman Captain Mike Parker told us at the time. "Can any member of the department hang out at the patio? No. But they wouldn't have access to an executive meeting room either."
Yes, but unlike a typical executive meeting room, which a corporation might provide as a procedural practicality or a managerial perk, the "Executive Staff Mtg" group with access to the smoking patio—many of whom were only deputies—was made up of those donors to Tanaka's Gardena campaigns and other loyalists whom the undersheriff had handpicked for inclusion.
According to documents obtained in a California Public Records Request, the smoking patio cost county taxpayers $22,726.31 in building materials alone. The work to construct the patio and its continued maintenance is handled by LASD's Facilities Services Bureau.
At the time the patio was being built, in January 2008, then-captain of Men's Central Jail Robert Olmsted says he was begging facility services for workmen to fix a myriad of structural problems inside the jail.
"We needed plumbers and carpenters so bad it was incredible," Olmsted told WitnessLA. "We had cells that were shut down because of toilets leaking. Fecal matter was leaking between floors. It was awful."
Olmsted said his repeated requests for extra workers to fix these problems were denied. Eventually, Olmsted had to go to the ACLU to convince them to make a stink with the Board of Supervisors over the issue.
"I was eventually assigned me two extra plumbers, but that didn't last long."
While it is undeniably disturbing that the construction of a smoking patio was prioritized over the desperate need to repair a dangerous and decaying jail facility, the most disturbing part of the publicly displayed member list is the larger issue it points to: Namely the bravado with which pay-to-play, and allegiance to Paul Tanaka, was flaunted for years, unchallenged throughout the department.
---
PLUS ÇA CHANGE, PLUS C'EST LA MÊME CHOSE
Sheriff Baca has publicly said he plans to institute all 63 of the recommendations from the jail commission's final report. Those recommendations include finding a new assistant sheriff with an expertise in custody to oversee the department's troubled jails. They also include eliminating Undersheriff Tanaka's influence over jail policy.
Not everyone buys the assurance that the undersheriff's back-channel authority has magically disappeared. "If he's still in the department, he will have control," says Larry Landreth. "He has too many of his minions in place throughout the department and an informal system of communication."
A case in point is Assistant Sheriff Cecil Rhambo, the third most powerful figure in the department, Tanaka's former squad car partner and a donor to Tanaka's campaigns since 1998. Rambo, who was promoted to his present position in June 2011, when Tanaka was appointed undersheriff, solicited his own donations from department personnel during his (failed) run for Mayor of Compton in 2005. With Baca out of town this week in Qatar, the task of implementing the jail commission's reforms falls into Rhambo's hands. But is it realistic to believe that, in the sheriff's absence, he will curtail Tanaka's influence as the commission specified?
Indeed, how does one untangle that web of influence in a department whose promotions and transfers were for years guided by allegiance to Paul Tanaka? How can the public be sure that those who benefitted from his patronage are up to the challenge of running the department ethically? More important, how do we know that, even if he is formally stripped of oversight into the jails, or even patrol, that Tanaka won't overstep the chain of command to interfere—as he has done repeatedly throughout his career?
These are questions not easily answered, especially considering that Sheriff Baca has said that Tanaka's handle on the department's financial affairs is too important to relieve him of duty.
---
This story was funded in part by a generous grant from the Fund for Investigative Journalism.
---
The story was copy edited by the very excellent Craig Gaines
---
RAW DATA:
* Lists of Tanaka campaign donors and promotions data, along with outcomes for those who did not donate, may be found on easy-to-read spreadsheets here
---