On Friday, September 23, the LA County Sheriffs Civilian Oversight Commission held the sixth of its special public hearings on the issue of deputy gangs.

The event, which was held both in person and virtually, was set to begin at 9 a.m. But before the hearing's special counsel, Bert Deixler, began to call witnesses, the COC commissioners acknowledged the 7 a.m. search of the home of fellow commissioner Patty Giggins by the LASD that occurred earlier this month.
Loyola law professor Sean Kennedy, who is the chair of the Sheriffs Oversight Commission, expressed the COC's unwavering support for Giggins in the face of what he described as "this attempt to intimidate you," and "this outrageous example of abuse of power."

COC Executive Director Brian Williams, a former prosecutor, followed up by reading a public resolution from the commission, which expressed "grave concern" regarding the Los Angeles County Sheriff's Department.

"There are means of carrying out warrants on public figures that are not invasive," the resolution read in part, "however, this conduct appears to be designed to harass, embarrass, and/or smear the reputation of Commissioner Giggans and Supervisor Kuehl. This latest stunt by the LASD and the sheriff should be called out for what it is: a brazen abuse of power."

Interestingly, completely apart from the resolution regarding the search warrants, one of the main themes of last Friday's hearing was the pattern of attempted intimidation and harassment by Sheriff Alex Villanueva and those around him that continues to be aimed at witnesses and whistleblowers

Undercover cruisers

With the above point in mind, before special counsel Deixler announced the witnesses who would appear that day, he opened the hearing with two accounts of witness intimidation, both of which included the use of LASD cruisers and/or undercover cars as weapons of harassment.

The first anecdote Deixler described was an incident that WitnessLA reported last month, which was aimed at LASD Sergeant Jefferson Chow, who was a significant witness at a recent COC hearing, and also his wife, LASD Sergeant Vanessa Chow, who has become a whistleblower.

On the day of Jefferson Chow's testimony, after the couple returned from Loyola Law School, where the COC hearings have been held, they found that an LASD undercover car had followed them home, then parked directly in front of their house, as if openly surveiling them.

The unit finally vanished when Vanessa Chow came out of the couple's front door and began making a video recording of the car and its occupant or occupants.

Unfortunately, that one lurking LASD vehicle wasn't the end of it.
On Wednesday, September 7, two additional patrol cars reportedly showed up at the Chow's house. The cars arrived separately, and each reportedly stayed for around for about a quarter hour. Again, Vanessa Chow videoed the uninvited patrol cars, eventually causing each to leave.
But the Chows weren't the only witnesses harassed by lurking LASD cars.
According to Deixler, the night before the most recent hearing, Captain Angela Walton told him that she 'd recently experienced something similar.
"This car," Deixler said, referring to a photo of a dark sedan the COC projected on a screen as the attorney spoke, "was parked directly across from Walton's house," on Tuesday of that same week.
Captain Walton, if you remember, testified at length at a previous COC hearing about her experiences with deputy gangs and deputy gang members at multiple department stations. Earlier this year, Walton also filed a very detailed whistleblower lawsuit, via civil rights attorney Alan Romero, which did not reflect well on the sheriff.
Like Vanessa Chow, Walton began documenting the presence of the stalker vehicle, as demonstrated in the photo above.
She also took a shot of the vehicle's license plate.
In relating her experience, Walton told Deixler that she'd worked undercover for five years earlier in her career, and she recognized the vehicle as an LASD undercover car. She also told Deixler that she felt confident that if one ran the plate, it would come back "unregistered," which she said was common for undercover cars.
Finally, according to Deixler, Walton told him she wanted the COC to know that she "would not be intimidated."
Defying attempts at intimidation, however, feels impossible to some LASD members, as seemed to be the case when it came to the two department witnesses who were scheduled to testify on Friday.
One witness, a sergeant who is a 25-year veteran of the department, was scheduled to testify "about reforms that he believed the LASD could institute to eliminate deputy cliques or gangs," said Deixler.
It was part of the deal that the sergeant would testify anonymously with his voice distorted to protect his identity. But, in the end, the anonymity the COC offered to provide was not enough.
After talking to his spouse, said Deixler, the sergeant backed out. He was eligible for a promotion, he said, and worried that, even with the elaborate precautions, someone would find out who he was anyway, retaliation would kick in, and any chance for promotion would vanish.
There was also a second sergeant scheduled to testify on Friday. Sergeant number two had been scheduled to testify two Fridays ago, but requested that his/her appearance be delayed until this past Friday, Sept. 23.
Wishing to accommodate the second sergeant, the COC agreed to move the hearing. But the accommodation did not prove fruitful.
Like the first sergeant, sergeant number two got spooked by the looming possibility of career smashing retaliation, and bailed.
Meanwhile, outside the LASD intimidation circle
The meeting's two vanishing sergeants still left the commission with two expert witnesses from outside the department, who each spoke at length at the hearing about what kind of changes might help reform and heal the LASD in such arenas as deputy gangs.
The first of the two expert witnesses was Sandy Jo MacArthur, who worked as Assistant Chief of the Los Angeles Police Department under former New York City Police Commissioner William Bratton. Bratton, as readers may remember, was brought in as a reformer during the period that the LAPD was operating within the constraints of an aggressive federal consent decree, an agreement it entered into in 2001 as a result of the department's infamous Rampart scandal.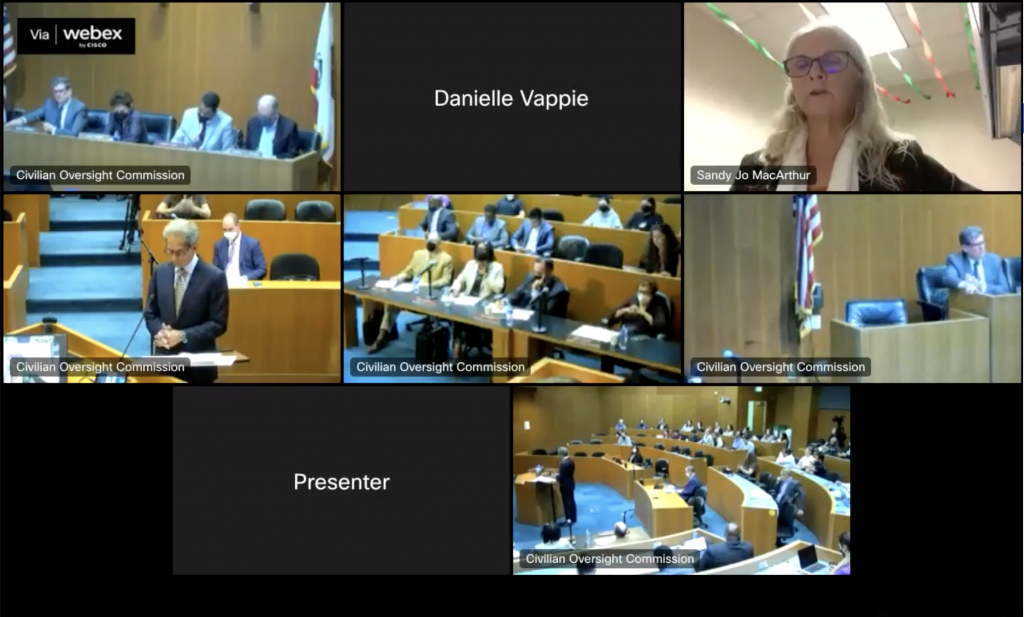 Some years after Bill Bratton's exit, MacArthur was also among the final three shortlisted for LAPD chief to replace Chief Charlie Beck in 2018. (Chief Michel Moore was ultimately selected.)
Now retired from the LAPD, MacArthur consults with law enforcement agencies and related organizations around the U.S., assisting with such topics as "training reform, early warning systems, officer wellness," and more. Based on her experience, she had a lot to say about methods and strategies she has witnessed that can help transform a less than ideal culture infecting elements of a law enforcement agency.
She described, for example, how when Bratton took over the leadership of the LAPD in 2002, he said that the LAPD's new "mission is that we are going to get into full compliance with the consent decree," which MacArthur said was mainly to engage in constitutional policing.
Bratton's first step was to set up the department's structure in order to do just that, said MacArthur.
The other major challenge Bratton and his command staff faced was to determine the depth and breadth of the problem inside the LAPD, which she suggested was what the LASD faces in solving the issue of deputy gangs.

Prior to Bratton's arrival, she said, meeting the terms of the consent decree "did not have a lot of support from management and leadership inside the org." This was despite the fact, she said, that "most of the LAPD rank and file were trying to do their jobs and trying to do them in a constitutional manner."
With this in mind, said MacArthur, it's critical to find a way for officers to feel they can safely come forward "because some of the best ideas for how to shift the culture come from within."
The second of the outside specialists was Michael Gennaco, an expert on "law enforcement reform and accountability systems," and founding principle of the OIR Group, which consults with police, sheriffs, and related organizations around the nation.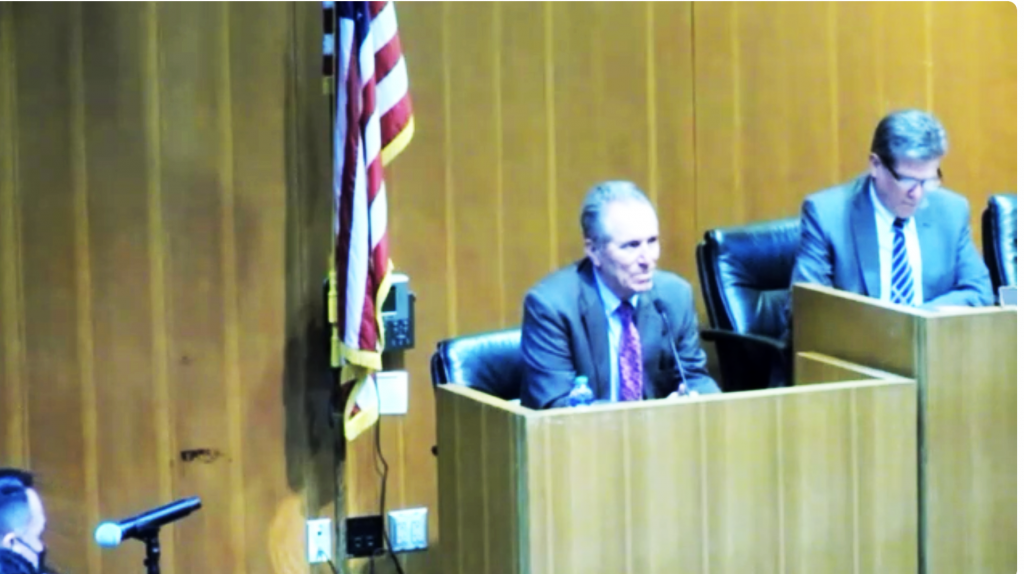 Gennaco was also the chief attorney of the Office of Independent Review (OIR) for LA County from 2001 to 2014. During that time, he and his group were under contract to provide oversight of most everything that the LASD did, he said, which included how they responded to allegations of misconduct, questionable uses of deadly force, and more. His group evaluated the various issues, and the department's response, then made detailed recommendations released in the form of public reports.
Under the dual regime of former Sheriff Lee Baca and former Undersheriff Paul Tanaka, however, both of whom would eventually be federally indicted, Gennaco and his group saw up close how oversight and much needed recommendations for change, could be ignored.
Nevertheless, unlike the COC and the county's present Office of the Inspector General, said Gennaco, he and his group had complete access to information, and internal documents.
As to what would best address the LASD's deputy gang problem, Gennaco talked about, among other things, an array of training strategies, such as instructive videos made by deputies who'd been through the deputy gang experience, for use for both new recruits and existing department members.
These and a variety of additional methods have allowed other agencies he works with "to flip that switch," on their own flaws, Gennaco said.
Yet, despite MacArthur and Gennaco's suggestions, the difficult nature of the challenges facing ethical department members, along with those presently attempting to engage in oversight and reform of the LASD, was once again demonstrated by two whistleblower lawsuits that have been released in the last two weeks.
More tales of harassment, retaliation, and defamation
First, on September 13, former LASD Chief LaJuana Haselrig filed a civil rights complaint against Sheriff Alex Villanueva, et al, which pointed to, among other things, a new round defamation and slander against Haselrig by the sheriff, and those who surround him.

Then, less than a week after Haselrig's filing with civil rights lawyer, Vincent Miller, on Monday September 19, LASD Assistant Director Cynthia Maluto filed a civil rights lawsuit—also with Miller—describing a list of retaliatory experiences that have discomforting similarities to the experiences reported in earlier civil rights filings by Sgt. Vannessa Chow, and Sgt. Rosa Gonzalez, both of whom were reportedly retaliated against by a department member named Yvonne O'Brien, who is a reputed favorite of Vivian Villanueva, the sheriff's wife, and of the sheriff himself.

According to Chow, Gonzalez, and other whistleblowers, which includes former LASD Assistant Sheriff Robin Limon, O'Brien has engaged in a variety of forms of cronyism and corruption, which have reportedly included rigging promotions for a list of people she, Mrs. Villanueva, and/or the sheriff favor, as reportedly occurred when she reportedly infamously helped several unqualified sergeants cheat on a lieutenents' exam by giving them the test questions and answers ahead of time.
At the same time, O'Brien reportedly artificially lowered the scores of other sergeants, such as Sergeant Chow, to deny them promotions they had otherwise earned.
Nevertheless, according to WLA's sheriff's department sources, Sheriff Villanueva is believed to have plans to promote O'Brien to the position of commander.

The defamation factor

Regarding the new civil rights filing by former Chief Haselrig, WitnessLA reported on her earlier legal filing in May where, in addition to other credible LASD whistleblowers, Haselrig blew holes in Villanueva's account of his actions relating to the case of Deputy Douglass Johnson, who knelt for more than three minutes on the head and neck of jail resident Enzo Escalante, when Escalante was handcuffed and no longer resisting.

The most striking part of Haselrig's new and updated civil rights complaint, however, is its description of the ways in which Villanueva has become, if anything, more aggressive in his pattern of retaliation and "defamation," against anyone who becomes a whistleblower.

For example, on August 31, 2022, according to the new filing, "under direction of Villanueva," Deputy David Yoo released a statement "defaming" Haselrig, her attorney, Vincent Miller, and some of the other prominent whistleblowers represented by Miller, stating, among other accusations, that they are "criminals trying to avoid prosecution through the filing of their lawsuits."

It should be noted that defamation and slander are not easy allegations to prove.

Yet, when we asked Miller about the new allegations in Haselrig's filing, he told WitnessLA that, while "defamation is a high bar to clear," the sheriff's actions against Haselrig and others are the real deal.

"He treats the people who work for him like political opponents," said Miller. "And he has no legal protection for that."
For those who want to view the COC hearing you can find it here