As of Wednesday, May 11, a fourth whistleblower from the Los Angeles County Sheriff's Department has come forward to file a civil rights claim that disputes major parts of the story Sheriff Alex Villanueva has repeatedly told regarding the cover up of the now notorious case involving a deputy who knelt for an extended period of time on the neck and head of a handcuffed man who was in jail awaiting trial.
The claim, filed by attorney Alan Romero for LASD Captain Angela Walton, not only describes her knowledge and experience of events surrounding the handling of the case of Deputy Douglass Johnson kneeling on the neck and head of Enzo Escalante, Walton also has a string of emails and other documented communication that backs up her statements, many of which directly contradict those of the sheriff.
Here's the deal.
It was on August 16, 2021, when Captain Angela Walton first learned of the existence of a video of a deputy under her command leaning on the head and neck of inmate Enzo Escalante, a use of force incident that occurred on March 10, 2021.
Walton didn't learn of the matter until last August 16, as that was Walton's first day on the job after being transferred to Court Services Division, which meant that Deputy Douglass was under her command.
Prior to the transfer to Court Services, Captain Walton had been the commanding officer of LA County's trouble-haunted women's jail, Century Regional Detention Center or CRDF, where she had been praised for cleaning up some of the jail's chronic problems, and installing new programs, according to WitnessLA's previous reporting on the Lynwood-located facility.
In fact, in 2021 she won the Innovator's Award from the American Jail Association for her innovative COVID protections at Century Regional Detention Facility.
In August 2021, one of her first day tasks at her new Court Services position, was reportedly to sit down with her operations lieutenant to review all "open and outstanding cases." One of those cases was the case of Deputy Johnson and Enzo Escalante.
No one had flagged the use-of-force incident as important, according to Walton, so although she was made aware of the case in passing, she didn't actually see the video of the incident on that first day in the new job.
All that changed on October 28, 2021, when, according to Walton's complaint, Sgt. Ben Grubb, who was at the time an LASD Internal Affairs Bureau investigator, contacted Walton's unit and said that the IAB was ready to interview subject Deputy Johnson, about the head/neck kneeling incident and the accompanying video.
At this point, there was no discussion of referring the case to Internal Criminal Investigation Bureau—or ICIB—the department's bureau that covers potential criminal wrong-doing as opposed to simply actions that violated department policy.
Yet, because they were about to interview the deputy, IAB Sgt. Grubb sent a message asking Walton to review the video of the incident prior to IAB's upcoming questioning of Deputy Johnson.
And so it was that, on October 28, 2021, Captain Walton finally saw the video that, according to earlier whistleblowers, former Assistant Sheriff Robin Limon, and former Chief LaJuana Haselrig, Sheriff Villanueva had already watched approximately seven months earlier, on or about March 15, 2021, in the company of Limon, Undersheriff Tim Murakami, and the sheriff's assistant, Lt. Tony Blanchard.
Upon actually seeing the video, according to Walton's new filing, she realized right away that the case "reflected excessive force and/or unreasonable force and misconduct by Deputy Johnson."
Walton was also concerned that the two other deputies who were also right next to Johnson during the incident—"bonus deputies," as they are technically known—did not properly intervene.
Walton contacted ICIB Captain Jason Schreiner right away "about her concerns with the kneeling video," and the actions it showed.
On the same date in late October, Walton also contacted Commander Allen Castellanos, then the head of Court Services Division, West Bureau, and "shared her concerns about the kneeling video" with Castellanos.
Castellanos told Walton, that he believe that the video and the case was already at ICIB, the criminal division.
Castellanos was wrong. The case was not at ICIB.
Fast forward nearly two weeks to November 10, 2021, when at 7:15 a.m., Commander Castellanos emailed Chief LuJuana Haselrig in order to obtain her consent to officially make the criminal referral to ICIB.
By 9:36 a.m, on that same day Chief Haselrig emailed Castellanos back to approve the transfer of the investigation to ICIB.
At 9:44 a.m., Castellanos emailed Walton (cc-ing other relevant people) instructing her to relieve Deputy Johnson of duty. However, according to protocol, she was to consult with ICIB prior to doing so, which was a multi-step process.
Things tend to not move with lightening speed in any bureaucracy heavy law enforcement agency such as the Los Angeles Sheriff's Department, even when the people involved are, in good faith, attempting to expedite things.
Thus, according to the new claim, it was not until December 7, 2021 at 2:45 p.m., that Walton was actually able to drive to the San Fernando Courthouse and personally relieved Deputy Johnson of duty.
Sheriff Villanueva would later claim that it was he who personally directed the relief of Deputy Johnson of duty on November 18, 2021. However, Walton reportedly memorialized the actual act by sending an email to her acting chief, namely Luana Haselrig, and the ICIB Captain on December 7, 2021.
Who're you going to believe, me or your lying eyes & e-mails?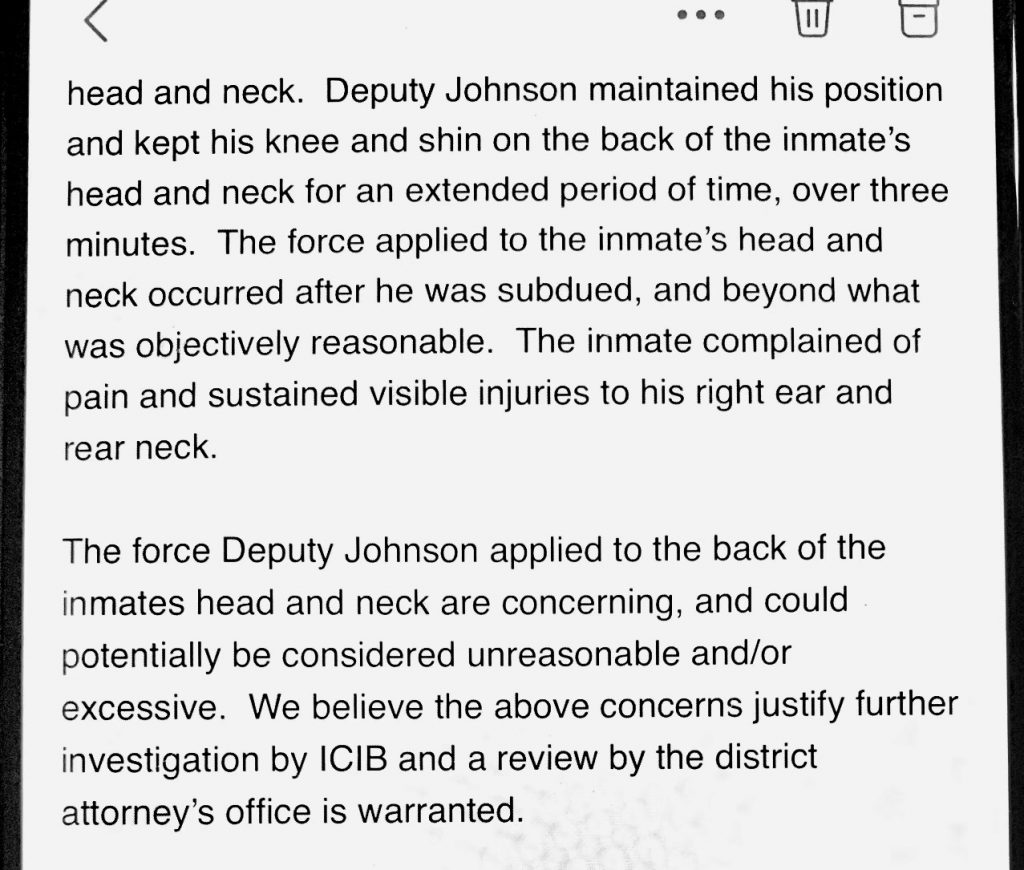 So to review: According to the new claim, along with multiple WLA sources who have seen the relevant emails and other documents, Captain Walton was the person who made original contact with ICIB about the head-kneeling case, referred Deputy Johnson criminally to ICIB, and later relieved him of duty.
[WitnessLA has also obtained copies of some of the critical emails.]
Logically, this would mean that any after-the-fact claims by Sheriff Villanueva that he was the person who first undertook these steps, are…well…false.
As readers may remember, slightly more than a year after Villanueva reportedly saw the video on March 25, 2022, (according to eyewitness Robin Limon, and others with knowledge of the situation) the LA Times released a story on the head kneeling incident together with a portion of the video of Deputy Johnson's use-of-force actions
After the LAT story came out, Villanueva called a press conference during which he vehemently denied the suggestion that he had participated in a cover-up of the head-kneeling incident.
According to the sheriff, he didn't see the video at all until November 18 of 2021, approximately eight months after the incident with Escalante and deputy Johnson occurred on March 10, 2021, and eight months after March 15, 2021, the day that Haselrig reportedly gave the video to Limon, who watched that same video with the sheriff, his undersheriff, and his assistant.
By Villanueva's account, however, after he did finally learn of the matter in November 2021, he called for a criminal probe of the use-of-force incident, and right away ordered the head-kneeling Deputy Johnson to be relieved from duty—both actions that are directly disputed by Walton's claim, along with string of emails, other documentation, plus other department sources with knowledge of the sequence of events, who have talked to WLA.
Nevertheless, the sheriff continues to stick to his story, and subsequently demoted two members of his command staff for their supposed part in the cover-up, namely former Chief LaJuana Haselrig, and former Assistant Sheriff Robin Limon, who have also filed complaints.
The retaliation game
As it turns out, according to today's claim, Haselrig and Limon were not the only women officers whom the sheriff tried to pressure into lying in his behalf when it came to the case of the head and neck-kneeling deputy.
On April 11, 2022, while Walton was off on an unscheduled leave, she received a phone call from Commander Joseph Williams, who was serving as Acting Chief of Court Services Division after the (forced) retirement of Chief Haselrig.
According to Walton, Commander Williams explained to her that "the Sheriff's Office wanted a timeline of the Escalante use-of-force investigation."
Walton explained to Commander Williams that she had viewed Sheriff Villanueva's public statements on the case, and that these public statements were "inconsistent with the truth of the matter."
In particular, Sheriff Villanueva's statement that Deputy Johnson had been immediately relieved of duty by the sheriff in November, simply did not happen, she told the commander.
At that point, Williams reportedly again asked Walton for "a timeline of these events."
In response, Walton reportedly reiterated that a truthful and accurate timeline would not track with Sheriff Villanueva's public timeline, which was not at all accurate.
Later that same day, Williams reportedly called Walton a second time and told her to "disregard the request for a timeline."
Then, Walton said, he asked her one more time about her actions regarding the case.
"Are you sure that the sheriff's office did not call you and tell you to relieve him [of duty]?"
Walton repeated that the sheriff never told her to relieve Deputy Johnson of duty, but even if she had been so ordered, Deputy Johnson was on unscheduled leave on the date that the sheriff claimed he had personally relieved the deputy of duty, "making this claim factually impossible," according to department regulations.
Besides, she had all the documentation to prove what had occurred.
One week later, on April 18, 2022, Sheriff Villanueva removed Walton from her unit assignment, which constitutes a demotion, although she keeps the same rank.
Williams was the person who gave her the news.
According to the claim, her removal from her assignment was "in retaliation for her protected whistleblowing activities, including, but not limited to, refusing to participate in Sheriff Villanueva's fraudulent kneeling video timeline."
She was reportedly given no reason for the demotion.
Post script update
On May 1, a document purporting to be an interdepartmental memo from LASD Commander John Satterfield to Undersheriff Tim Mirakami, was pedaled to various news outlets.
The memo (which you can read here), describes a purported forensic level investigation into the actions by the sheriff and others that ultimately resulted in the investigation by ICIB of the infamous head-kneeling incident.
The point of the strangely clumsy memo is evidently to prove Sheriff Villanueva's account of his actions, and dispute those of other, regarding the case.
KFI appears the only significant news outlet that took the bait.
After the memo's release, some of WLA's sources suggested that it was to aid with the creation of the May 1 memo that, on April 11, 2022, LASD Commander Williams reportedly asked Captain Walton to change her provable account of the events surrounding the referral of the head-kneeling deputy case to ICIB, to a false narrative that matched that of the sheriff.
When she refused, punishment came swiftly.
5-10-2022, Angela Walton – … by Celeste Fremon
PPS: If you've not already done so, please read today's exceptionally well-reported story by the LA Times' Alene Tchekmedyian about the undue influence that Vivian Villanueva—the wife os Sheriff Alex Villanueva—has on the day-to-day workings and policies of the Los Angeles Sheriff's Department.