The Los Angeles County Sheriff's subpoena saga continues.
Here's the newest chapter in short.
This past Friday, July 22, the LA County Sheriff's information bureau confirmed to Kate Cagle and Spectrum News that Sheriff Alex Villanueva would indeed attend the Civilian Oversight Commission's latest hearing on deputy gangs to be held on Monday, July 25.

Villanueva planned to come to the hearing, which is to be held at Loyola Law School, in order to "clarify the misinformation being disseminated," wrote a representative of Sheriff's Information Bureau (SIB) on Friday.

This morning, however, it appears that the sheriff has changed his mind. 
Again.
He will not, in fact, attend Monday's meeting unless the COC meets a series of demands, which are roughly the following:
Villanueva must be able to deliver his own opening statement. In addition, he must be permitted to cross-examine any other witnesses who are interviewed at the hearing, and preview exhibits the commission intends to show. And the commission must have present at the hearing a "neutral hearing officer." Whatever that means.
If the commission declined to accede to his demands, Villanueva wrote in his letter to the COC's Executive Director, Brian Williams, he was no longer going to show up.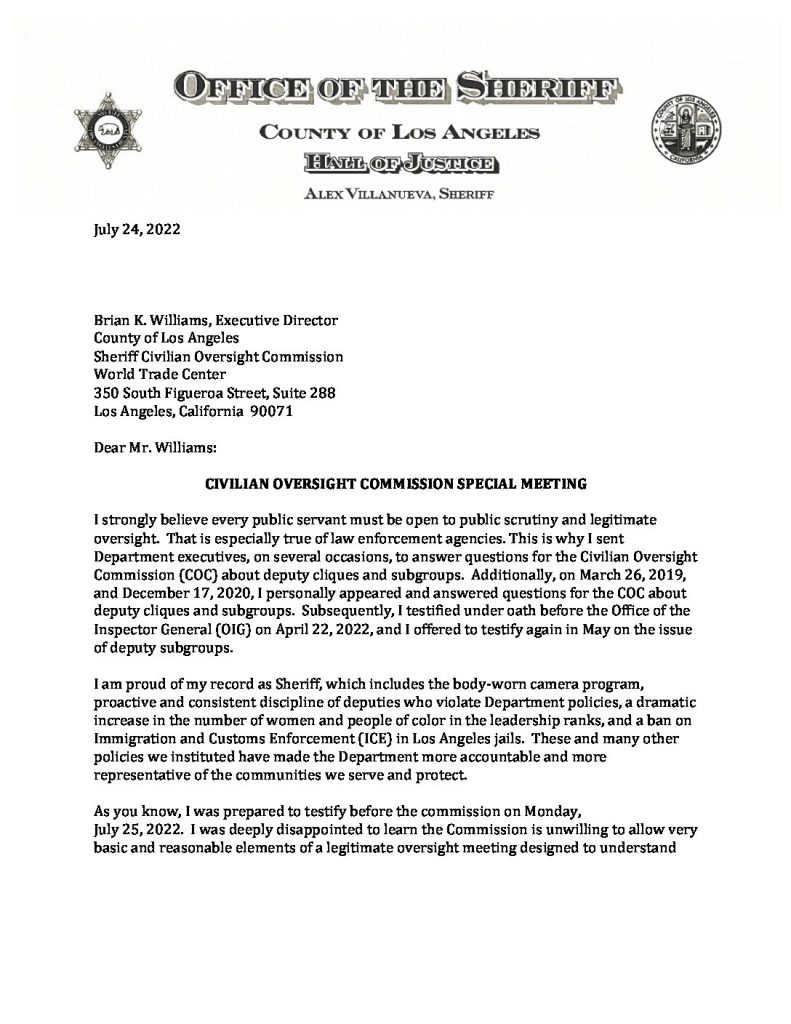 "I am more than happy to speak with the commissioners as soon as these requests are granted," the sherif wrote. "They in no way interfere with the Commission's ability to ask questions, learn the truth, or fulfill its oversight role. In fact, they would clearly enhance their ability to discern the truth, assuming that is the goal…." and so on.

At last month's hearing on deputy gangs, held on July 1, by the COC, Villanueva also bailed, but in that case the sheriff framed his failure to show as a safety issue.
Via the letter from the sheriff's lawyer to the commission's chair, Loyola Law School's Sean Kennedy, Villanueva said that he could not comply with the latest subpoena to testify under oath because he "fears for his safety" at the hearings, which were being held on the Loyola Law School campus, a location that is not generally known as a perilous environment.
His fears, Villanueva said, were due to some jackets or other garments adorned with anti-sheriff sentiments, which unhappy community members attending previous COC hearings may have worn in the past. The community members may also may have tweeted mean things.

Undersheriff Tim Murakami, who was also subpoenaed, similarly could not attend because the stress of testifying at the hearing would endanger his health, according to the letter, or words to that general effect.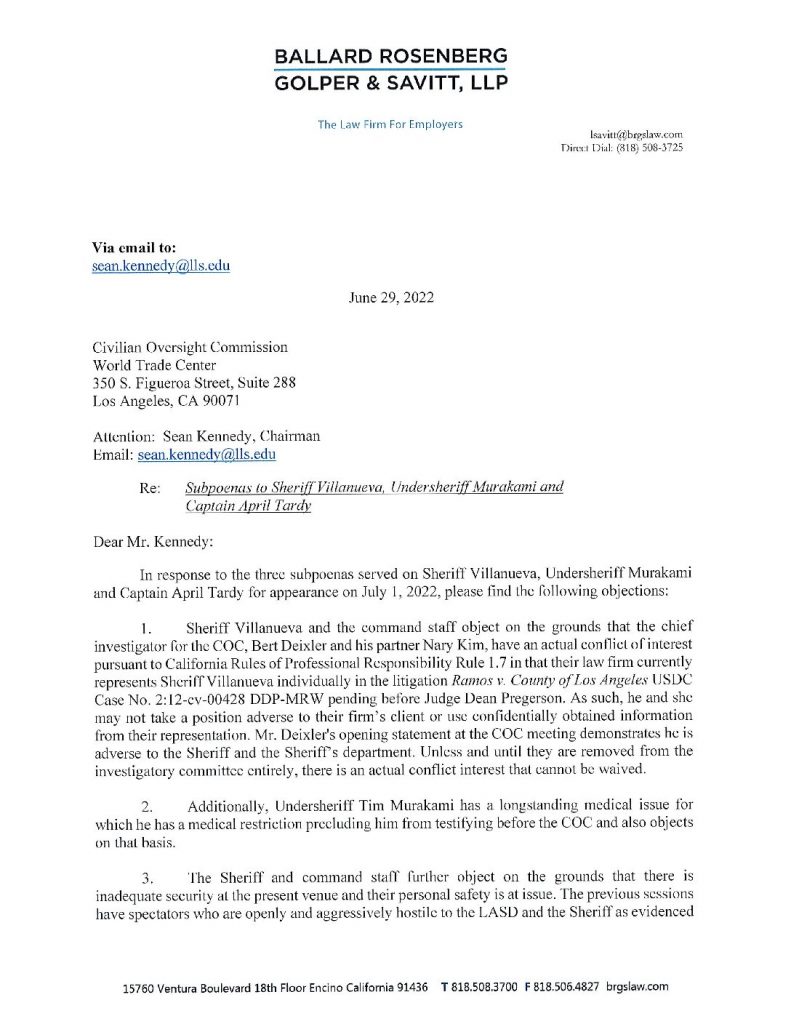 The next chapter in the saga will continue Monday morning at 9 a.m.
So, stay….tuned.