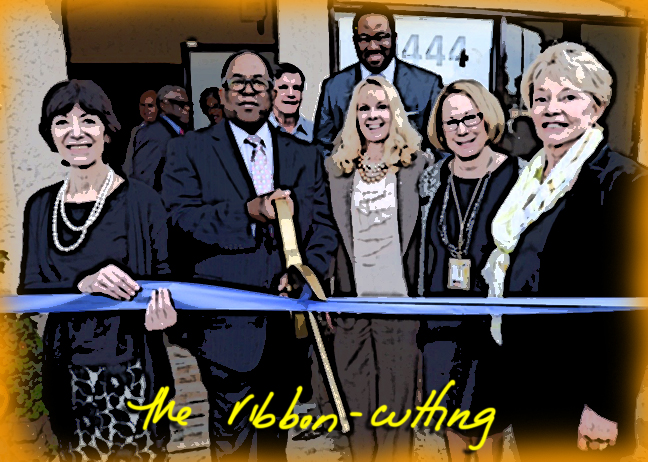 REOPENED LA URGENT CARE WILL GIVE OFFICERS A PLACE (OTHER THAN JAIL) TO TAKE PEOPLE SUFFERING FROM A MENTAL HEALTH CRISIS
This Thursday, a newly reopened Westside Mental Health Urgent Care Clinic will begin providing emergency psychiatric care to people suffering from a mental health crisis.
These centers serve as places law enforcement officers can bring people in crisis. Often, police officers have to choose between waiting 6-8 hours to drop someone in crisis off at hospital emergency room, or booking the person on a minor charge and getting back to work within an hour.
The crisis center is expected to serve 5,900 patients from Culver City and the surrounding area every year. The Westside facility is the second mental health facility to open in the area, following the February reopening of MLK Mental Health Urgent Care Center at the Martin Luther King, Jr. Medical Campus in Willowbrook.
This summer, Los Angeles District Attorney Jackie Lacey presented a massive report and comprehensive plan for diverting LA's mentally ill offenders from jails and redirecting them to community programs and support. One of Lacey's important diversion recommendations was to increase the number of mental health urgent cares in LA County.
"At the Westside UCC, people in crisis can get help to avoid harming themselves or others around them, preventing needless violence in the community," said LA County Supervisor Mark Ridley Thomas, who led the ceremonial reopening of the Westside facility.
---
A TRIP TO THE LASD'S TRAINING CENTER FOR INSTRUCTION, AND (PAINFUL) DEMONSTRATION OF TASER GUNS
As the debate heats up about how "less-than-lethal" tasers really are, KCRW reporter George Lavender visits the Los Angeles Sheriff's Training Center to see (and feel) firsthand how the department trains deputies in the use of tasers. Lavender watches deputy Ed Clark use the video simulator that trains officers in use-of-force situations. Lavender even has a deputy shoot him in the back with a taser.
In recent months, there has been more scrutiny of officers' use of tasers, and increasing reports of taser-related deaths. When Lavender asked Taser International CEO and co-founder Rick Smith if there are times that tasers should be considered lethal force, Smith said, "If you have someone standing on an elevated surface and they fall off and Taser is directly involved in the chain of events of that death. Or if they fall and hit their head another way."
But many of those who have died after receiving the 50,000-volt shock were under the influence of drugs or alcohol, suffering from a psychiatric crisis, or were the recipient of multiple, successive taser shocks (and sometimes, it's all three).
Here's a clip from the accompanying text, but do go listen to Lavender's story over at the Which Way LA? blog:
Tasers can deliver a 50,000-volt shock but the duration and frequency of exposure vary greatly. The standard cycle is five seconds. The trigger can also be held down to extend the shock for longer. Taser International and most police departments caution officers against more than three cycles — that would be a total of 15 seconds. A 2011 National Institute of Justice study found that most Taser-associated deaths involved "multiple or prolonged discharges."

The condition of the person being tased can also be a factor. According to Akiva Freidlin, one of the authors of a report by the Stanford Criminal Justice Center that assessed the available research on Tasers and public safety, "They're safe as long as the person being subjected to the shock is reasonably healthy, not under the influence of drugs or alcohol, not in the middle of an acute mental health crisis, not pregnant, not suffering from latent heart conditions, as these things pile up, they slice away at what seems like a clear and certain conclusion." Freidlin says it's not possible to test the effects of Tasers on those who might be most vulnerable. Some medical studies have suggested that the electricity from a Taser shot to the chest may lead to cardiac arrest. The manufacturer, Taser International, disputes this.

In the UK there's a national record of every time a Taser is drawn, aimed, or fired. That kind of central database doesn't exist in the US. There's no way to clearly answer questions about how Tasers are being used here.
---
BEXAR COUNTY, TX RETHINKS AND RESTRUCTURES ITS CHILD WELFARE SYSTEM TO KEEP KIDS SAFER, AND TO REMOVE FEWER KIDS FROM THEIR HOMES
Bexar County (where San Antonio is located) has led the state of Texas with the highest rates of removal of children from homes in which they were abused or neglected. Bexar has also had the highest rate of re-victimization of those kids who are returned to their families after being removed by social workers.
Last fall, Bexar County overhauled its children's court in an attempt to reverse these statistics. The county successfully—and safely—reduced the number of children removed from their homes by a third, so far.
Among a number of important changes Bexar is making, the county is creating a version of its highly successful alternative drug court. The new court will specifically provide early intervention for young mothers with babies and toddlers involved with Child Protective Services, focusing on mothers' mental health and bonding and attachment issues.
Texas Judge Peter Sakai lays out the important steps Bexar took to transform its child welfare system in a story for the Chronicle of Social Change. Here's a clip:
…one of the biggest flaws in our child welfare system was the failure to coordinate services with the nonprofit organizations that the county contracts with to support children and families (i.e. drug and alcohol rehabilitation treatment, mental health treatment and batterers' intervention programs for domestic violence).

Quite often, they were left out of any discussions and hearings involving the best interests of children. This created a patchwork of services and inconsistent application of the law to the families most in need.

In Bexar County, we employ two full time Associate Judges with full court staff and courtroom to hear CPS cases on a daily basis. Redesign created two additional staff positions to assist the two presiding judges who were hearing CPS cases on a daily basis.

We decided that the two positions would be filled with tenured and experienced CPS caseworkers that knew investigation, family preservation and legal conservatorship cases, meaning that they were the best CPS caseworkers that the Court could employ. Their mission is to assist the judges in helping them assess all child abuse and neglect cases that came before them; to answer any questions of CPS policy and practice or get the answers from the appropriate sources; and to establish communication and collaboration with the nonprofit organizations that provide direct services to the families in the court system.

Two other big changes brought about by the redesign involved our nonprofit partners. Newly elected District Attorney Nico LaHood agreed to give up office space to allow offices for the nonprofit organizations right next to the courtrooms to allow direct and easy access of services for the parents and families that come to court.

Meanwhile, we established new expectations of nonprofits by requiring evidence-based outcomes with data and metrics that would allow the flow of information between them and the Court.

For the past fiscal year, we have reduced the number of cases filed for removal by 30 percent, nearly 3,000 fewer court orders for removal. The Court had much more time to spend on the needs of individual cases, and more reunifications with families are occurring with the enhanced communication and collaboration of all the stakeholders.
We at WLA will be keeping an eye on Bexar as a possible model for successful child welfare system reform.
---
WHY THE DOJ IS AUDITING THE CHICAGO POLICE DEPARTMENT FOR ALLEGED CIVIL RIGHTS VIOLATIONS
Writing for the Atlantic's CityLab, Brentin Mock gives an informative rundown on why the US Department of Justice has decided to investigate whether Chicago's law enforcement officers have been violating the rights of civilians.
The DOJ's move follows on the heels of the release of dash cam footage of Chicago cops shooting a black teenager named Laquan McDonald 16 times. Chicago paid a $5.5 million settlement to McDonald's family. The city's payout number for officer misconduct cases between 2010-2014 was $601 million, more than double the city with the second-highest payout amount of $250 million, New York. (Los Angeles and Philadelphia hold the third and fourth places with $57 and $54 million respectively.)
Here's a clip from Mock's story:
Already, Chicago's history of police brutality looks rather like a pattern:

– Revelations of Chicago detectives applying a torture protocol to suspects in the 1980s to coerce confessions—which ultimately led to the city paying out more than $5 million in reparations to some of the victims of that torture.

– Discovery of a secret "black site" where police took suspects for aggressive (if not flat-out violent) interrogations before officially arresting them.

– Settlements from lawsuits over police brutality that have cost Chicago more than $521 million between 2004 and 2014—$84.6 million paid out in 2013 alone. The Los Angeles police department has paid $57.1 million in police brutality settlements between 2010 and 2014 by comparison, according to The Wall Street Journal.

Chicago recently paid $5.5 million to the family of Laquan McDonald, the 17-year-old African American teen who was shot 16 times last October by Chicago police officer Jason Van Dyke in what McDonald's lawyers describe as an "execution." The police dash-cam video of that killing was released right before Thanksgiving, over Mayor Rahm Emanuel's controversial objections and decision to previously withhold it from the public.

Police are now preparing to release another police dash-cam video to the public, of an officer killing Ronald Johnson, 25, also black, in an incident that happened just a week before McDonald's killing.
(For further reading on this topic: A Frontline and Washington Post investigation into DOJ interventions, examined the long-term outcomes for the law enforcement agencies, and found mixed results.)