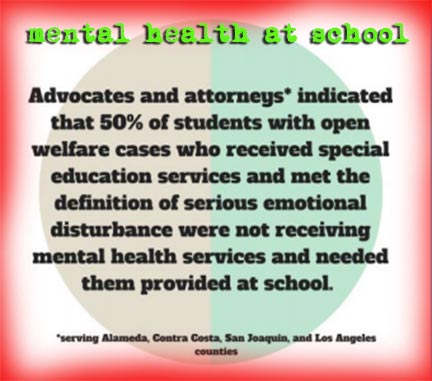 REPORT FINDS INADEQUACIES IN MENTAL HEALTH SERVICES FOR IN CALIFORNIA SCHOOLS, AND A PIPELINE TO THE JUSTICE SYSTEM
California school districts are failing to provide students with the mental health services they are legally entitled to, and sending mentally ill kids into the juvenile justice system instead, according to a report from the Western Center on Law & Poverty, Mental Health Advocacy Services, and Learning Rights Law Center.
Even with a $400 million per year budget for mental health services, California school districts have not done enough to identify the 580,000 students eligible for—and in need of—mental health services, as required by the state's Mental Health for Students Law. And the inability to identify kids that need mental health treatment, leads to harsh school discipline and creates a funnel for kids into the juvenile justice system.
"We are limiting too many of our children, especially children of color, who can and will do well in school, graduate with their class, and go on to successful careers, if given the right services," said Antionette Dozier, Senior Attorney at Western Center on Law & Poverty. "We know what the services are, we have providers who can provide them, and we have the funding available for the services."
The study's authors collected data from 15 California school districts (including the Los Angeles Unified School District), special education advocates representing more than 900 kids every year, mental health providers in 20 counties, and over 70 parents.
Advocates in Los Angeles told researchers that 50% of LAUSD students who were involved with the Probation Department, receiving special education services, and had serious emotional disturbances, were not getting the mental health services they needed in school. The same was true of Alameda, Contra Costa, and San Joaquin counties. And when schools did provide kids with mental health services, they were often inadequate or the wrong kind of treatment altogether.
Here's the story of one young Long Beach Unified student and his family:
Michael is a 9-year-old, male student with social phobia and anxiety disorders, which included symptoms that made leaving his room a serious obstacle. Michael's mother informed the school numerous times about his condition, and made multiple requests for a special education assessment. The district replied that they could not assess the student because he could not attend school, essentially using the child's mental health condition against him as an excuse for their inaction to address it.
The report calls for a wider offering of school-based mental health services and crisis intervention, increase parent participation, and tracking of data on mental health spending and kids' outcomes, among other actions.
---
HOMELESS YOUTH 10 TIMES MORE LIKELY TO DIE THAN THEIR PEERS
The risk of dying is ten times higher among homeless San Francisco teens and young adults between the ages of 15-24 than their housed peers, according to a report by the UC Berkeley School of Public Health.
The study followed 218 homeless transitional age youth between 2004-2010. Of the 218, eleven died during the six-year study period (around 5%), mostly from drug abuse and suicide.
"Given that these youth come disproportionately from groups for which society has a fiduciary responsibility, including survivors of physical and sexual abuse, foster youth and youth with a history of involvement in the juvenile justice system, our collective mandate to address their disparity in mortality is even more pressing," the report reads.
AND WHILE WE'RE ON THE TOPIC OF HOMELESS YOUTH…
A California bill by Assemblymember Young Kim (R-Fullerton) would allocate $25 million for emergency services for homeless children, including up to three years of transitional housing, as well as life and family skills, employment, and interventions.
Read more about the bill in Kim's editorial for the OC Register. Here's a clip:
According to the California Homeless Youth Project, approximately 298,000 kids in the state will experience homelessness during the school year. And according to the Annual Report on the Conditions of Children in Orange County, more than 32,000 of our county's kids are homeless. This is a tragedy.

Many of these kids come from a background of violence, neglect and poverty. They typically end up on the streets, exposed to risks that jeopardize their health and well-being.

That is why it is imperative we provide different programs and services to help homeless youth – so we can earn their trust, transition them into permanent homes, and help them achieve successful lives. Through intervention at an early age, we can get them the tools they need to ensure that homeless children do not grow up to be homeless adults.

I am leading the fight in the Legislature to address this growing problem. First, I introduced Assembly Bill 1699, which passed the Assembly Human Services Committee with bipartisan support and would set aside $25 million for homeless youth emergency service projects. These projects would provide transitional living for up to 36 months and create access to education and employment assistance. They would also teach independent living skills, family engagement, and interventions.

I also have asked the Budget Committees in both houses to allocate the funds that my bill calls for, and just last week the relevant budget subcommittee held a hearing to discuss the $25 million that I requested for homeless youth.

I am hopeful that by tackling this issue in both the legislative process and the budget process, we will be able to provide the help that these children need. And it can't happen soon enough.
---
SF CHRON EDITORIAL BOARD ASKS: WHO IS SAFEGUARDING CALIFORNIA'S PRISON BUDGET?
Despite a 22% decrease in California's prison population—thanks in large part to realignment and Prop. 47—prison spending continues to rise. Part of the overall increase can be attributed to more rehabilitative services and federally mandated improved health care within the state prison system, but pay for prison staff is also on the rise, even though there are fewer inmates to supervise. Part of the problem, according to the California Correctional Peace Officers Association, is that prisons were already understaffed. And the state doesn't have plans to close any prisons in the near future—one particular move that would reduce the number of corrections officers needed.
The SF Chronicle's editorial board explores the issue and the influence of law enforcement unions on spending. Here's a clip:
…salaries for the approximately 29,000 members of the California Correctional Peace Officers Association (CCPOA) cost the state about $2.1 billion last year, not including an additional $350 million for overtime and other special payments.

The CCPOA is negotiating a contract. If approved, the latest agreement would add incremental annual costs to the state that top out at $588 million in fiscal year 2018-19. In addition to getting raises (9.3 percent over three years), CCPOA members would also receive enhanced benefits like an increase in "physical fitness incentive pay" from $65 to $130 per month per member. The enhanced benefit would also be counted as base pay — meaning that it would count toward retirement.

The members would begin contributing to a retiree benefits trust fund, but that's a relatively small concession for any state worker in 2016. The general trend is increased state costs for a union that has fewer charges. And the choices the state makes with regard to the CCPOA are crucial to doing the right thing on criminal justice reform.

[SNIP]

…the legislative analyst's office says that the new contract will increase overtime costs by tens of millions of dollars each year. And while the state has decreased the number of state prisoners, it has no plans to close any prisons — the kind of move that could reduce the number of corrections officers.