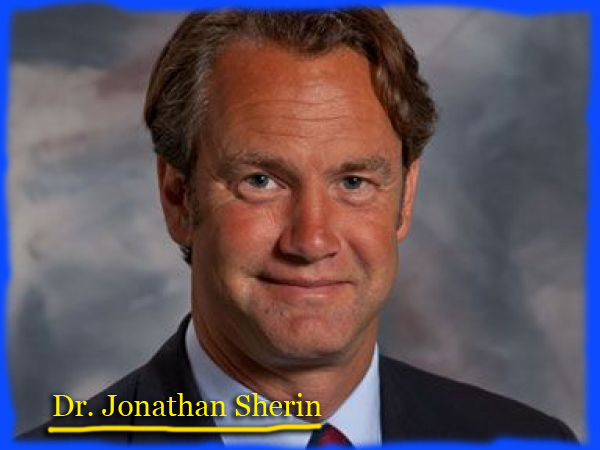 LA COUNTY HAS A NEW HEAD OF MENTAL HEALTH
Last week, the Los Angeles County board of Supervisors formally hired a new Director of LA's Department of Mental Health, the largest public mental health system in the nation.
The new director's name is Dr. Jonathan Sherin. And, according to our sources, in Sherin the supes seem to have found a winner.
By training, Dr. Sherin is a psychologist and neurobiologist with a particular expertise in developing programs and providing care for individuals who are, as he explains it, challenged with persistent and severe mental health conditions, "many of whom have criminal records due to disorganized thought processes and behavior."
Professionally, Sherin worked for a decade for the Department of Veteran Affairs, both in Los Angeles and Miami, where he gained a national reputation in the arena of care for veterans struggling with reintegration challenges, testifying frequently before Congress on the issues of veteran suicide, homelessness, and other mental health-related difficulties with which many vets struggle after they come home.
Most recently, Sherin has continued his work with veterans and mental health as the chief medical officer, and executive vice president for military communities, for the national nonprofit social-services group Volunteers of America.
---
EXPERIENCED REFORMER
During his time in Los Angeles, Sherin has been unafraid to wade into some of the county's most pressing mental health controversies with an eye toward reform. For example, he has been a strong, outspoken proponent of diversion programs for mentally ill criminal offenders who revolve in an out of the LA County's jail system.
"From a clinical perspective," he wrote in a letter to the board of supervisors on the topic in 2014, "it is important to recognize that incarceration is in many cases contraindicated."
Around that same time, Sherin told the Wall Street Journal that jail-based treatment programs aren't the right solution.
"They're a reaction that is based in fear," he said. "Having an individual with mental illness in a constrained environment, in a punitive environment, in a deprived environment, is adding fuel to potential fire."
Similarly, Sherin has made it clear that he is not a fan of excessive prescribing of psychotropics and other medications for either adults or kids.
He expressed his concerns to LA Magazine reporter Anne Taylor Fleming about the overuse of psychiatric medication for veterans. "Our society—the VA and beyond—is focused on treating mental and physical injuries with pharmaceuticals," Sherin said. "Opioids can be effective in the short term, but they are not a solution. We have an epidemic of younger folks who are becoming addicted to them."
Given the revelations that have risen in the last few years about the overuse of psychiatric drugs with California children in the state's foster care systems, and possibly in juvenile facilities and elsewhere, it is heartening to find that LA's County's new head mental health guy appears, when it comes to drug use, to believe firmly in restraint.
Sherin replaces Acting Director Robin Kay, who took over after the exit of longtime former Director of Mental Health, Dr. Marvin Southard, who headed the department for 17 years. Southard announced his retirement in August 2015, shortly after the Supes voted to consolidate the county's three health agencies.
Dr. Sherin's undergraduate degree is from Brown University, his medical degree was a combined program at the University of Chicago and Harvard Medical School, where he was a scholar in residence, followed by an internship and residency at UCLA. He continues to teach and provide psychiatric care as a volunteer at the VA in Los Angeles, Calif.
Dr. Sherin will be sworn in on Friday at noon at the Kenneth Hahn Hall of Administration.
---
AND ABOUT THE MUCH-AWAITED NEW PROBATION CHIEF
While we're on the topic of heads of big LA County agencies, we understand that the board of supervisors has finally chosen a chief for the county's embattled Department of Probation, but that there are still a few contractual matters being ironed out before they will actually announce their choice. The vote to select the final candidate was reportedly unanimous.
While we await a formal announcement, here is WitnessLA's previously published look at the five finalists, a varied list of candidates, each with different strengths, whom the board has been interviewing and, in some cases, re-interviewing in the course of making their final selection for the crucial position.
The county has cycled through five probation chiefs in just over 10 years, as the department struggled through various serious scandals and challenges in the past decade. Now more recent revelations (see here, here, here and here for examples) have pointed to the fact that the agency's problems are still far from solved, making the selection of the chief, plus the process of instituting a system of civilian oversight for the agency, of ever more pressing importance.