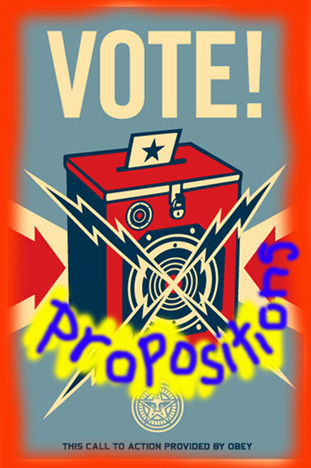 From now through Monday, I'll be running informational posts —written by me and others—on most of the various propositions.
(For instance, some of my very smart USC students have written some nice and pithy analyses, which I'll be putting online, and there will be more voices)
Then on Monday, I'll post a list of endorsements.
(Since the LA Weekly has stopped doing endorsements, some readers have suggested that another voice or three would be helpful. And I agreed.)
***********************************************************************************************************
FIRST…..PROPOSITION A:
KPPC's Frank Stolz did an excellent short and informative, rundown on Prop. A.
In case you don't remember, Proposition A is the City of LA parcel tax to fund gang-prevention programs. It will raise $30 million every year through a $3 per month parcel tax dedicated solely to gang prevention, intervention and after-school programs, plus vocational, job training and apprenticeship programs. Supporting it are LAPD Chief Bill Bratton, Sheriff Lee Baca, the police union, Steve Cooley, Connie Rice, Antonio Villaraigosa, former mayor, Dick Riordan, the teachers' union, the LA firefighters….and on and on.
HERE'S what Frank Stolze says:
Southern California remains the gang capital of the world. Law enforcement officials estimate more than 100,000 mostly young adults claim membership in hundreds of gangs. Police have had some success in reducing gang violence. But they say they can't keep up with the constant flow of kids joining gangs. In the city of Los Angeles next week, voters will consider a new tax to pay for more gang prevention and intervention programs. KPCC's Frank Stoltze reports.

Frank Stoltze: Being asked to join a gang is almost a rite of passage in many Southern California neighborhoods. James Vasquez recalls hanging out with friends after school one day when he was 12.

James Vasquez: A big group of guys just came out of nowhere and said, "where are you from?" And we said, "we're not from anywhere." And they're like, "you want to join our gang," and I said "no thank you." My other friend said "sure, why not." I know, it's weird how one friend said yeah, and I said no.

Stoltze: Not long after that, Vasquez' teachers helped enroll him in a gang prevention program called "Bridges." Outside a Tommy's Burger in his Hollywood neighborhood, Vasquez says his parents weren't really around at the time.

Vasquez: If I wasn't in this program, I would have been doing drugs. I would have been gang banging with my friends, you know.

Stoltze: Why do you say that? Why do you think you would have ended up there?

Vasquez: 'Cause I wouldn't have anywhere to go.

There's much more after the jump (and there's an audio version if you'd prefer):

Stoltze: Supporters of Proposition A say the measure would give more kids the opportunity to say no to gangs. Prop A would tax property owners $36 a year to raise $30 million for kids' and young adult programs. That would more than double L.A.'s budget annual for those efforts.

Los Angeles City Councilwoman Janice Hahn: We have more police officers, we have more gang injunctions, we've arrested 400,000 people in relation to gang violence, but its not working. We've got more gang members now than we ever have.

Stoltze: Los Angeles City Councilwoman Janice Hahn says most of the money would go to neighborhood organizations that offer after-school activities, tutoring, and job training.

Hahn: It is a tough economy, but I still think that voters understand this issue. Thirty-six dollars a year – and that's all, really, were asking people to pony up. That's $3 a month. That's a dime a day.

Kris Vosburgh: We are a high tax state, we have a high tax city, and we're making ourselves less and less competitive.

Stoltze: Kris Vosburgh, president of the Howard Jarvis Taxpayers Association, says he's heard politicians' pleas for money before.

Vosburgh: Oh, we only need $25 for this. We only need $37 for that. And, you know, it's only a drop in the bucket. Well, with these drops, we're ending up with a torrent of new taxes at the worst possible time. People are uncertain about their investments, they're uncertain about the values of their homes.

Stoltze: Vosburgh notes that L.A. voters face three other proposed tax increases on the ballot – for community college facilities, for public school facilities, for mass transit.

Los Angeles has struggled to get gang intervention right. Earlier this year, Vosburgh pointed out, the city controller said L.A. has a "disjointed maze of services" that often don't reach at-risk youth.

Vosburgh: She said there's plenty of money. Its just the management is in disarray. And it was only in the beginning of July that those programs were shifted over to the supervision of the mayor's office.

Stoltze: Mayor Antonio Villaraigosa, who supports Prop A, has pledged more accountability from organizations that get city money for gang intervention. He's also focusing city spending on the dozen most violent neighborhoods.

The public face of the campaign for Prop A is LAPD Chief Bill Bratton. He says the city can't arrest its way out of its gang problem. Commander Pat Gannon oversees the police department's anti-gang efforts. He recalls one night a few years ago in South L.A.

Pat Gannon: We had a series of 20 shootings in a six hour period of time, and I can remember standing at the corner of Vermont and Manchester, and it was like, I know how to flood it with cops – you give me cops, I can stop it – but I didn't know what I was going to do the next day, I didn't know what I was going to do the following day.
Stoltze: You didn't know what you would do in the long term.

Gannon: Had no idea.

Stoltze: Gannon says any long term anti-gang strategy has to include more gang prevention and intervention workers. James Vasquez, now 18 years old, says one of those workers stood up for him.

Vasquez: She helped me out soooo much. If I ever gave up while I was in the program, she would pick me back up and go, you know what, we're going to try again. You know, if I had bad grades, she'd be right there going, "Why do you have bad grades? What can we do?"

Stoltze: Proposition A supporters promise the measure would provide more of that kind of help. As a proposed tax increase for a specific purpose, it faces a high hurdle: Prop A needs the support of two-thirds of city voters to become law.