In June 2020, the Los Angeles Unified School District board voted to cut $25 million from the $70 million school police budget in response to calls from dozens of community groups to divest from law enforcement and the ways in which kids are pushed out of school and into the criminal legal system. Now, the school board has decided what to do with that $25 million: redirect it into a Black Student Achievement Plan.
In a vote on Tuesday, February 16, the board got clearer about what defunding school police and reinvesting in kids at its 900 schools will look like.
The LA School Police Department (LASPD) will lose 133 positions — 70 gun-carrying sworn officers, 62 non-sworn "school safety officers," and one support staff member — around one-third of the department's total force. Along with the personnel cuts, will come boosts in support for students and a ban on officers using pepper spray on students — demands brought by a coalition of Black students and community groups, including LA Students Deserve, Black Lives Matter-LA and Brothers, Sons, Selves.
The board voted to adopt its plan after a 7-month review of the LAUSD's school safety and climate that included conversations with local organizations and analyses of models implemented in other large school districts, including in Austin, Chicago, Minneapolis, New York City, Oakland, and Seattle.
The Black Student Achievement Plan
Using $36.5 million per year — $25 million of which will come from the school police budget cuts — the school district will partner with community groups to boost supports and services in 53 schools selected based on indicators that include the number of kids suspended or referred to probation, average Math and English proficiency scores, chronic absenteeism rates, and school experience survey responses.
The Black Student Achievement Plan will focus on making sure that school instruction and materials are culturally responsive to Black students, on closing gaps in literacy and math skills, and on reducing racial disparities in school discipline, in part, by focusing on meeting kids' "academic and social-emotional needs."
School "Discipline"
According to a 2018 report called "Get Out: Black Male Suspensions in California Public Schools," from UCLA's Million Dollar Hoods Project and San Diego State University professors, the reality of the LASPD is not quite so conducive to a healthy learning environment for all students.
Between 2014 and 2017, the LASPD made 3,389 arrests of students, issued 2,724 citations, and participated in 1,282 diversions. Kids in middle and elementary school accounted for one in four of the total LASPD arrests.
And, despite the fact that Black students represent less than nine percent of the district's student population, Black kids made up 24 percent of the total arrests, citations, and diversions, the Million Dollar Hoods team found.
While there has been a movement in California and across the nation to reduce suspensions, expulsions, and school arrests for normal kid behavior and low-level infractions, there is still much work to be done to address the harm done, especially to Black children and other students of color, researchers, experts, and community groups say.
"Coaches" to Help Resolve Conflicts, Reduce Disparities in Discipline, and Improve Student Engagement 
The responses to an LAUSD school climate survey were mixed across kids, parents, and staff about whether budgetary funds should be diverted from school police.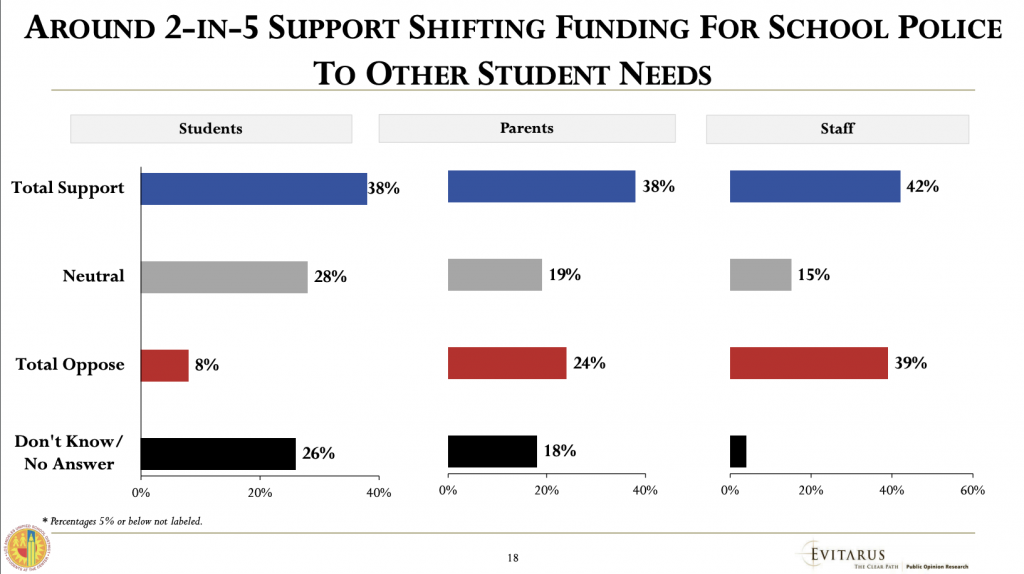 A majority of students, parents, and staff agreed that having school police made their campuses safer, and most opposed getting rid of school police. (These percentages were higher among parents and students who identified themselves as white, Latino, and Asian/Pacific Islander, and lower among Black parents and students.)
The day after the school board meeting, Wednesday, February 17, the LA School Police Officers Association issued a statement slamming the board's "drastic" funding and police force cuts, saying the decision — part of the board's "political agenda," "WILL place our children and staff in harm's way." The board, the group said, disregarded the will of students, parents, and staff members that responded to the school survey. 
Yet, most respondents were also in favor of prioritizing more funding for nurses, counselors, psychiatric social workers, and other school support staff, as well as more mentoring and afterschool programs.
So, in addition to the supports for specific schools laid out in the Black Student Achievement Plan, every secondary school will have "School Climate Coaches" step in as advocates for kids on campus, and as alternatives to school police. The board estimates that this team of coaches will cost $9.9 million annually.
The coaches will use "socio-emotional learning strategies to strengthen student engagement, applying effective de-escalation strategies to support conflict resolution, building positive relationships and elevating student voice, eliminating racial disproportionality in school discipline practices, and understanding and addressing implicit bias."
---
Image via LA School Police Facebook.