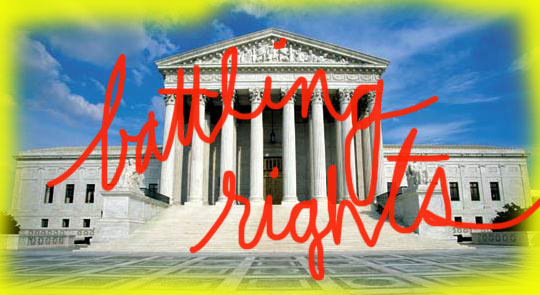 On Monday, the Supreme Court heard the case of the Christian Legal Society v. Martinez. You remember this case. It is about whether the UC Hastings College of the Law has the right to yank funding and school support from an on campus group called the Christian Legal Society because the CLS excludes gays from becoming voting members or officers of the group.. More specifically, it excludes anyone down for "unrepentant participation in or advocacy of a sexually immoral lifestyle," which CLS defines as (among other things) "all acts of sexual conduct outside of God's design for marriage between one man and one woman, which acts include fornication, adultery and homosexual conduct." Like I said, gays.
As Slate's Dahlia Lithwick explains it:
Hastings advised CLS that because its ban on gay and nonbelieving leaders and officers violated the school's nondiscrimination policy, the group could still operate but would not be treated as one of about 70 registered student organizations, with access to school funding, facilities, e-mail, and bulletin boards. CLS sued, Hastings won in the lower federal court and again at the U.S. Court of Appeals for the 9th Circuit.
Yet, lest those of you reading this rush rapidly to your habitual ideological corners, Lithwick also points out that, if we are to consider the case fairly, it will require thinking outside left/right parameters. Unfortunately, says Lithwick, that's not at all what the Supremes did.
This is an unbelievably hard case, pitting a religious group's basic right to define and preserve its core beliefs against a publicly funded university's effort to ensure that school-sponsored and -funded groups do not discriminate on the basis of religion or sexual orientation. But judging from the ideological zeal of today's battle, you'd think the case was open-and-shut. The liberals are for nondiscrimination. The conservatives are certain that liberals plan to infiltrate unpopular Christian groups for nefarious purposes. If there was any hugging, I missed it entirely.
The NY Times Adam Liptak, on the other hand, sees CLS v. Martinez as one of a couple of upcoming proxy cases testing the water for the 900-pound gorilla of a case regarding gay rights that will be plopping on SCOTUS' collective desk a few years from now: Perry v. Schwarzenegger.
Plus there is this other case, next week, writes Liptak:
The divide between the two sides is even starker in the case to be argued next week, Doe v. Reed, No. 09-559. The question there is whether Washington State's open records law violates the free speech rights of people who signed ballot petitions by requiring their names to be made public. Some of those people say they fear retaliation and harassment from advocates of same-sex marriage.
(Read on for a further preview of that intriguing case.)
And, for those of you who simply want to know what went on in court today with regard to the CLS/Hastings case, here's Nina Totenberg.
---
UPDATE:
SUPREME COURT OVERTURNS LAW BANNING SALE OF ANIMAL CRUELTY VIDEOS
Tuesday morning, in a 9-1 decision (Alito the hold out), the Supreme Court ruled that videos depicting animals being illegally killed or tortured are protected under the First Amendment. The LA Times has the rest of the story.