People identifying LGBTQ+ are overrepresented at all points of the criminal justice system. A new report from the Prison Policy Initiative takes a closer look at just how steep those disparities are, the factors likely fueling the over-incarceration of LGBTQ+ people, and places where data is limited.
The report examines various national surveys and datasets, many of which leave out the experiences of transgender people and others within the LGBTQ+ community.
"Unfortunately," PPI notes, "government data on gender and sexuality in the criminal justice system do not allow us to see whether intersex, asexual, gender nonconforming, two-spirit people, and other groups within the queer community are also overrepresented in our criminal justice system."
In one such limited survey, the National Inmate Survey, responses indicate that lesbian, gay, and bisexual people are incarcerated at more than three times the rate of the general adult population.
Data from the survey shows that much of the disparity is driven by the incarceration of queer women. While one in 20 people held in men's prisons identifies as gay or bisexual, one in three held in women's prisons identifies as lesbian or bi. Put another way, 3.4 percent of women in the U.S. identify as lesbian or bisexual, compared with 33.3 percent of women in prison. Another 8.8 percent of imprisoned women reported having had sex with other women, but said that they did not identify as lesbian or bisexual.
According to data from the National Survey on Drug Use and Health, in 2019, gay, lesbian, and bisexual individuals (again, no trans or other identities represented) were 2.25 times as likely as straight individuals to be arrested within the last 12 months. This, like the imprisonment rates of queer people is largely the result of disparate arrests of lesbian and bisexual women who were arrested at 4 times the rate of straight women. Gay and bisexual men were arrested at 1.35 times the rate of straight men, according to the survey.
Lesbian and bisexual women also receive longer sentences than women who identify as straight for the same crimes, and are overrepresented on probation and parole.
The overrepresentation of LGBTQ+ people in the justice system begins before adulthood. An estimated 20 percent of youth in the juvenile justice system are LGBTQ+. And 40 percent of youth in carceral facilities for girls identify as lesbian, bi, queer, and/or gender non-conforming (trans kids missing from this data, as well).
PPI notes that the high rate of justice system involvement for these youth is often due to "the obstacles that LGBTQ youth face after fleeing abuse and lack of acceptance at home because of their sexual orientation or gender identity." In this way, young people are "pushed towards criminalized behaviors such as drug sales, theft, or survival sex, which increase their risk of arrest and confinement."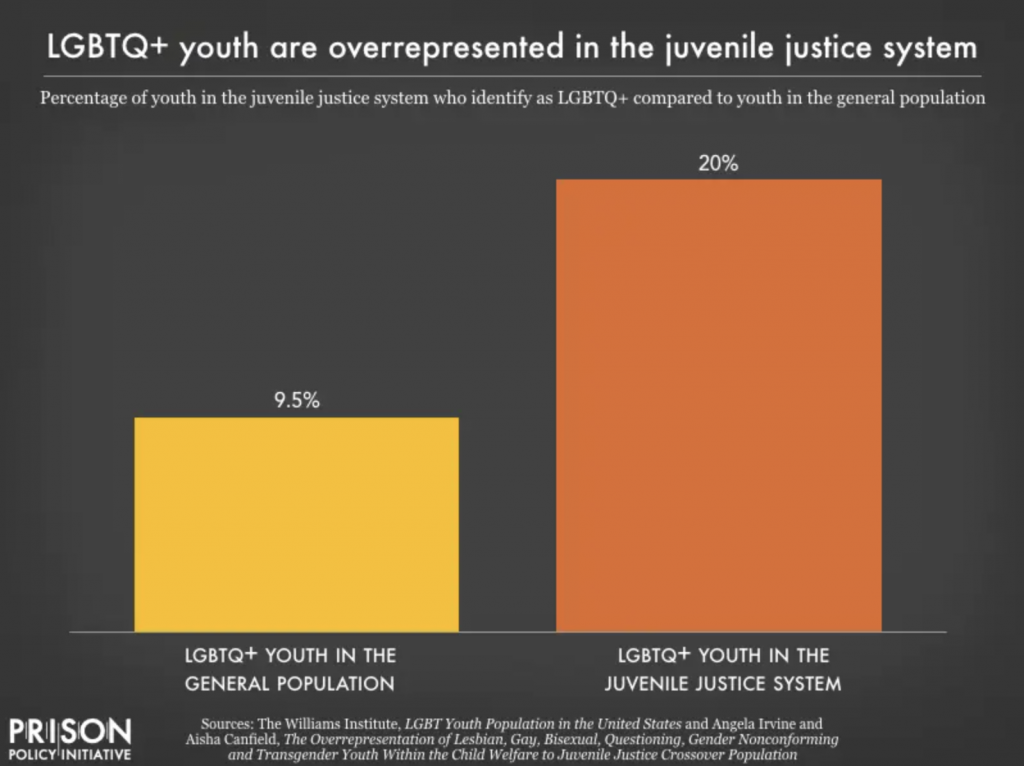 There's far less data on trans people in the U.S. justice system. According to estimates from the federal Bureau of Justice Statistics, there are more than 3,200 transgender people in federal and state prisons and 1,827 trans people in local jails. An analysis by NBC News in 2020 found, however, that there were 4,890 trans-identifying people just in state prisons — not counting federal lockups or jails.
In another survey, one out of every six trans people reported having been previously incarcerated. Nearly half of Black trans people said they had been incarcerated.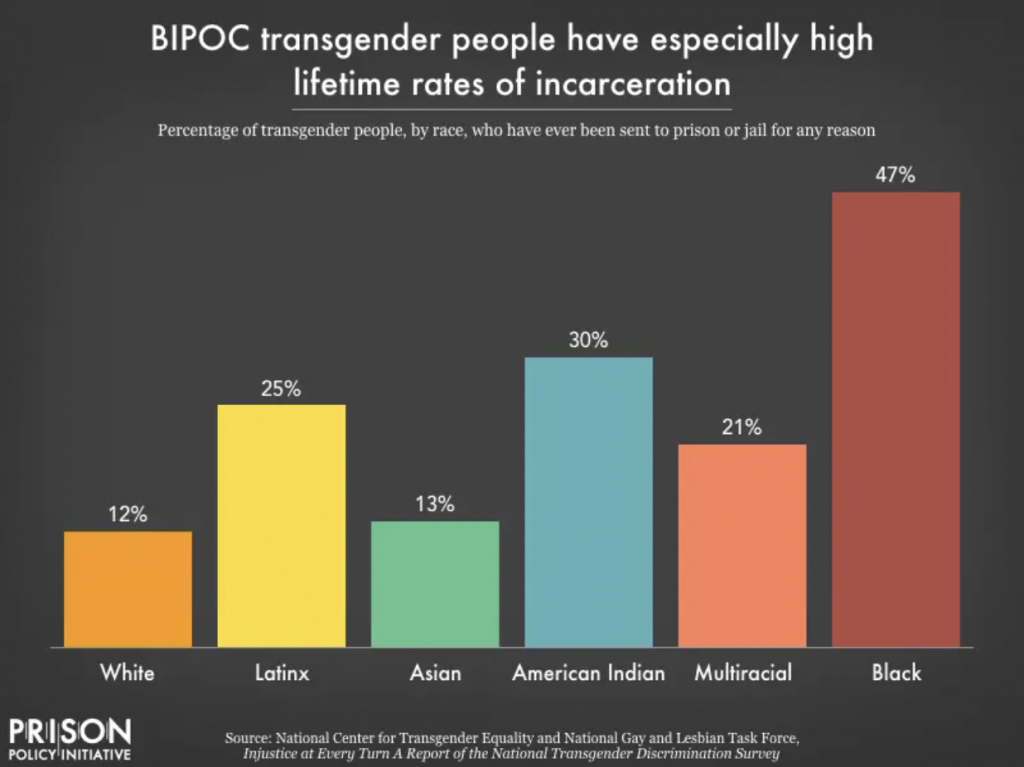 A survey conducted by the National Center for Transgender Equality and the National Gay and Lesbian Task Force found that almost half of trans people feel uncomfortable seeking help from law enforcement. One in five trans individuals — and 38 percent of Black trans people who had previously had contact with police said they were harassed by officers. Among Black trans people, 15 percent said they had been physically abused by police and seven percent said they had been sexually assaulted.
Trans people face poor treatment and conditions behind bars, including denied health care, and higher rates of solitary confinement, harassment, and physical and sexual assault, PPI notes.
The National Inmate Survey found that what it deemed "sexual minorities" were more likely to be put in solitary confinement — often as a means of "protection." LGBTQ+ people are also far more likely than other imprisoned individuals to be sexually victimized by staff and other incarcerated people.
Discrimination in the community is the first piece of the pipeline to imprisonment for LGBTQ+ people. Advocacy groups, including the Movement Advancement Project and Center for American Progress call for increased social supports for LGBTQ+ kids and young adults at the family, school, housing, employment, and community levels. Advocates also call for the decriminalization of sex work, and more drug policy and sentencing reforms to reduce disparities in justice system involvement.
"While the central goal should be keeping LGBTQ people out of prison in the first place," says PPI, "far more needs to be done to ensure their safety behind bars, by preventing harassment and sexual assault, improving systems for addressing assault when it occurs, providing access to appropriate housing, health care, and clothing to incarcerated transgender people, and enacting and enforcing non-discrimination policies for staff."