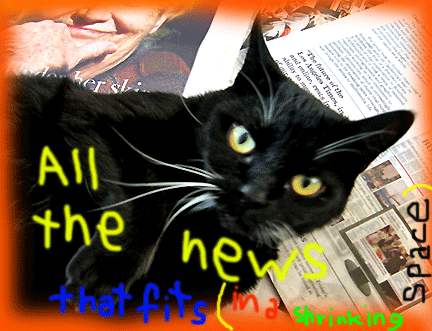 DON'T MISS: In no particular order:
The WaPo's 12-part-series-with-an-Epilogue that re-investigates the murder of California-raised Congressional intern, Chandra Levy, ends today. (Clearly no one in this nervous newsprint environment wanted a thirteen-part series.) Does the story have any social justice value? Oh, probably not. But it's a compelling—if still tragic—read and a smart choice for the Post to string it out over two weeks as a continuing narrative.
In the brave New Media world, there is much wailing about readers' short attention spans. But here's the thing: web readers take very well to the series form. (Why do I know that, and the Post evidently knows that, and the LA Times—despite the existance of today's new "fire" series—seems not to get it? Wake up, people!)
FIRE, FIRE, BURNING BRIGHT: OUT OF CONTROL
Sunday the LA Times started a five part series that explores various aspects of the problem of "bigger and badder"—and way more expensive—wildfires that are increasingly plaguing the Western states in general, and California in particular. Today's installment, that looks at fire as Big Biz, is a promising start.
NOTE: Despite the fact that the (nervous-making even if quickly controlled) outbreak of a wildfire in Griffith Park on Sunday should have made the new fire series even more relevant, by mid-afternnoon, ALL references to the series had utterly disappeared from the front page of the LA Times website. (You could find it only by clicking on the California link.) Nice commitment to your news reporting, guys!
LITERARY HOMICIDE: MOVING OUR PAGES
In an unsigned editorial (cough JimNewton cough), the LA Times talks about the end of the freestanding Opinion and Book Review section, and the move of those pages to other sections (MUCH more on this tomorrow morning).
FRANK RICH: HOW OBAMA BECAME ACTING PRESIDENT
Blogfather, Marc Cooper already wrote a very good (and funny) version of this a week ago. Now in Sunday's New York Times, Frank Rich looks at the whole phenom that we witnessed in what the Daily Show called Obama Quest …..and nails it.
IT almost seems like a gag worthy of "Borat": A smooth-talking rookie senator with an exotic name passes himself off as the incumbent American president to credulous foreigners. But to dismiss Barack Obama's magical mystery tour through old Europe and two war zones as a media-made fairy tale would be to underestimate the ingenious politics of the moment. History was on the march well before Mr. Obama boarded his plane, and his trip was perfectly timed to reap the whirlwind.

The growing Obama clout derives not from national polls, where his lead is modest. Nor is it a gift from the press, which still gives free passes to its old bus mate John McCain. It was laughable to watch journalists stamp their feet last week to try to push Mr. Obama into saying he was "wrong" about the surge. More than five years and 4,100 American fatalities later, they're still not demanding that Mr. McCain admit he was wrong when he assured us that our adventure in Iraq would be fast, produce little American "bloodletting" and "be paid for by the Iraqis."
Never mind. This election remains about the present and the future, where Iraq's $10 billion a month drain on American pocketbooks and military readiness is just one moving part in a matrix of national crises stretching from the gas pump to Pakistan. That's the high-rolling political casino where Mr. Obama amassed the chips he cashed in last week. The "change" that he can at times wield like a glib marketing gimmick is increasingly becoming a substantive reality — sometimes through Mr. Obama's instigation, sometimes by luck. Obama-branded change is snowballing, whether it's change you happen to believe in or not.
Looking back now, we can see that the fortnight preceding the candidate's flight to Kuwait was like a sequence in an old movie where wind blows away calendar pages to announce an epochal plot turn. First, on July 7, the Iraqi prime minister, Nuri al-Maliki, dissed Bush dogma by raising the prospect of a withdrawal timetable for our troops. Then, on July 15, Mr. McCain suddenly noticed that more Americans are dying in Afghanistan than Iraq and called for more American forces to be sent there. It was a long-overdue recognition of the obvious that he could no longer avoid: both Robert Gates, the defense secretary, and Adm. Mike Mullen, the chairman of the Joint Chiefs of Staff, had already called for more American troops to battle the resurgent Taliban, echoing the policy proposed by Mr. Obama a year ago.
On July 17 we learned that President Bush, who had labeled direct talks with Iran "appeasement," would send the No. 3 official in the State Department to multilateral nuclear talks with Iran. Lest anyone doubt that the White House had moved away from the rigid stand endorsed by Mr. McCain and toward Mr. Obama's, a former Rumsfeld apparatchik weighed in on The Wall Street Journal's op-ed page: "Now Bush Is Appeasing Iran."
Within 24 hours, the White House did another U-turn, endorsing an Iraq withdrawal timetable as long as it was labeled a "general time horizon." In a flash, as Mr. Obama touched down in Kuwait, Mr. Maliki approvingly cited the Democratic candidate by name while laying out a troop-withdrawal calendar of his own that, like Mr. Obama's, would wind down in 2010. On Tuesday, the British prime minister, Gordon Brown, announced a major drawdown of his nation's troops by early 2009.
Read the rest (and make note of the prescient point about T. Boone Pickens).