By Gabriel Kahn, Crosstown
If you have been charged with a felony in California, the overwhelming odds are you're guilty. Or you'll be found guilty, at least.
An analysis of a year's worth of felony cases in the Golden State showed that 82% wind up in some type of conviction or guilty plea. When just looking at Los Angeles County, it's even higher: 87%.
You are innocent, you say? And you want to take your case to trial? The odds are even worse.
Of all felony cases that wind up before a judge or jury, only 14% result in an acquittal, dismissal, or transfer to another jurisdiction.
California's rate appears to be well above the national average, though finding a precise comparison is elusive. According to a 2009 survey by the Bureau of Justice Statistics, which examined caseloads in the 75 most populous counties nationwide, 54% of felony cases resulted in a felony conviction and 12% resulted in a misdemeanor conviction.
In its most recent Court Statistics Report, the Judicial Council of California examined the 170,531 felony cases that made it into California's Superior Courts between July 1, 2016, and June 30, 2017.
A whopping 98% of the total cases never make it to trial. Here are some other notes about those 98% (or 167,120 cases):
Of the 2% of all cases that did make it to trial – 4,824 cases – the felony conviction rate is even higher.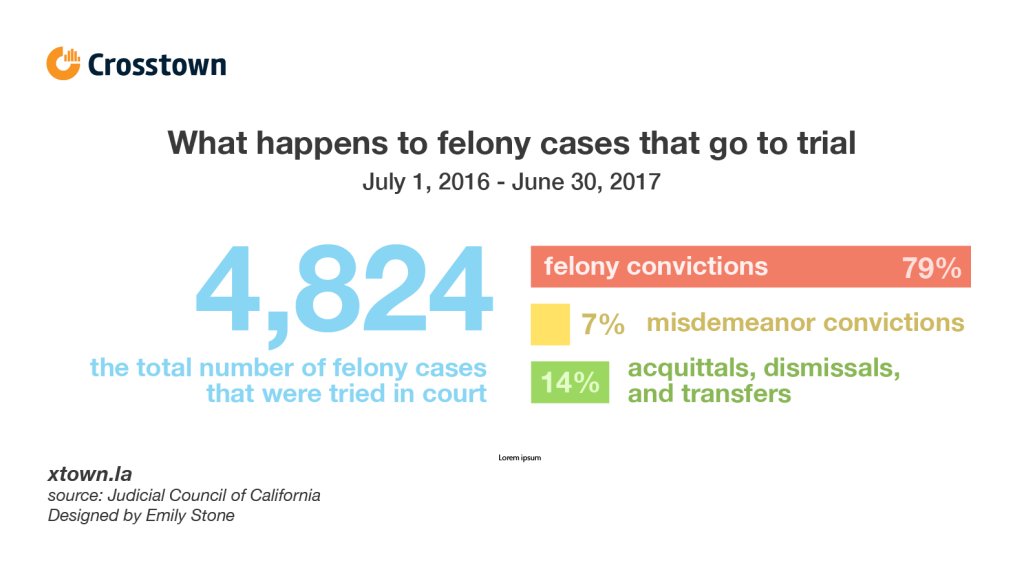 What about all those ads from lawyers who promise to get you off? Well, read the fine print. Michael Bialys, a lawyer in Los Angeles who bills himself as "The DUI Man," explains that what he's really offering is the best possible outcome, not a clean slate.
"DUIs are not a 'whodunnit,'" he said. "Normally, you're behind the wheel of a car. A felony DUI is a DUI in which someone is injured. Typically, the chances of getting acquitted on those are very, very small. So what do you do? Mitigation."
That could mean lower jail time or lower fines.
"But those are not acquittals," Bialys said.
Between 1980 and 2010, the overall number of felony convictions increased in every state, according to a University of Georgia study. The overall U.S. prison population rose dramatically after 1970, reaching a peak of 1.61 million in 2009, according to data from the Sentencing Project.
---
This story originally appeared on Crosstown, a non-profit news organization that uses data on crime, traffic and air quality to tell stories about Los Angeles.
Illustrations by Emily Stone.
---
Get this and other essential justice stories delivered directly to your inbox by subscribing to The California Justice Report, WitnessLA's weekly roundup of news and views from California and beyond. Read past editions – here.