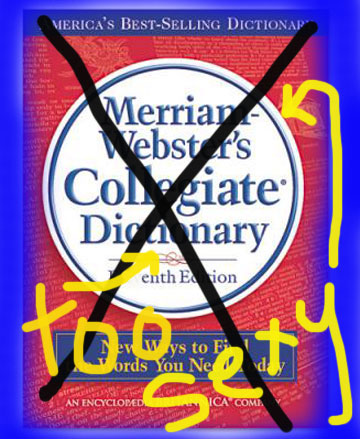 On Sunday, the LA Times reported that the Menifee Unified School District, a school district located in Riverside County, has pulled a book from all school library shelves because of its racy content. And what lust-drenched book might the Menifee school folks have found morally problematic? Tropic of Cancer?— Henry Miller's 1934-published novel that, while a bit long-in-the-tooth now, is still a perennial favorite when it comes to outraged shelf-yanking
Nope, the tome in question is the Merriam-Webster's 10th edition dictionary. Its offense? It includes somewhere in its pages the term "oral sex."
Evidently one—count 'em, one—- parent complained so, rather than choosing a thoughtful and measured response to calm the histrionic parent, the local district officials instead swooped in and purged all the district's schools of the dictionary. (Without consulting the school board, I might add.)
Let me repeat that. School officials removed the Webster's dictionary from every library in the district on account of the dictionary's "sexually graphic" content.

The Press Enterprise has a story which features the district's explanation for the book banning:
School officials will review the dictionary to decide if it should be permanently banned because of the "sexually graphic" entry, said district spokeswoman Betti Cadmus…..

"It's just not age appropriate," said Cadmus, adding that this is the first time a book has been removed from classrooms throughout the district.

"It's hard to sit and read the dictionary, but we'll be looking to find other things of a graphic nature," Cadmus said.
Well, as it happens, I have a rather substantial pile of dictionaries in my personal library, so perhaps I can aid Ms. Cadmus in her search. I don't have the the 10th edition of Merriam-Webster, but I do have two other Webster's dictionaries among my array of reference books, both of which are approximately the size of bedside tables. Let me just haul 'em out and take a look.
Okay, neither of my Webster's volumes contain the term "oral sex." (Oral herpes, yes, oral sex, no.)
As one might imagine, they do, however, include the term "sex," (which would logically seem to be the offending part of the term so objectionable to the Menifee parent). And, in a random (but enthusiastic) search of Webster's 2nd edition (first published in 1955) I found that it also includes words like orgasm, prostitute, orgy, sodomy—and sodomitical, a word I didn't previously know existed but toward which I developed an instant affection, so much so that I have now vowed to work it into sentences as often as possible, as in, "My dear Ms. Cadmus, perhaps I'm being overly pessimistic, but I'm rather concerned that the new Supreme Court decision—you know the one I mean, yes? It's known as Citizens United— is going to have a distinctly sodomitical affect on the democratic process. What do you think?"
I find that my half-century old Webster's also has a whole pile of other words and terms of which the vigilant Menifee-ites really should take note, things like chastity belt, condom, gonorrhea, pimp ("a go-between in illicit sexual affairs; especially a prostitute's agent") and dildo ("a device of rubber, etc. shaped like an erect penis, and used as a sexual stimulator: also spelled dildoe…")
---
Frankly, I'd have found many, many more treasures for Ms. Cadmus and friends (really, try it yourself) but I had to stop because the dog was bugging me to go for a run.
Before I put on my running shoes, however, I did take the time to check to see if the good old 1955 Webster's had within its august pages the word cunnilingus. Webster's did.
(n [L., lit., from cunnus, vulva, and lingere, to lick] a sexual activity involving oral contact with the female genitals.)
It also had fellatio (n. [from L. fallatus p.p. of fellar, to suck] a sexual activity involving oral contact with the male genitals)—thus providing proof positive that the dictionary purgers at the Menifee Unified School District define the term "logic-phobic, anti-literate jackasses,"—which I did not find in the 2nd edition of Websters but, if it is not included in the 10th edition, I truly hope Webster's will consider adding in the 11th edition, with a nice photo of the Menifee folks to illustrate.
Sadly, even if Webster should take my suggestion, those being pictured would never learn of the honor because, as my brief search has just demonstrated, if we follow the Menifee action out to its natural conclusion, we will have no dictionaries of any kind in our school libraries at all.
---
NOTE: More news in a while.