http://vimeo.com/maxrippon/thetrueisamomentofthefalse
CURTAIN RAISED FOR POP-UP ART EXHIBIT AND CIVIL RIGHTS CONVERSATION SPACE, MANIFEST JUSTICE
As events in Baltimore and elsewhere continue to unreel, on Saturday in Los Angeles, a unique combination pop-up art show and public discussion launched at the Baldwin Hills Theater to promote dialogue about civil rights, social and criminal justice, and activism in order to "build a healthier and more just future."
The 10-day event, called Manifest Justice, put on by Yosi Sergant of TaskForce PR, along with the California Endowment and Amnesty International, features the work of more than 190 artists, discussions with criminal justice leaders and activists, as well as music, poetry, plays, workshops, and a lot more.
Manifest Justice opened Saturday morning with a Prop 47 Record Change Fair, organized by Californians for Safety and Justice. Attendees with felonies that qualified for reclassification under Prop 47 were offered free legal advice from LA County public defenders and volunteer attorneys, along with help in filling out required court forms. (We'll have more on the Record Change Fair later this week.)
At 10:00a.m., US Rep. Tony Cardenas (D-Calif.) chaired a community dialogue in which an array of panelists told of their personal experiences with the justice system.
There was, for example, Charity Chandler, a woman who now works as an activist at Anti-Recidivism Coalition (ARC), founded by former film producer Scott Budnick.
Chandler's first encounter with LA County's juvenile justice system began in her early teens with a six-month stint in Juvenile Hall for petty theft after she stole a pack of underwear and a t-shirt.
From that point on, Chandler said she went through things "no child should have to experience," cycling in and out of juvenile detention and foster care.
When she found out she was pregnant at 18 with a little boy, Chandler had to convince herself that she was not worthless. Chandler made a vow to herself, "I refuse to be a statistic, and I refuse to bring a black man into this world…and have him suffer like me and so many countless others."
That decision sent Chandler down a path of transformation and redemption. Chandler became an advocate, and enrolled in school while she was pregnant. She said she finished graduate school this week.
(For more of Chandler's story, watch her target="_blank">TEDx talk at Ironwood State Prison.)
Other panelists discussed their efforts toward policy change.
Dr. Paul Song, head of, Courage Campaign, spoke about the importance of funding universal pre-kindergarten as a force against poverty and crime.
Dr. Song pointed to stats indicating that kids in poor communities who didn't participate in government-funded pre-K were 70% more likely than their peers to get arrested for violent crime by the age of 18, and that career criminals can cost the state as much as $1.3 million.
Song argues that while Governor Jerry Brown is intent on storing surplus budget money in a rainy day fund, "for many communities at risk…it has never stopped raining."
Another panel member, Winston Peters, an LA County Assistant Public Defender, told his story of transformation. Peters said he focused only on the legal aspects of his cases, until he worked at a now-defunct juvenile center in South Los Angeles where, Peters said, he realized that, while he was a good a lawyer, his young clients faced a list of daunting issues that the law failed to adequately cover, abuse, trauma, and mental illness among them.
Peters also noted that LA's public defender's office has made efforts to bridge the gap he witnessed all those years ago, by creating a multidisciplinary approach that includes hiring social workers to team up with the attorneys in the juvenile justice division.
Elsewhere in the Baldwin Theater, a massive cardboard Lady Liberty holds her head in her hands. Across the room, a Ferguson police car has been turned into a garden.
Here are photos of a handful of the art installations on display (but really must be seen in person).
"The Talk," by Michael D'Antuono: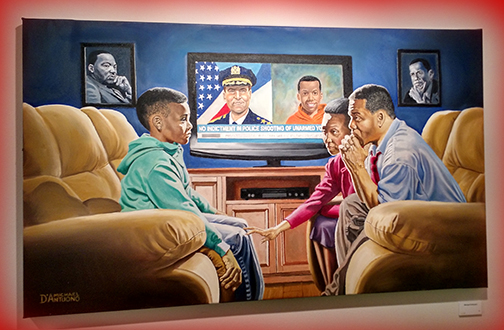 Jordan Weber: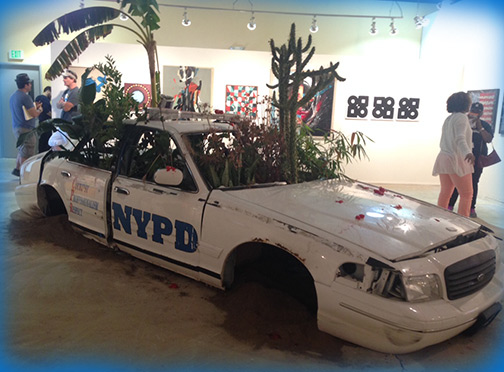 Yolanda Guerra: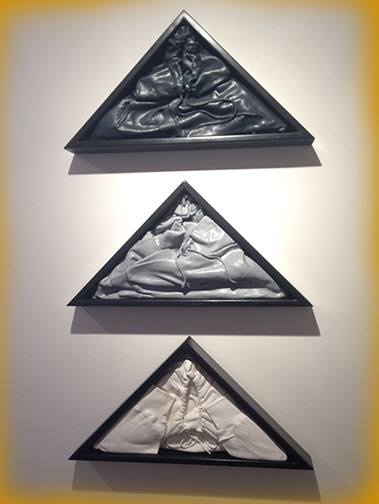 Scheduled for later in the week are workshops, discussions, performing arts, and other not-to-be-missed experiences.
But, if you only choose one day to visit the Manifest Justice exhibit, consider making it Wednesday, May 6. At 6:30p.m., Sybrina Fulton, Trayvon Martin's mom, and Dr. Robert Ross, head of the California Endowment, will discuss "resilience," followed by a play from Patrisse Cullors of Dignity and Power Now and #BlackLivesMatter.
There are a ton of other great events and reasons to take in Manifest Justice before it's over, so check out the website and calendar for yourself.
Note: Watch artist Max Rippon paint overlapping NY Times headlines to create "The True Is a Moment of the False" in the above video.