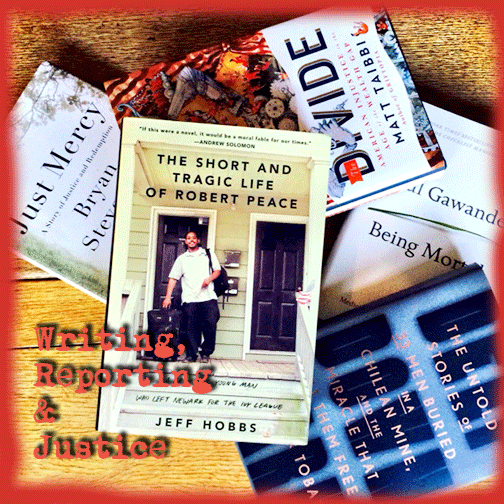 LA TIMES BOOK PRIZE WINNER TELLS HAUNTING STORY OF A COMPLEX LIFE THAT WAS MUCH MORE THAN THE SUM OF ITS PARTS
The winners of the LA Times Book Awards were announced Saturday night on the USC campus. It was a grand and glorious night devoted to the celebration of good literature.
(You can find the complete list of winners of the Los Angeles Times Book Prize here.)
But for those of you who, like me, are criminal justice junkies, (and also reading junkies) the Current Interest nonfiction list of finalists for the LAT prize is one that you should definitely check out.
(FULL DISCLOSURE: I was one of the judges for the Current Interest prize.)
We found all five of the books we chose as finalists to be stellar, which meant we struggled to settle on a winner, with several of the books holding the top spot at one point in the judging or other.
The five were:
Atul Gawande, "Being Mortal: Medicine and What Matters in the End"
Jeff Hobbs, "The Short and Tragic Life of Robert Peace: A Brilliant Young Man Who Left Newark for the Ivy League"
Bryan Stevenson, "Just Mercy: A Story of Justice and Redemption"
Matt Taibbi, "The Divide: American Injustice in the Age of the Wealth Gap"
Héctor Tobar, "Deep Down Dark: The Untold Stories of 33 Men Buried in a Chilean Mine, and the Miracle That Set Them Free" (Farrar, Straus and Giroux)
These are all important books that each read with the narrative urgency of a novel. Yet, obviously, not all deal with justice issues:
Atul Gwande's essential "Being Mortal," is about the limits of medicine and how well or poorly we deal with aging and dying.
Hector Tobar's brilliant "Deep, Down, Dark" tells the remarkable tale of the 33 trapped Chilean miners, their rescue and the aftermath.
But then there is Matt Taibbi's "The Divide," which lays out, in relentlessly reported detail, stories of investment banks, hedge funds and short-sellers, many of whom commit extravagant crimes without being held to account, juxtaposed with the poor, whom Taibbi shows being locked up on the flimsiest of pretexts.
And there is Bryan Stevenson's "Just Mercy," which recounts-–with stories that come from Stevenson's own experience as a public interest lawyer—the many different and devastating ways that brutality, unfairness, and racial bias continue to infect criminal law in the United States
And finally there is the winner: The Short and Tragic Life of Robert Peace: A Brilliant Young Man Who Left Newark for the Ivy League by Jeff Hobbs.
Although the issue of race and justice is one of the many threads that wind through Hobbes' haunting narrative about his near-genius Yale roommate who is shot to death in a marijuana deal gone bad, it is merely one thread in a complex and unforgettable interweave.
Here's what we judges wrote when we turned our selection in to the Times.
We know the ending of the story before we open The Short and Tragic Life of Robert Peace, yet when we arrive at the moment foretold by this important book's title, author Hobbs has engaged us so completely that we wish to reach inside the narrative and roll back time, to make the finale play out differently, to force the spectacularly gifted, charismatic, courageous and painfully conflicted Peace to walk quickly in another direction. Hobbs' deeply reported and mesmerizing work of literary journalism avoids easy assumptions, while offering us many satisfying gifts and troubling questions.
---
So read it. Hell, read 'em all. You won't be sorry.

---
---
REPORTING ON CRIME AND JUSTICE REWARDED AMONG THE 2015 PULITZERS
LA Times book prizes were on Saturday, then the Pulitzer Prizes were announced Monday and, among the winners and finalists, there were some works of extraordinarily fine journalism pertaining to the world of crime, justice, and juvenile welfare that you shouldn't miss. To wit:
---
'TILL DEATH DO US PART
The Pulitzer's top journalism prize for Public Service was awarded to the staff members of the Charleston Post-Courier for their shattering series, Till Death Do Us Part, about South Carolina's murder rate for women, which is twice that of the nation's.
Here's a clip from Part I:
More than 300 women were shot, stabbed, strangled, beaten, bludgeoned or burned to death over the past decade by men in South Carolina, dying at a rate of one every 12 days while the state does little to stem the carnage from domestic abuse.

More than three times as many women have died here at the hands of current or former lovers than the number of Palmetto State soldiers killed in the Iraq and Afghanistan wars combined.

It's a staggering toll that for more than 15 years has placed South Carolina among the top 10 states nationally in the rate of women killed by men. The state topped the list on three occasions, including this past year, when it posted a murder rate for women that was more than double the national rate.

Awash in guns, saddled with ineffective laws and lacking enough shelters for the battered, South Carolina is a state where the deck is stacked against women trapped in the cycle of abuse, a Post and Courier investigation has found.

Couple this with deep-rooted beliefs about the sanctity of marriage and the place of women in the home, and the vows "till death do us part" take on a sinister tone.

Consider 25-year-old Erica Olsen of Anderson, who was two months pregnant when her boyfriend stabbed her 25 times in front of her young daughter in October 2006. Or Andrenna Butler, 72, whose estranged husband drove from Pennsylvania to gun her down in her Newberry home in December. Or 30-year-old Dara Watson, whose fiancé shot her in the head at their Mount Pleasant home and dumped her in a Lowcountry forest in February 2012 before killing himself.

Interviews with more than 100 victims, counselors, police, prosecutors and judges reveal an ingrained, multi-generational problem in South Carolina, where abusive behavior is passed down from parents to their children. Yet the problem essentially remains a silent epidemic, a private matter that is seldom discussed outside the home until someone is seriously hurt.

"We have the notion that what goes on between a couple is just between the couple and is none of our business," said 9th Circuit Solicitor Scarlett Wilson, chief prosecutor for Charleston and Berkeley counties. "Where that analysis goes wrong is we have to remember that couple is training their little boy that this is how he treats women and training their little girl that this is what she should expect from her man. The cycle is just perpetual."
---
WHEN THE SUPPOSED RESCUERS MISTREAT KIDS
One of the co-winners of the Pulitzer for Investigative Reporting was Eric Lipton of the New York Times for his very disturbing stories showing how the influence of congressional lobbyists can slant justice toward the wealthy and connected—which is a definite must read.
The other co-winner was the Wall Street Journal staff for "Medicare Unmasked," a remarkable project "that gave Americans unprecedented access to previously confidential data on the motivations and practices of their health care providers."
But it is the runner-up for Investigative Reporting that we want to draw to your attention. It is a searing investigative report by Chicago Tribune journalists David Jackson, Gary Marx and Duaa Eldeib, about Illinois residential treatment centers for juveniles where kids are mistreated in ghastly ways.
Here's a clip:
In residential treatment centers across Illinois, children are assaulted, sexually abused and running away by the thousands — yet state officials fail to act on reports of harm and continue sending waves of youths to the most troubled and violent facilities, a Tribune investigation found.

At a cost to taxpayers of well over $200 million per year, the residential centers promise round-the-clock supervision and therapy to state wards with histories of abuse and neglect, as well as other disadvantaged youths with mental health and behavioral problems. On any given day, about 1,400 wards live in the centers, although far more cycle through each year.

In the best cases, the facilities rebuild and even save young lives. But the Tribune found that many underprivileged youths — most of them African-American — are shuttled for years from one grim institution to another before emerging more damaged than when they went in.

Reports of patient-on-patient sexual assault are commonplace at some of Illinois' largest and most relied-on facilities. Child prostitution schemes take root. Vulnerable children are terrorized by older ones and taught a life of crime. Some are preyed on sexually by the adults paid to care for them. And staggering numbers of wards, some as young as 10, flee to the streets.
---
THREE YEARS IN RIKERS WITH NO CONVICTION
In the category of Features, the winner was Diana Marcum of the Los Angeles Times for her compassionate and piercing dispatches from California's Central Valley as its residents cope with the drought.
But it is the work of finalist Jennifer Gonnerman writing for the New Yorker, that we want to direct you toward. Her story about 16-year-old Kalief Browder who was accused of taking a backpack, a crime he maintained in the face enormous pressure, that he didn't commit. As a consequence, Browder spent more than a thousand days at Rikers Island—many of them in solitary confinement—with no conviction before the district attorney simply dismissed the case.
With much of his adolescence simply lost to the system, Browder is working to make something of his life as he battles the ever-present emotional wounds of those frightening years inside Rikers.
Here's a clip:
Browder's brother…noticed a growing tendency toward despair. When Browder talked about his case, he was "strong, adamant: 'No, they can't do this to me!' " But, when the conversation turned to life in jail, "it's a totally different personality, which is depressed. He's, like, 'I don't know how long I can take this.' "

Browder got out of the Bing [solitary] in the fall of 2011, but by the end of the year he was back—after yet another fight, he says. On the night of February 8, 2012—his six-hundred-and-thirty-fourth day on Rikers—he said to himself, "I can't take it anymore. I give up." That night, he tore his bedsheet into strips, tied them together to make a noose, attached it to the light fixture, and tried to hang himself. He was taken to the clinic, then returned to solitary. Browder told me that his sheets, magazines, and clothes were removed—everything except his white plastic bucket.

On February 17th, he was shuttled to the courthouse once again, but this time he was not brought up from the court pen in time to hear his case called. ("I'll waive his appearance for today's purposes," his lawyer told the judge.) For more than a year, he had heard various excuses about why his trial had to be delayed, among them that the prosecutor assigned to the case was on trial elsewhere, was on jury duty, or, as he once told the judge, had "conflicts in my schedule." If Browder had been in the courtroom on this day, he would have heard a prosecutor offer a new excuse: "Your Honor, the assigned assistant is currently on vacation." The prosecutor asked for a five-day adjournment; Browder's lawyer requested March 16th, and the judge scheduled the next court date for then.

The following night, in his solitary cell on Rikers, Browder shattered his plastic bucket by stomping on it, then picked up a piece, sharpened it, and began sawing his wrist. He was stopped after an officer saw him through the cell window and intervened.

Browder was still on Rikers Island in June of 2012, when his high-school classmates collected their diplomas, and in September, when some of them enrolled in college. In the fall, prosecutors offered him a new deal: if he pleaded guilty, he'd get two and a half years in prison, which meant that, with time served, he could go home soon. "Ninety-nine out of a hundred would take the offer that gets you out of jail," O'Meara told me. "He just said, 'Nah, I'm not taking it.' He didn't flinch. Never talked about it. He was not taking a plea."
---
AND IN BREAKING NEWS, FAST AND FINE COVERAGE OF THE ISLA VISTA KILLINGS
And, we don't want to forget, in the category of Breaking News, the LA Times staff was a finalist for their quick and excellent coverage of the Isla Vista shooting rampage. "The staff mobilized reporters in the middle of the night to cover a deadly spree near the campus of UC Santa Barbara that left seven dead, including the killer, and wounding 13," said the Times in announcing the honor.