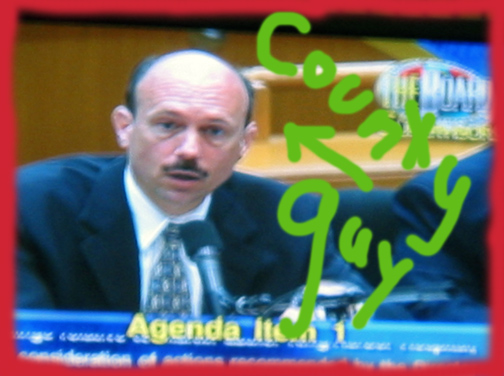 My full column for the LA Weekly on last Friday's closure of Martin Luther King Jr.-Harbor Hospital is online now. (Some of the stuff we've already discussed here at WLA.) I've posted a healthy chunk of it below. (NOTE: "Chernof" is Dr. Bruce Chernof, the director and chief medical officer of the LA County Department of Health Services. He is also pictured in the photo above.)

,,,In all, the report painted a picture of a hospital that had been in deep water for a long time and, despite warning after warning, had not made the most basic of changes needed to save itself. As the federal officials pointed out in a summary letter, "Repeated certification surveys and complaint investigations have identified serious health and safety violations and documented the hospital's inability to comply with these federal standards." As a consequence, the feds saw no choice but to pull the hospital's Medicare provider agreement and, with it, $200 million in federal funds MLK needs to operate. "This decision is final," said the letter — in case anyone hoped there might still be wiggle room.

But although most of MLK is closed, the county faces substantial community and political pressure to find a way to reopen it. Thus, on Monday, Chernof outlined a plan for the hospital to eventually be resurrected.

The idea, he said, was to find a "non-county operator" — maybe a private hospital or university — to take over. Or, failing that, to find some outside entity to supervise the hospital's makeover, using "reconfigured county leadership" — an apparent reference to the feds' finding that the Board of Supervisors is one of MLK's problems. Some of the board members pushed Chernof to set a reopening timetable, but he demurred, and sources close to the board admitted to the L.A. Weekly that the county is a long way from finding a partnership.

"Trust me, it's not that easy," agrees Downey hospital's Guest. "At best, this will take a while."

Through much of Monday's meeting, politicians such as Supervisor Yvonne Burke and U.S. Congresswoman Maxine Waters repeated the mantra that everyone should "just move forward" and "we should not place blame."

But others wondered privately if a little blame placing might not be crucial to the hospital's recovery, if it is ever to recover. After years of multipage reports issuing dire warnings — not to mention the board's expenditure of $18 million in taxpayer funds on consultants — and after scores of broken promises, perhaps residents of Los Angeles County deserve to know why, as of last Friday, MLK still had nurses on its staff who could not mix medicine.

"We were told that Harbor-UCLA would take over management of Martin Luther King," said state Assembly Member Laura Richardson when it was her turn to address the county supervisors. "And that never happened. Well, why didn't it happen?"

On Tuesday, the Weekly asked county health department spokesman Mike Wilson those same questions. Why were the majority of MLK staff — who were supposed to receive rigorous off-site retraining — never retrained? Why were a significant percentage of MLK staff — who were supposed to be laid off or transferred — never laid off or transferred? And why, after officials announced that the respected Harbor-UCLA Medical Center was taking the reins of MLK — and even changed the hospital's tainted name from King-Drew Medical Center to Martin Luther King Jr.–Harbor Hospital — did that transfer of power fail to occur? Who stopped it?

"I don't know," an exhausted-sounding Wilson said finally. "Dr. Chernof made all those requests."

Yet someone chose not to put Chernof's vital "requests" into practice. It was clear this week that county officials, and some of the most powerful politicians in California, had no idea who prevented the ordered changes, or why. If Martin Luther King Jr.–Harbor Hospital is ever to successfully rise from its own ashes to serve the communities that need it, those and other questions must still be answered.