The Los Angeles County Sheriff's Department cost county taxpayers $81.5 million in litigation expenses during the last fiscal year, 2018-2019 — a considerable increase over the previous year's $62.1 million tab, data from County Counsel show.
Among the sheriff's department's high profile payouts was a pot of $7.1 million in damages and legal fees to Heriberto Rodriguez and other Men's Central Jail inmates whom deputies brutally beat and shocked with Tasers in 2008, after they refused to leave their cells in protest of a fellow inmate's beating. The incarcerated men suffered broken bones, including skull fractures.
In 2015, a federal judge approved the payout of $5 million in legal fees in addition to $950,000 in damages awarded by a federal jury. (The total award was later increased to more than $7 million.)
Peter Eliasberg, who at the time, was the ACLU of Southern California's legal director, stressed that the county could have avoided paying most of that $6 million by settling for less than $1 million when they had the chance.
The sheriff's department's 2018-2019 legal tab also includes a $5.8 million judgment stemming from a near-fatal 2010 incident in which LASD officers searching for an AWOL parolee busted into an inhabited backyard shack without first knocking or identifying themselves, and without a warrant. Seeing one of the inhabitants, Angel Mendez, holding a BB gun, the deputies shot both Mendez, Jennifer Garcia, who was pregnant. Neither Mendez nor Garcia was the missing person on parole.
The county's most expensive settlement — $7 million — was the result of a wrongful conviction. Frank O'Connell was convicted of killing Jay French in 1984 without any physical evidence tying him to the murder. O'Connell spent 27 years in prison, because of the testimony of one eyewitness (who later recanted), and detectives' withholding of exculpatory evidence. The lawsuit was settled for $15 million, split between fiscal years 2017-2018 ($8 million) and 2018-2019 ($7 million).
A settlement of $2.25 million also went to two of the six women whom former LASD deputy Giancarlo Scotti was charged with sexually assaulting when each of the six was confined to the county's primary women's jail, Century Regional Detention Center, in Lynwood. Scotti, who pleaded no contest to eight counts of sexual activity with the incarcerated women was sentenced to two years in State prison. (This is just one of several payouts totaling $5,175,000 — with more potentially high-ticket lawsuits still making their way through the pipeline.)
Six more high-dollar settlements resulted from "excessive-force shooting fatalities involving the Sheriff's Department," according to County Counsel. Among those six payouts was a $2.4 million payment toward the county's $14.3 million settlement in the death of Frank Mendoza.
LASD deputies accidentally fatally shot Mendoza during a hostage situation in 2014. The officers were attempting to apprehend Cedric Ramirez, an armed man on parole who hid behind the Mendoza family's house, before breaking into the home and holding Mendoza's wife hostage. When Mendoza tried to leave the home through his front door, deputies opened fire, shooting the 54-year-old grandfather in the head.
The county also paid a $4.6 million settlement in the fatal shooting of William Bowers, an unarmed homeless man in Castaic. In another high-profile case, Anthony Weber's daughter, Violet Weber — who was an infant when deputies shot her 16-year-old father as he fled on foot through an apartment complex in 2018 — received $3.75 million.
Another $2.7 million settlement went to the family of Miguel Hernandez, killed by a deputy during a traffic stop.
The County's Rising Legal Costs
Overall, LA County's litigation costs jumped 9 percent in fiscal year 2018-2019, to $148.5 million, over the previous year's $135.7 million, according to the latest annual litigation report, which County Counsel is slated to present to the LA County Board of Supervisors on Feb. 18.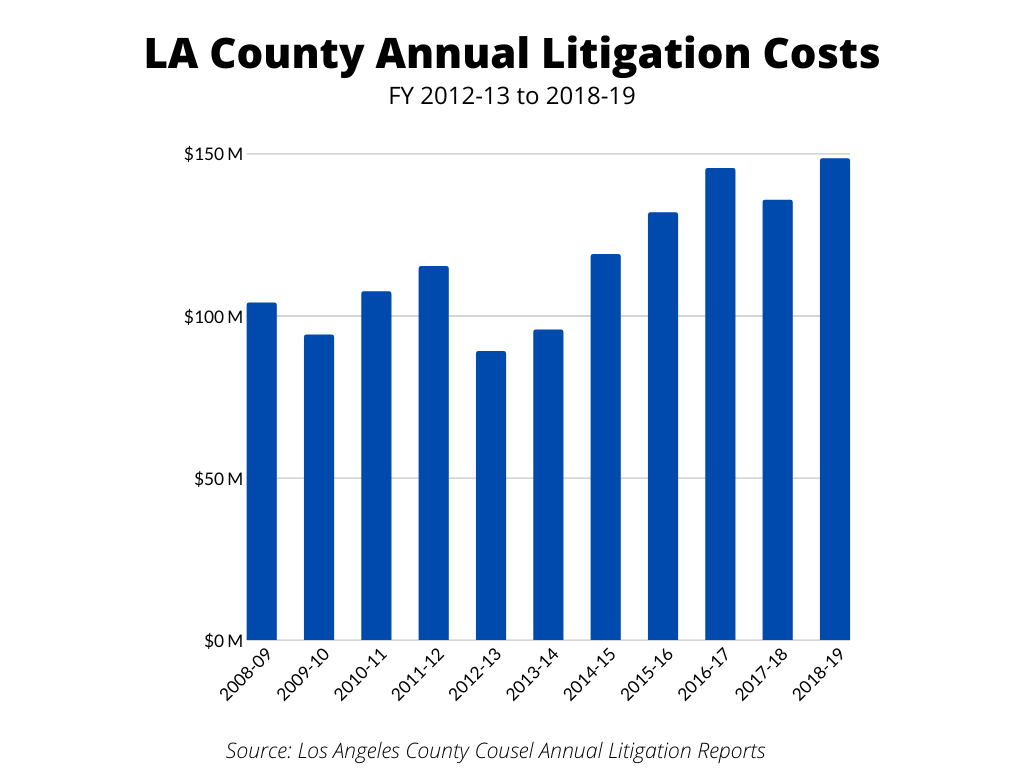 This most recent jump, which can be traced to an increase of $17.7 million in judgments and settlements over the previous year, continues a more than decade-long upward trend for the county's spending on legal costs and payouts.
In total, the county paid $91.5 million in judgments and settlements and $57 million in attorneys' fees and costs.
The county paid $31.1 million in judgments, specifically, in FY 2018-19, a jump of 147 percent from the $12.6 million spent in FY 2017-18. Nine of the 16 judgments were against the sheriff's department, totaling $16.4 million last year, compared with $10.2 million in 2017-2018.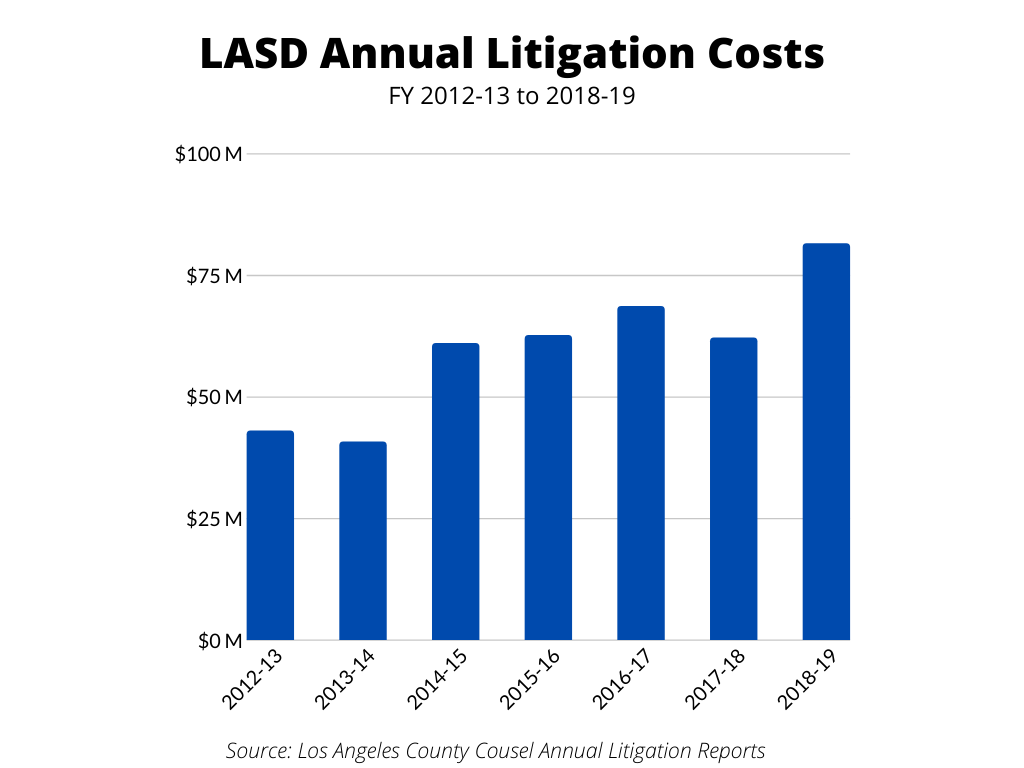 During the last fiscal year, the county settled 240 lawsuits to the tune of $60.4 million, a slight decrease from the previous year's figure.
Additionally, legal fees and costs hit $57 million last year, down from $62 million paid during the previous year.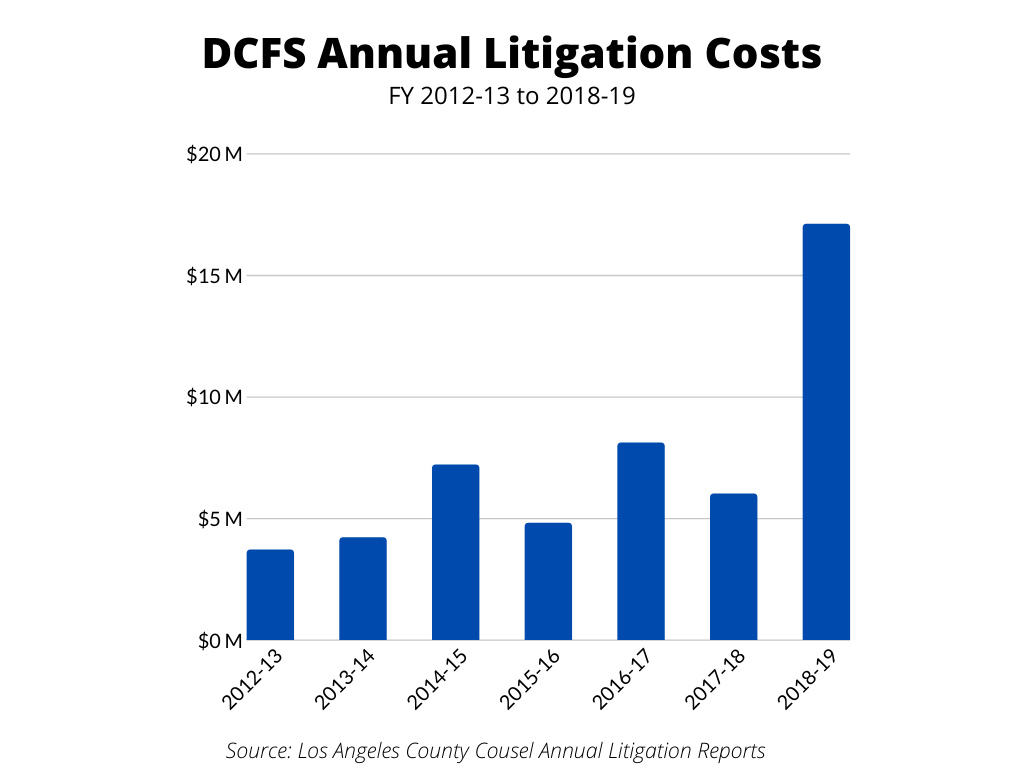 DCFS's 2018-2019 Legal Tab Was $10 Million Higher Than in the Previous Year
The county department with the second-highest litigation tab was the Department of Children and Family Services (DCFS), which racked up $17.1 in legal bills, including two judgments that cost taxpayers a combined $11.5 million. DCFS's litigation total represented an increase of more than $10 million over the $6 million that the county spent on DCFS litigation during FY 2017-2018.
The county paid the first $5.5 million of a $10.5 million judgment in the case of an El Monte girl, after LA County social workers left in her mother's care, where she was subsequently abused by at least four men, and as many as 15. Jurors awarded the girl $45.4 million, and placed 45 percent of the blame on DCFS and the social workers who failed to protect the girl in spite of evidence that she was at high risk for being abused. The county was originally on the hook for $20.7 million, but was able to reduce the amount to $10.5 million.
Another big payout in a case against DCFS — this one for $6 million — went to Rafaelina Duval, after a jury concluded that DCFS social workers wrongfully seized Duval's baby after accusing the woman of general neglect and of starving her son.