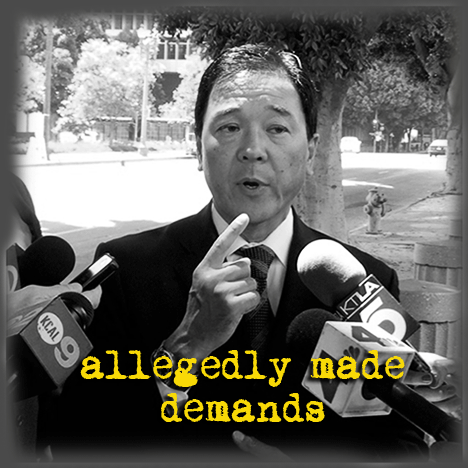 DEMANDS TO FALSIFY EMPLOYMENT DOCUMENTS & TO SUPPORT A CERTAIN CANDIDATE FOR SHERIFF
A longtime background investigator for the Los Angeles Sheriff's Department has filed a lawsuit alleging that he was severely retaliated against when he refused to falsify employment applications for unqualified applicants who were reportedly favored by then-undersheriff Paul Tanaka.
In the lawsuit filed last Friday in Los Angeles Superior Court, plaintiff Ban Nyegen, who has been with the sheriff's department since 1996, alleges that, at the end of 2012, he began getting requests to alter LASD employment applications so that certain job applicants who "failed basic requirements" would be able to "pass through the background process." Nyegen was reportedly told by a sergeant in the personnel bureau that the orders to falsify documents came from then-undersheriff Paul Tanaka.
When Nguyen refused whitewash documents for the specially designated applicants, he alleges that the applications in question were given to other background investigators, who were presumably more willing.
The lawsuit further alleges that, sometime after he refused the orders to doctor the background checks, Nguyen was approached by LASD Captain Kevin Hebert who asked him to support Tanaka's campaign for sheriff and actively campaign for him. Again, Nguyen declined.
(Previously, WitnessLA reported in depth on a pay-to-play scheme within the department involving Paul Tanaka's previous campaigns for mayor of Gardena.)
Subsequent to his refusal to agree to campaign for the former undersheriff, Nguyen's complaint states that Hebert moved him out of his position as a senior background investigator to another far less desirable entry level position in personnel.
The complaint describes other retaliatory actions including the filing by Hebert of "an unwarranted internal affairs investigation against the plaintiff."
---
NGUYEN GOES TO BACA WHO DECLINES TO INTERVENE
Near the end of 2013, according to the lawsuit, Nguyen told then Sheriff Lee Baca about the demand to "lie about or conceal damaging background information concerning Tanaka connected applicants," and the retaliation that occurred when he would't comply, or support Tanaka's political campaign. Rather than helping matters, the lawsuit reports that after Nguyen went to Baca the retaliation got worse, and he was warned by another captain, Judy Gerhardt, that "he was not allowed to go beyond the chain of command again with his complaint, and she refused to transfer plaintiff out of the hostile workplace."
(Note: by August of 2013, Paul Tanaka had been forced to retire, but reportedly he still had much behind-the-scenes influence in certain quarters, long after that.)
Nguyen alleges that, as part of the retaliation for his having reported to Baca, he was required to fill in as a bailiff at various court locations six times a month, and was given make-work projects by Captain Gerhardt "that prevented him from being able to do any meaningful work," according to the lawsuit.
Eventually, the work-place stress got to Nygen and he took a medical leave
And in November 2014, of course, Jim McDonnell defeated Paul Tanaka for the office of Los Angeles County Sheriff.
Sheriff McDonnell was sworn in on December 1, 2014, with a strong message of reform.
---
RETALIATORY PATTERNS
Nyegen's lawsuit has many things in common with other reports by department members who have alleged to us, and in still active lawsuits, that refusal to go along with wrongdoing, or any attempt to report alleged departmental wrongdoing, resulted retaliation. With some people the retaliation included unwarranted internal affairs investigations and, in certain cases, physical threats.
According to the reports we have received most recently, in some cases the retaliation is still occurring.