Approximate 36 hours after the unprovoked attack that resulted in the death of Palmdale Deputy Ryan Clinkunbroomer, members of of the LA County Sheriff's Department's Special Enforcement Bureau (SEB) took 29-year-old Cataneo Salazar into custody without incident.

"The suspect barricaded himself in his house for several hours," said Sheriff Robert Luna at a midmorning press conference.
Yet, with the help of hostage negotiators and others, after several hours of tense interaction, said Luna, Salazar finally surrendered without visible resistance.
According to Luna, department investigators are "extremely confident" that they arrested the sole suspect who is responsible for the murder of Deputy Clinkunbroomer on Saturday night.
After her son's arrest, Cataneo Salazar's mother, Marle Salazar, talked to the Los Angeles Times, and told reporters that her son was mentally ill and had been diagnosed as paranoid schizophrenic about five years ago. (The LAT story has more.)
Widespread expressions of grief and loss
"Yesterday, on Sept. 16, 2023, Palmdale Station lost one of our own," wrote deputies on the LASD's Palmdale Station Instagram page on Sunday.
"Deputy Ryan Clinkunbroomer was ambushed and killed in his patrol vehicle while he was on duty," the Instagram post continues.

"Words cannot express the shock, sadness and anger over this senseless loss of an exemplary deputy and an even better human being. Deputy Clinkunbroomer strived for excellence in everything he did. He was very thorough in his investigations, genuinely cared for the community he served, and he was always willing to help out his partners any time they needed it. We are numb with grief and are grasping to come to terms with the fact that he has left a very big void within our station family."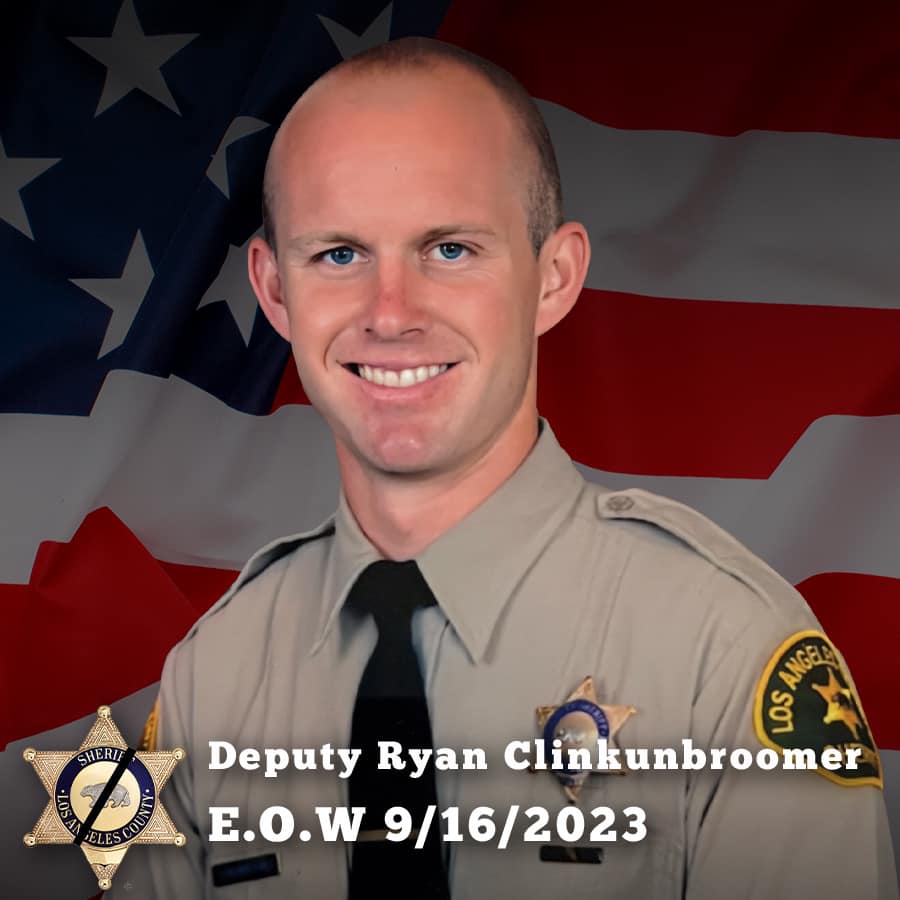 As most readers likely know by now, on Saturday evening, September 16, at around 6 pm, 30-year-old Los Angeles County Sheriff's Deputy Ryan Clinkunbroomer was fatally shot shortly after he pulled his patrol car to a stoplight at an intersection on the Sierra Highway near to the Palmdale Sheriff's Station.
Deputy Clinkunbroomer, who was an eight-year veteran of the department, appears to have been very well liked by those he served in the Palmdale community, and by his fellow deputies with whom he served.
A third generation member of the LASD, Clinkunbroomer was described as seeing law enforcement as a calling. His father and his grandfather have also served at the nation's largest sheriff's department.
As Sheriff Robert Luna announced at a Sunday afternoon press conference, Ryan Clinkunbroomer had gotten engaged to be married three days before he was murdered.
At first the shooting of Ryan Clinkunbroomer was characterized by department leaders as a random attack on law enforcement in general.
Yet by the time Luna spoke again at a Sunday afternoon press conference, the sheriff told those gathered that while investigators "have not yet identified a motive," the murder of Deputy Clinkunbroomer appears to have been a targeted shooting.
"I think it was a targeted act based on what we know now, but we're still in the extremely early stages of this investigation," Luna said.
A surveillance video that was circulated by the LASD Sunday night is believed to show the shooting.
In the video, a car that appeared to black-ish in color pulls up next to the patrol car, which is at the red light. You can't see shots fired, but after a pause, the dark car speeds away as Deputy Clinkunbroomer's black and white cruiser rolls forward a couple of extra feet then comes to a stop at the intersection.
A bystander discovered the deputy unconscious in his vehicle, with a gunshot wound in the back of his head, and alerted Palmdale Station personnel. The wound would turn out to be fatal, although doctors at the Antelope Valley Medical Center in Lancaster—where the injured deputy was taken on Saturday night—worked to save his life.
On Sunday, Luna called the dark car shown in the video a "vehicle of interest," and described the suspect's car as a dark gray 2006-2012 Toyota Corolla.

Also on Sunday, LA County Supervisor Kathryn Barger, who also spoke at the Palmdale press conference, tweeted that she will introduce a motion at the next board meeting to establish a $100K reward to help solve the murder.
"Justice will be served," Barger tweeted on Sunday.
By Sunday evening, the amount of the reward put forth by county officials, city of Palmdale, and the LA County deputies union, ALADS, had climbed to $250,000 for information leading to the arrest and conviction of the person or persons who shot and killed Deputy Clinkunbroomer. (Palmdale and Los Angeles County each put up $100,000, with ALADS, contributing $50,000.)
The LASD has asked anyone who witnessed any suspicious activity in the area of Sierra Highway at around 6PM, please call Homicide at 323-890-5500, or CrimeStoppers at 1-800 222 tips.
ALADS has also put up a donation page to benefit Deputy Clinkunbroomer's family. You can find a link to the page here.
Governor Gavin Newsom and Acting Governor Eleni Kounalakis were among the many officials who made statements about the murder.
"On behalf of all Californians, we mourn the horrific, unconscionable, and shocking loss of Deputy Ryan Clinkunbroomer," the two state leaders said, also announcing that flags would be flown at half-mast at the state Capitol.
"Deputy Clinkunbroomer's devotion to community and country will never be forgotten."
In a Sunday night tweet, Bill Bratton, the former NYPD Commissioner, former Boston Police Commissioner, and former chief of the LAPD, voiced the thoughts of a lot of those in law enforcement:
"The murder of @LASDHQ Deputy Ryan Clinkunbroomer," Bratton wrote, "who was ambushed as he sat in his patrol car, is an awful tragedy that underscores the dangers faced by cops across the nation."
District Attorney George Gasćon put out his own statement assuring LA County residents that his office stands "united with the Los Angeles County Sheriff's Department and all of our law enforcement community in this time of profound grief, and we will tirelessly pursue justice for Deputy Clinkunbroomer."
As news of the murder continued to spread on Sunday, among the simplest and most heartbreaking of the messages expressed was the conclusion of the Instagram post put up by deputies at the Palmdale Sheriff's station who had worked with Clinkunbroomer.
First the Palmdale deputies repeated the plea that anyone who "witnessed any suspicious activity in the area of Sierra Highway at around 6PM" yesterday, should please call Homicide at 323-890-5500, or CrimeStoppers at 1-800 222 tips.
They added that the station "would use all of our resources" to bring the suspects responsible for the murder of Deputy Clinkunbroomer to justice.
"Rest easy, our hero, our friend," concluded the Palmdale station deputies. "We'll take it from here."
The suspect is arrested
On Monday morning authorities announced that a person of interest had been detained in connection with the ambush killing of Deputy Clinkunbroomer.
We know now that the suspect is Kevin Cataneo Salazar, 29, of East Palmdale.
According to Sheriff Luna, the LASD investigators' next task is to continue to investigate deeply and thoroughly in order to build a case.