As most readers know by now, last Wednesday morning Los Angeles County Sheriff Alex Villanueva, who has now been in office for almost exactly two months, held a "State of the Department" press conference, at which he told members of the LA media and everyone else who watched the event via the LASD Facebook page, that LA County's jails are far, far more dangerous today than they were five years ago, before his predecessor Jim McDonnell arrived on the scene.
To strengthen his claim, the sheriff referred to a series of large, dramatic charts.
According to Villanueva, in 2013, force inside the jails was at a reasonable level, and the numbers for deputy force and inmate force were in close correlation. When inmates used force, deputies used force back. All was in balance.
But after 2013, said the sheriff, force began to rise, and kept rising stratospherically due to what he said were a series of ill-thought-out jail reforms.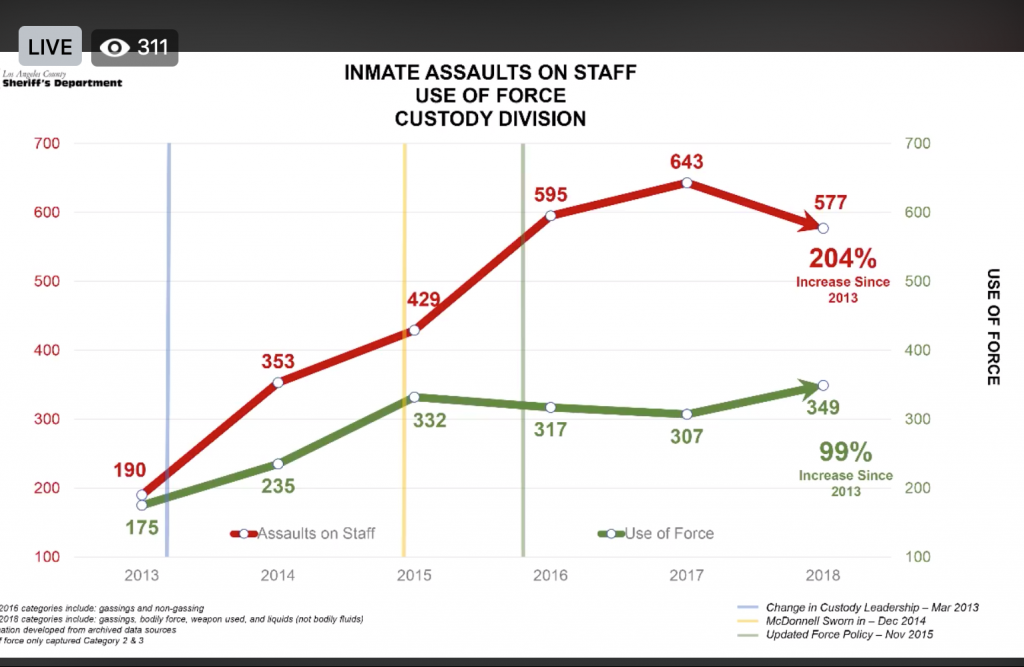 He pointed to the fact that 2013 was the year when former sheriff Lee Baca hired Terri McDonald to take over the department's custody division, and McDonnell, he said, put into place a grand "social experiment," after which time "no one paid attention to the outcomes" that all this experimenting wrought.
As Villanueva explained it, the "social experiment," along with additional policy changes he said were instituted in 2015 by then newly elected sheriff Jim McDonnell, caused violence to skyrocket, precipitating a 99 percent rise in force by deputies on inmates, between the years of 2013 and 2018, and a staggering 204 percent increase of violence by inmates on deputies during that same period—with inmate on inmate violence, also on the rise.
"Someone literally thought it was a good idea to tell the deputies to put their hands in their pockets," said Villanueva. "And it backfired massively."
Meanwhile, the department wasn't "measuring what's important," said Villanueva, "which is the safety of the jails."
Villanueva also told the audience that, under his predecessor's administration, "staff weren't allowed to defend themselves." And if they did defend themselves, "it would be at the cost of their careers."
He said that a certain kind of force by inmates against staff known as "gassing," was not even being counted by the department at all anymore, a statement that the Office of the Inspector General and others disputed.
"Gassing" is the term used to describe an unpleasant form of assault used increasingly by some inmates  (most particularly those who are mentally ill), which consists of throwing liquid and the like, often urine, on deputies or other jail staff.
The sheriff's statements and his charts illustrating the rise in violence in the jails were unquestionably dramatic and provocative.
But did they accurately reflect the facts of the matter?
According to various sources WitnessLA spoke with, a number of the things Sheriff Villanueva said last Wednesday about violence in the county's jail system were curiously off base.
Yet, to understand why those most familiar with jail violence reform in Los Angeles County were so baffled by the new sheriff's statements, it helps to take a quick look back at some of the bad old days at the LA County jail system.
---
A brief historical review
In the fall of 2011, a difficult to ignore report from the ACLU, plus a string of investigative news stories (including those by WitnessLA), plus some other factors, like the December 2010 brawl between factions of deputies who worked at Men's Central Jail, finally persuaded the powers that be in Los Angeles County, along with much of the public, to conceded that there might be a problematic "culture of violence" inside the nation's largest jail system.
This admission resulted in the appointment of a blue ribbon Citizens Commissions on Jail Violence (CCJV), which—as its name suggested—was created to examine the issue of violence in LA County's jails.
After months of hearings, in September 2012 the CCJV released a long and scathing report, which described a "persistent pattern of unnecessary and excessive use of force," in the jails, particularly in Men's Central Jail.
"Multiple witnesses," the CCJV commissioners wrote, "both inmates and non-inmates, described numerous instances in which LASD personnel used force when no threat was present, used force disproportionate to the threat posed, used force after the threat had ended, or enabled inmates to assault other inmates."
Furthermore, the commissioners wrote, most of the force used by deputies in the five years previous to their report was "Significant Force."
In the year 2011 alone, 81% of all force incidents at Men's Central Jail were categorized as "Significant Force," which often meant broken bones or other injuries in the inmates on the receiving end.
Yet, despite the troubling force stats, the commission also made it clear that force incidents in custody were alarmingly under-reported by the department, that inmates were frequently threatened or put into isolation, to keep them from filing complaints, and that force incidents that were written up, were often stashed unread on shelves and in drawers until it was too late for an investigation.
At the end of their 194-page report, the CCJV made a series of recommendations, which included the strong suggestion that the county's board of Supervisors create an "independent Inspector General's Office" to provide "comprehensive oversight and monitoring of the department and its jails."
But, although the members of the county's board of supervisors were able to institute a few of the recommendations of the CCJV—including the appointment of Inspector General Max Huntsman, who began work on January 2, 2014–none of commissioners' suggestions were compulsory.
At least that was the case until April 2015, when the settlement of a massive federal class action lawsuit, Rosas v. Baca, resulted in a list of legally mandated reforms and oversight having to do with force and violence inside the jails.
Then a few months later, in August 2015, the LASD and the County of Los Angeles were collectively shoved into a second settlement, this time with the Department of Justice, which alleged that LA County "deprived" inmates in its jails of "rights, privileges or immunities" protected "by the Constitution of the United States."
The DOJ settlement mandated a significant list of additional reforms that the sheriff's department had to institute.
To make sure the department complied, the DOJ folks also required the appointment of a monitor to help keep an eye on the required reform.
Attorney Richard Drooyan was named as the federal monitor, and his team has been doing the job ever since.
(Drooyan was the former head of the Los Angeles police commission, a former chief assistant U.S. attorney and—most relevantly—the general counsel for the CCJV.)
The mandated reforms, "were developed in close consultation with national experts," said Assistant Inspector General Cathleen Beltz. They are also "evidence-based and based on national best practices in corrections. Tremendous progress has been made in the five years we have been monitoring the Department," Beltz added.
Thus, with all of the above and more in mind, it was unsettling to hear the new sheriff describe the evolving jail reform as an arbitrarily instituted "social experiment" put into place by executives of previous administrations at the expense of deputies.
Even more mystifying was Villanueva's contention that no one among those monitoring LA County jail reform was measuring what was "important" to him—aka "jail safety."
---
Apples and artichokes

Peter Eliasberg, chief counsel of the ACLU of Southern California, was one of those who was startled by the sheriff's press conference claims.
According to Eliasberg, there are a couple of reasons why the stats the sheriff put on display on Wednesday might be viewed, he said, as "grossly misleading or wrong ."
For one thing, said Eliasberg, Villanueva charted increases in jail force based statistics from a period of time when it was quite well established that "the sheriff's department was doing a very bad job of reporting force, and tracking uses of force."
Thus, comparing data from today, said Eliasberg, "when the sheriff's department is doing a pretty good job of tracking force," to 2013 stats, when the department was notoriously lax, "will not create a true picture."
The sheriff, Eliasberg said, "isn't comparing apples to apples" because, among other reasons, "as a matter of policy the department wasn't tracking certain kinds of minor incidents of force back in 2013.  But those minor kinds of force "are tracked now," he said, thus pushing up force numbers.
For instance, said Eliasberg, there is a weirdly-named category of minor force now tracked called  "wiggle force," which can be something as harmless as grabbing an inmate's arm if he or she trips.
Eliasberg also took issue with Villanueva's statement that deputies aren't allowed to defend themselves.
"If this is what the sheriff is saying it's extraordinarily troubling," he said. "I know the Rosas decree very well, and there's not a single thing in there that suggests deputies can't defend themselves. In fact it's made very clear that they can."
What deputies can't do, and they used to do, he added, "is to take an inmate who is immobilized and on the ground, and just wail on him, then lie about it, and try to put a case on the inmate."
There used to be a lot of those incidents, he said, "a lot—some of which provided the basis for members of the sheriff's department going to federal prison,.
But, the idea that either consent decree—Rosas or that of the DOJ—prevents deputies from doing good policing in custody "is just ridiculous," Eliasberg said.
Other experts on the topic of LA County jail reform were similarly perplexed by many of the sheriff's statements—and by his numbers.
"The types of problematic, serious uses of force and physical abuse that characterized the jails in the past, have reduced significantly," said Cathleen Beltz of the IG's Office.
And while most conceded that there is definitely evidence of incorrect and inconsistent data gathering by the department when it comes to measuring all three types of force, (inmate on inmate, inmate on staff, and staff on inmate), this is hardly news, as the issue was documented in detail in the Inspector General's 2017 report on the matter.
---
Founded allegations and otherwise
Although certainly Sheriff Villanueva talked about other less inflammatory topics at the press conference last Wednesday—such as the costly effect on staffing shortages and deputy morale of too many relieved-of-duty personnel, and the measurable public safety reasons behind his policy of not allowing sheriff's deputies to become an extension of ICE—it was his discussion of violence in the jails, and a new set of statements about the controversial rehiring of Deputy Carl Mandoyan,  that drew the most fire from critics.
Then it was time to talk about Mandoyan, the sheriff invited Steve Gross, Chief of the LASD's South Patrol Division, to the podium.
Gross told the crowd that he and others reviewed all the facts of Mandoyan's case, and "analyzed the civil service findings."
An "ad hoc committee" then determined that some the findings in the case were "founded," said Gross, and "we upheld those findings."  Whereas, some of the other findings the group "found to be 'unresolved."
Interestingly, Chief Gross did not say that the "ad-hoc" group determined any of the civil service findings against Mandoyan to be "unfounded."
The group simply concluded, said Gross, that the "allegations" against Mandoyan, "did not rise to termination in our opinion."
As WitnessLA reported last week, Deputy Mandoyan will not wave his rights to privacy in order that the board of supervisors can examine the files of his case.
Sheriff Villanueva blamed the members of the board of supervisors and what he called their "grandstanding," for Deputy Mandoyan's decision not to cooperate.
Yet, the controversy around Mandoyan shows no signs of abating.
On Saturday, Supervisor Sheila Kuehl's weekly message to constituents included the observation that to let deputies such as Mandoyan back on the force "sends a horrific message to victims who have finally summoned the courage to file a report, as well as all the women serving in the department, women in the custody of the Sheriff in our jails, and the public as a whole…"
---
Post Script: shooting the messenger
In the days since the press conference, four separate sources have confirmed to WitnessLA that, in the last week, Sheriff Villanueva has caused two commanders in the custody division of the department to be relieved of duty at his request. At least one of the two commanders was reportedly ROD because he did not produce the kind of dramatic jail force data the new sheriff wanted for his recent press conference, much of which has been subsequently disputed