In 2016, the number of recorded hate crimes in California rose 11.2%—from 837 to 931—over the previous year.
California Attorney General Xavier Becerra released last year's numbers, which Becerra said shows "that words matter, and discriminatory rhetoric does not make us stronger but divides us and puts the safety of our communities at risk."
The number of hate crime incidents recorded were still 34.7% lower than 10 years ago, however.
Hate crimes, previously on a 20-year downward trend, increased for the second consecutive year. (There were 10% more hate crimes in 2015 than 2014.)
The FBI defines a hate crime as a "criminal offense against a person or property motivated in whole or in part by an offender's bias against a race, religion, disability, sexual orientation, ethnicity, gender, or gender identity."
In 2016, 64.5% of hate crimes were violent crime offenses and 35% were property crime offenses.
Racially motivated hate crimes increased 21.3% from 428 in 2015 to 519 in 2016. Anti-black hate crimes were the most common, accounting for nearly a third of all hate crimes between 2007-2016.
Crime involving an anti-LGBTQ bias were the second most common type of hate crime in the last decade, making up 22.2% of total hate motivated crimes. Anti-gay (male) hate crimes increased 40.7% from 108 in 2015, to 152 in 2016.
Last year, as in years past, anti-Jewish hate crimes were the most common religion-focused crimes, accounting for 11.1% of all hate-based incidents reported in the last 10 years.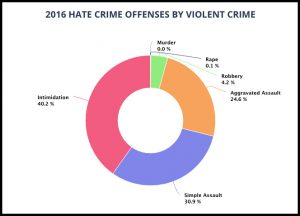 "When someone commits a crime motivated by hate, it is not just an attack on one innocent person, but an attack on the entire state and our communities," said Attorney General Becerra.
While data for last year is not yet available nationally, law enforcement agencies reported 5850 hate crime incidents to the FBI in 2015, a 6.8% increase over 2014.
The FBI's most recent national hate crime report revealed a 67% increase in hate crimes against Muslims in 2015.
One problem with analyzing the national data is that police agencies are not required to report hate crime information to the FBI—so thousands of local law enforcement agencies don't send in their numbers.
About 54% of hate crime victimizations were not reported to police during 2011-15.
According to US Bureau of Justice Statistics data released last week, 99% of victims between 2011-2015 cited offenders' use of hate language as evidence of a hate crime.
"Condemning hate crimes, discrimination, and racism is critical to ensuring all Californians live without fear of being targeted because of their race, ethnicity, religion, disability, gender or sexual orientation, Becerra said, urging victims to report hate crimes to law enforcement.