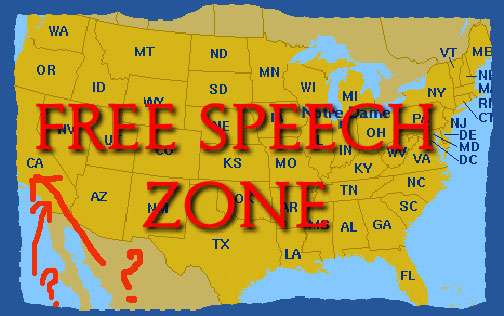 If it's all true, it's a pretty appalling story.
Here's the deal: Over the weekend the news broke that a Los Angeles City College student named , Jonathan Lopez, had filed suit against LACC over a Fall '08 incident with his Speech 101 teacher.
The LA Times (my friend Gale Holland wrote the story), the Daily Breeze, and such right-leaning sites as Town Hall and even Eugene Volokh all reported or commented on this story. Putting together their accounts one is able to gather that, according to Mr. Lopez, this is what occurred:
This past fall, Lopez took Speech 101, Introduction to Public Speaking, taught by someone named John Matteson.
In Speech 101, Lopez said, the students were assigned various kinds of speeches: a "delivery speech", a "culture speech," an "informative" speech, and a "persuasive" speech.
The assignment in question was the informative speech. Matteson told students that they were to speak for between six and eight minutes on a topic of their choice.
Lopez, an ardent Christian, decided to talk about how God had acted in his life in ways that he saw as miraculous.
And….instead of just talking about God and miracles, Lopez slipped in a little anti gay marriage stuff, a few Bible verses, topical moralizing and so on.
The incident occurred last November, not long after the presidential election, which meant it was also right after the loathsome Proposition 8 was passed.
So Lopez's timing was….well, let's just say, provocative.
Moreover, the speech didn't really fit into the category of "informative." It sounds like it was more of an attempt at "persuasive,"—although to truly persuade, Lopez would need to find a way to avoid turning off his audience. In other words, Lopez needed some instruction, guidance and tips.
Put another way, Lopez's speech was an opportunity for…you know….teaching. This was, after all, Speech 101. A beginners' class.
If Lopez brought his bias to the speech. Okay. It happens only all the time in writing and reporting classes. One can only assume the same is true of a class in public speaking. That's what teachers are for. To guide students like Lopez and his classmates into writing and speaking more skillfully, which means confronting and balancing one's biases without losing one's passion. Yadda, yadda, yadda.
So what did Matteson do instead? According to Lopez, his teacher interrupted his speech, and called him a "fascist bastard."
(Note to Matteson: that's not what we call using the teachable moment.)
Matteson then allegedly told the rest of the class they could leave if they were offended. (No one left.) After that, he dismissed the class.
Allegedly.
When Lopez looked at his evaluation sheet, which was evidently stuffed in his backpack, where there was supposed to a grade, Matteson (allegedly) scrawled. "Ask God what your grade is."
When Lopez reported the incident to the school's Dean, Matteson also reportedly threatened to expel the kid.
So Lopez sued. Here's a copy of the actual complaint that was filed.
Lopez is being represented in his lawsuit by the Alliance Defense Fund, a big Christian legal organization co-founded by James Dobson. This is unfortunate. In their statements thus far, the Alliance people are presenting this as a case of religious discrimination, because I'm guessing that serves their agenda.
(One of the Alliance's lawyers has already been on "The O'Reilly Factor")
This case, of course, is not about religion. It is about free speech, a clear First Amendment issue. But, really, mostly it's about teaching.
There is always a way to use the situation such as Lopez's presentation, as a springboard for instruction without being disrespectful of the kid's beliefs or dampening his or her courage when it comes to self-expression. The trick in writing or speaking from a strong POV is learning to do so in such a way that you don't exclude everyone who doesn't agree with you, but instead, hopefully, cause your listeners to think a bit or to expand their own perspectives. Lopez's speech should have triggered a literary discussion, not a teacher's temper tantrum.
If Matteson did what he is accused of doing, he is crappy teacher who verbally abused a student, did the rest of his class a disservice, and has no place in the classroom. Period.
*******************************************************************
And, elsewhere on Idiot Educators watch, there is this story about the drama students at Corona del Mar High School, who were excited to perform the Tony Award-winning and much beloved musical RENT—until, according to the drama teacher, the school principal told him that he couldn't produce RENT for the school, because the administrator didn't like the play's…. gay characters.
Great.
Naturally lawyers were called.
*** NOTE: A chapeau tip to commenter Woody for initially flagging the Lopez story.