On Friday, August 31, the California Assembly voted to approve Senate Bill 1421,  legislation that will allow public access to information about law enforcement officers who engage in uses of force, or serious misconduct like falsifying evidence, or committing a sexual assault while on the job.
Governor Jerry Brown has yet to sign the bill. It is not clear if the governor favors the legislation or not.
"Law enforcement relies on trust with the communities they serve to effectively do their job," said Senator Nancy Skinner (D-Berkeley), the bill's primary author, after the 41-27  bipartisan Senate vote took place. "When incidents occur, the public deserves to know that a thorough investigation has occurred and that police are held accountable."
Since 1978, California has determinedly barred public access to police misconduct and use of force records, giving it the rank of the most secretive state in the country, when it comes to law enforcement records.  Under existing law, not even prosecutors are allowed access to records of officers found guilty of committing misconduct under the cover of authority, even those with a history of planting evidence or lying in police reports.
California's law enforcement departments are also barred from sharing with the public the factual findings of their investigations following police shootings.
Nearly half of states in the country make some or all police misconduct records available to the public.  No other state but California keeps those records away from prosecutors.
In general law enforcement would like to keep it that way.
Hoping to soften the opposition, Skinner worked with various police unions to fine-tune SB 1421, in order to try to gain their support, but the majority continued to lobby against the legislation, stating that it violates officers' privacy and could discourage cops from doing their jobs. The most notable exception was the California Police Chiefs Association—or Cal Chiefs— which continued to negotiate on SB 1421, and eventually agreed to support it about ten days before its passage on Friday.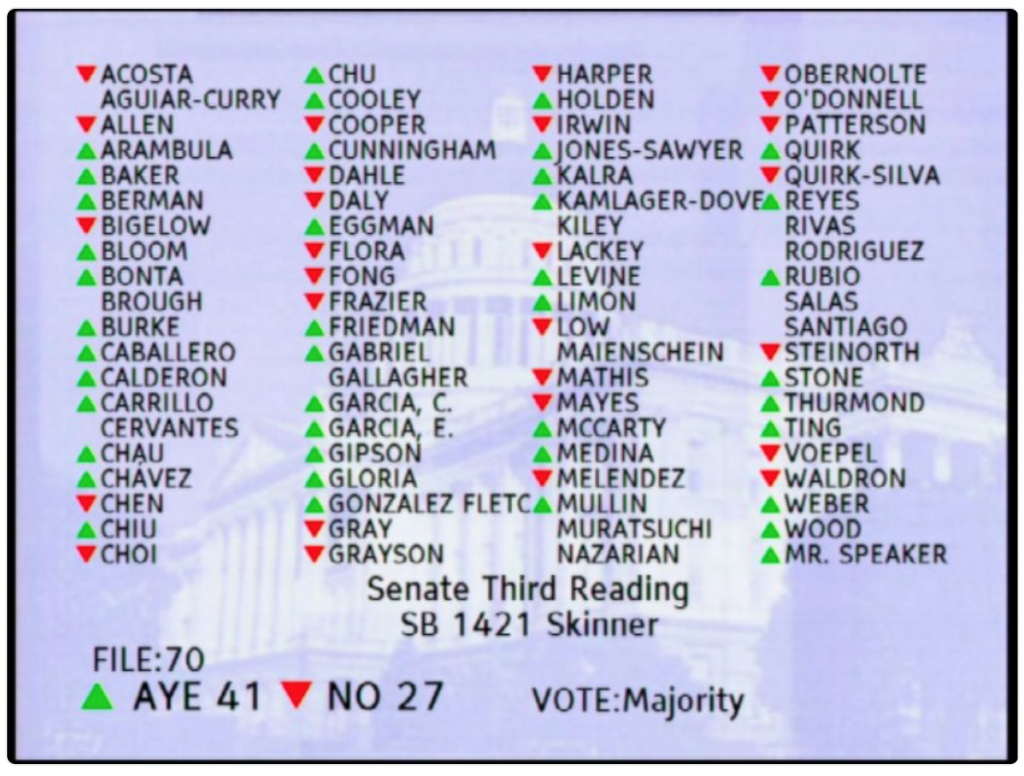 Many of the state's largest law enforcement unions and related organizations, like the Peace Officers Research Association of California (PORAC), the Los Angeles Police Protective League (LAPPL), and the Association for Los Angeles Deputy Sheriffs (ALADS), have remained opposed.
Still, the groups' non-support of SB 1421, appeared less adamant than their vehement dislike of AB 931, the "Police Accountability and Community Protection Act," which would have changed the circumstances under which officers can use deadly force. (AB 931 has now been tabled.)
On the other side of the issue, the California ACLU was among SB 1421's strongest supporters, along with the state's justice reform advocates, the California News Publishers Association, most of the state's main newspapers, and a list of other organizations like the California Faculty Association, which is the union for California State Universities faculty members, lecturers, counselors, and coaches
---
California as outlier
Law enforcement's desire to protect the privacy of its officers and deputies is understandable.  But, for the last forty years, California's restrictions have exceeded those of any other state, even those in the most conservative, law-and-order-leaning regions.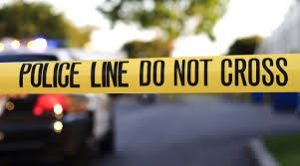 "No other state has locked away citizen complaints and internal investigation files like California," wrote the LA Times Liam Dillan in his informative story about the four decades of history of the issue.
Still, in past decades, there wasn't enough push by voters to persuade the legislature that it was time to change the law.  More recently, however, the tide of public perception on the topic appears to have turned.  Furthermore, as the LA Times showed in their recent series,  there can be a hefty price tag in the world of justice when an officer or deputy's past misconduct, including falsifying evidence, is kept secret from subsequent court cases in which he or she is involved.
In the course of our reporting, we have run across our own examples of the high cost of having officers on the job whose past questionable actions are kept hidden.
---
The LASD's prolific Fernando Luviano
A couple of disturbing cases surfaced a few years ago during the string of federal trials of members of the Los Angeles Sheriff's Department who were charged with abusing jail inmates—and in one case, a jail visitor—then fabricating criminal charges against their victims.
One of the most dramatic of those trials occurred in June 2015, when an LA County Sheriff's sergeant named Eric Gonzalez, and LASD deputies, Sussie Ayala and Fernando Luviano, were tried and found guilty of severely beating jail visitor Gabriel Carrillo, then conspiring to falsify criminal charges against Carrillo in order to cover up the abuse.
When defense attorney Joseph Avrahamy gave his closing arguments to the jury, he he kept repeating the phrase "This has never happened before!"— meaning, one assumed, that the beating of someone for no reason in the LA County jail system, or its visitors center, and the falsifying of charges to cover for such a beating, was all quite anomalous. The jury had no way of knowing that the statement was extravagantly untrue.
"Someone just mouthing off would never cause [these deputies] to use excessive force," continued attorney Avrahamy. "Why would these deputies and their sergeant risk their careers and criminal charges by beating up a suspect and falsifying reports?"
Well, perhaps it was because, during the period in question, the defendants felt, quite rightly, that they were not risking much of anything.
In February 2011, when the beating of Gabriel Carrillo occurred, jail personal who engaged in such behavior were very, very unlikely to be held accountable for their actions, much less to have their actions come to light in court.
This dispiriting fact was documented in detail in the department's own internal reports, by testimony of department supervisors at the public hearings held by the Citizens Commission for Jail Violence, in the CCJV's scathing final report– and in WitnessLA's reporting.
In answer to the claim that "this has never happened before," there were myriad accounts of similarly senseless beatings having taken place in the county's jail system, often accompanied by the fabrication of charges against the beating victims to cover the brutality.
The ACLU's massive 2012 class action suit, Rosas v. Baca, featured 70 signed declarations by victims of—or witnesses to—such incidents. The abuse described in the declarations was deemed credible enough that it forced a landmark settlement that was approved by the LA County board of supervisors in December 2014, and then given final approval in April 2015 by U.S. District Judge Dean Pregerson. (The settlement, just to remind you, was not for money, but to force a system of jail oversight that has since been instituted, with the intention of helping prevent such incidents from happening in the future.)
Moreover, the name of Fernando Luviano, one of the defendants convicted of brutalizing jail visitor Gabriel Carrillo, in 2015, was featured prominently in several of the Rosas declarations, plus in the accounts of still other former inmates who were not part of the lawsuit.
At WLA, we read declarations by eight different former jail inmates, who described beatings, pepper spraying, outsized threats of retaliation, and similar actions in which Luviano allegedly took part. In the majority of cases, he was the main player, or at least one of them.
We also spoke in detail to one of the Rosas victims, a 35-year-old named Michael Hoguin, who works for a car auction company. Holguin explained how he was badly beaten in 2009 by several deputies, with Luviano the main perpetrator.
In short, as Holguin told the story, in response to a comparatively mild verbal complaint to Luviano, he was handcuffed with his hands behind his back, then moved to a "nearby area," where he was allegedly beaten severely, kicked, slammed repeatedly in the head and body with a hard object, presumably a flashlight, while the deputy chanted the requisite "stop resisting," over and over, even long after inmate Holguin had been knocked—still handcuffed—to the ground.
"But I wasn't struggling, except to kind of brace myself for the blows," Holguin said. "I was mostly trying to curl myself into a fetal position."
According to the diagrammatic record made by LASD's Medical Services, Holguin suffered extensive cuts and bruising requiring seven staples in the center of his scalp, plus four stitches over his right eyebrow. His knee was deeply lacerated, his tibia was broken in two places requiring a "short leg cast."
Although he declined to disclose the dollar amount, Holguin has already won what is thought to be a decent sized sum of money in the settlement of a civil suit against the county that concluded in the fall of 2013.
In addition to Holguin's account, there were separate declarations by Robert Dragusica (2009), Antonio Candelario (2010), William Littlejohn (2011), Jonathan Goodwin (2011), Alex Rosas (2011), Jabaar Thomas (2011), and Arturo Fernandez (2011)—all naming Luviano.
And, yet, despite these reports, at least two of which resulted in high ticket civil settlements, when Luviano was convicted by the jury in the summer of 2015, were it not for the ACLU reports and the subsequent Rosas class action lawsuit, a defense attorney who might represent an inmate who'd been pounded by Luviano—or someone like Luviano, who then falsely claimed that the former inmate was the attacker, resulting in criminal charges against the victim—would have no way of finding out about any previous complaints, investigations, or disciplinary action against the battering deputy.
The same would be true of Luviano's two co-defendants in the trial, former deputy Sussie Ayala, and former sergeant Eric Gonzalez, each of whom had their own list of alleged prior incidents of misconduct.
---
Bad evidence
If a patrol officer in a California police agency had similarly credible complaints of past misconduct lodged against him or her, however, there would be no way to access records of those complaints, or accounts of how they were resolved, if that same officer appeared to be engaged in wrongdoing in a subsequent case or police action.
I witnessed an example of this principle in 2004, in the course of reporting for a year-long series I wrote for the LA Weekly, in which I followed a parolee and his family from the day he got out of prison, for the next 12-plus months, to see how he and his wife and their kids fared as he attempted to re-start his life.
The direction of the story changed early on in the series, when the parolee, whose name was Luis Aguilar, and who was also a former gang member, was rearrested and charged with having engaged in low level rock cocaine sales, selling dime bags out the back door of the family house.
Because of a prior conviction in his youth, and his gang member past, if found guilty, Aguilar was looking at a bunch of years in prison.
Furthermore, although Aguilar had managed to find a good job in construction after his release from prison, due to his past, it seemed quite plausible that he'd decided to supplement his honest income with easy money.
Aguilar's court-ordered lawyer certainly seemed to think that was the case, and he relentlessly pushed his client to take an 8-year plea deal. Aguilar insisted on his innocence, as did his wife, Frances, who said repeatedly that she'd have known if her husband was dealing, she was sure.  But many guilty people claim they are blameless, and given the evidence the lead detective in the case had amassed against him,  it appeared that eventually Aguilar would have to give in, confess, and agree to plead—or go to trial and lose.
But, Aguilar continued to hold out.  I continued to write.  And then something very unexpected occurred. The LA Weekly series, which got a lot of attention in certain circles at the time, attracted the notice of a respected private criminal defense attorney who offered to take a look at Aguilar's case.
Seeing some possible irregularities in the lead LAPD detective's account, the new attorney filed a Pitchess motion to see if the officer had any relevant complaints against him.
(A Pitchess motion is a request made by a defendant in a criminal action for access to information in the personnel file of an arresting police officer. The name "Pitchess" comes from a 1974 California Supreme Court case, Pitchess v. Superior Court.)
The judge gave the new attorney a list of five complaints, and the names of the people who made them, all of whom proved impossible to locate. Because of the limits of the Pitchess motion structure, there was no detailed information about the nature of the complaints, or how they were settled. But there was at least the suggestion that people had in the past complained about the detective's truthfulness.
I had already begun to do my own digging into the evidence against Aguilar, which included looking into the statements of four witnesses who reportedly told the cops they'd bought drugs from him, and the detective's own account of having personally witnessed Aguilar make a sale. After several months of probing into these and other elements of the case, I was increasingly disturbed by what I found. Put together with what the new attorney was discovering, it appeared more and more likely that most or all the principle evidence against Aguilar had been falsified, and that the lead detective may have lied under oath regarding the case.
There is, of course, far more to the story (most of which you can find in the seven part series, An American Family, Part 1 of which is here). But the bottom line is this: Once presented with this new material, the LA district attorney's office dropped the case and, some weeks later still, the prosecutors made it clear they were not going to refile.
But, by that time, Aguilar had been in jail for nearly eight months, meaning he'd lost his job, plus eight months worth of income, and not been present for the birth of his youngest daughter, among other forms of collateral damage.
Now, fourteen years after the series I wrote was completed, Luis and Frances Aguilar have managed to dramatically reroute the painful trajectories that their youthful mistakes had predicted. Both have excellent unionized construction jobs they enjoy.  They bought a house they love, away from the old neighborhood, and all of their kids are doing well. Their lives full.
But, had a reporter not happened—by sheer blind luck—to choose their family to follow around for the year that included Luis's arrest, things almost certainly would have gone in a very different direction, legally speaking.
Moreover, the irregularities in Luis Aguilar's case, or any subsequent investigation by the LAPD into the matter, even if wrongdoing was sustained, would have vanished from public sight.
We'll let you know what the governor decides to do.