Over the past three years, the Anaheim Police Department's rate of officer-involved deaths during arrests consistently exceeded that of major police departments, including the rates of the Los Angeles Police Department, the New York Police Department, San Diego PD, the San Francisco PD, and more, according to a report released Monday morning by the ACLU of Southern California.
The 28-page report, authored by the ACLU's Jennifer Rojas and Peter Bibring, states that the Anaheim PD's arrest-related deaths are not only unusually high, they are out of proportion with the city's crime rate, and indicate an urgent need for "meaningful" independent oversight.
The report is based on the study and analysis of police and coroner reports, newspaper articles, along with data collected by the California Attorney General's Office, and the U.S. Department of Justice. It also drew on research on police use of force and best practices across the nation, as well as the history of reform recommendations made to the Anaheim PD.
It chiefly examines the time span from 2003 to 2016, during which 33 people died following use-of-force by on-duty Anaheim Police Department officers. Of those, 29 were shot, three were hit with Tasers and one had been placed in a chokehold.
The ACLU's probe also looks at attempts to reform the department that the report's authors state have not accomplished what was needed to solve Anaheim PD's most pressing and deadly problems.
"Anaheim, which likes to call itself the 'City of Kindness,' must grapple with the disparate impact of deadly use-of-force by its police department on low-income, communities of color," said the report's co-author Jennifer Rojas. "It's critical that true, independent civilian oversight, not beholden to the city, be established to examine the actions of the police department."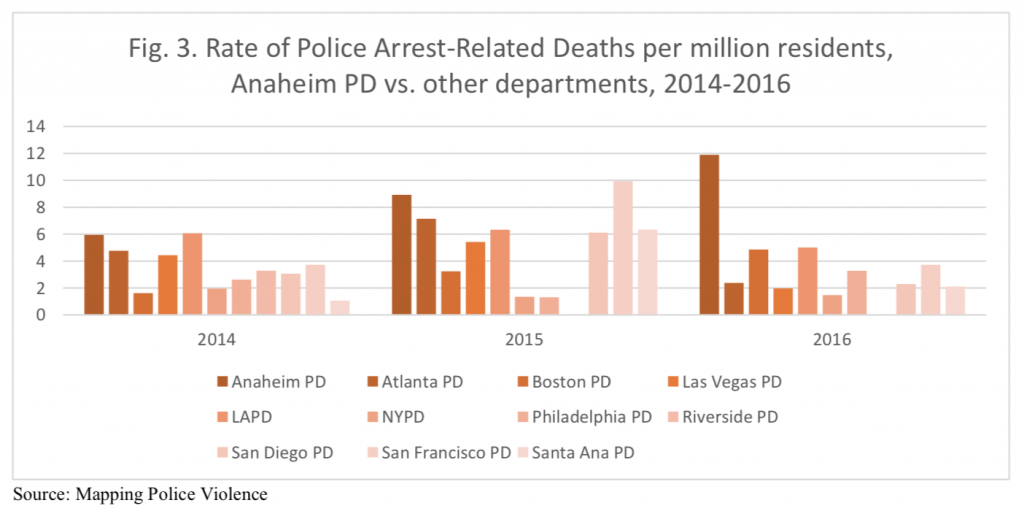 The report notes that, since 2014, Anaheim PD's rate of arrest-related deaths not only made it the 9th deadliest police force among the 60 largest U.S. cities, according to FBI data, Anaheim's numbers also significantly exceed that of California as a whole. In 2016, Anaheim PD killed individuals at nearly 3 times the average rate for other California agencies. 2016, Anaheim PD was involved in arrest-related deaths at a rate 74% higher than average for police in California.
Furthermore, it appears that, as mentioned above, the high rate of arrest-related deaths in Anaheim is not related to the city's crime rate. In 2014, the city was ranked 2nd safest among the 50 largest cities in terms of violent crime, 8th safest in terms of property crime, and 8th safest overall, according to FBI statistics. Police departments in cities with similar crime rates kill far fewer people per capita than Anaheim PD, states the report.
To look at the numbers another way, between 2003 and 2016, Anaheim PD was responsible for 17% of all homicides in the city, according to the report's authors. In 2009, 36% of all homicides in Anaheim were at the hands of Anaheim PD officers. In 2012, Anaheim PD officers were responsible for one in four of all homicides in Anaheim. In 2016, Anaheim PD officers were responsible for 36% of all homicides in Anaheim.
---
Armed and unarmed
Of the individuals killed by Anaheim PD between 2003 and 2016, nearly 40 percent were unarmed–using conservative definitions of "armed" and "unarmed," the report shows.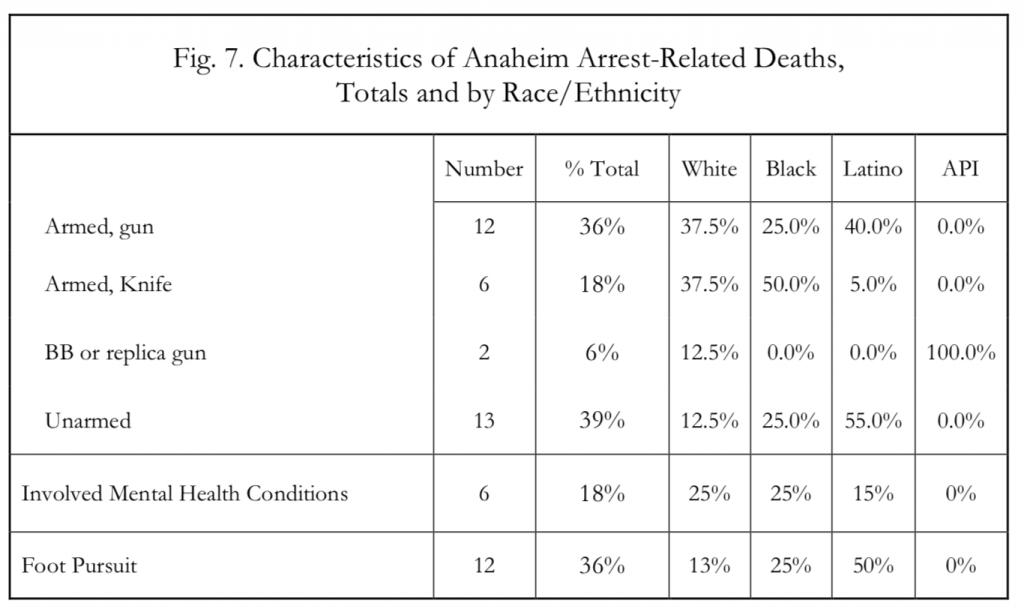 Specifically, the report's authors and researchers counted as "armed" individuals carrying a toy or replica gun, or a BB gun.
They also counted as armed, Cesar Cruz, a man who Anaheim PD officers shot as he emerged from his car after a pursuit, claiming that he was reaching for his waistband. (Although no gun was found on Cruz, a gun was found on the passenger seat of his car.)
The authors explained they did exclude people holding ordinary household objects, "such as Julian Alexander, who was in his front yard holding a broomstick when he was shot by police."
The data show a disparity by race: 55% Latino victims killed by Anaheim PD were unarmed, compared to 25% of Blacks and only 12.5% of whites. All white victims of Anaheim PD homicides were armed with either a knife or a gun (or replica), with the exception of one person. More than one-third of arrest-related deaths occurred after a foot pursuit. And nearly one in five arrest-related deaths involved a person with a mental health condition.
---
Repeat shooters
One of the problems, the ACLU authors suggest, is that the Anaheim PD has failed to adequately identify and correct patterns of force among its ranks, given what the report calls "the high proportion of arrest-related deaths involving officers repeatedly involved in deadly force."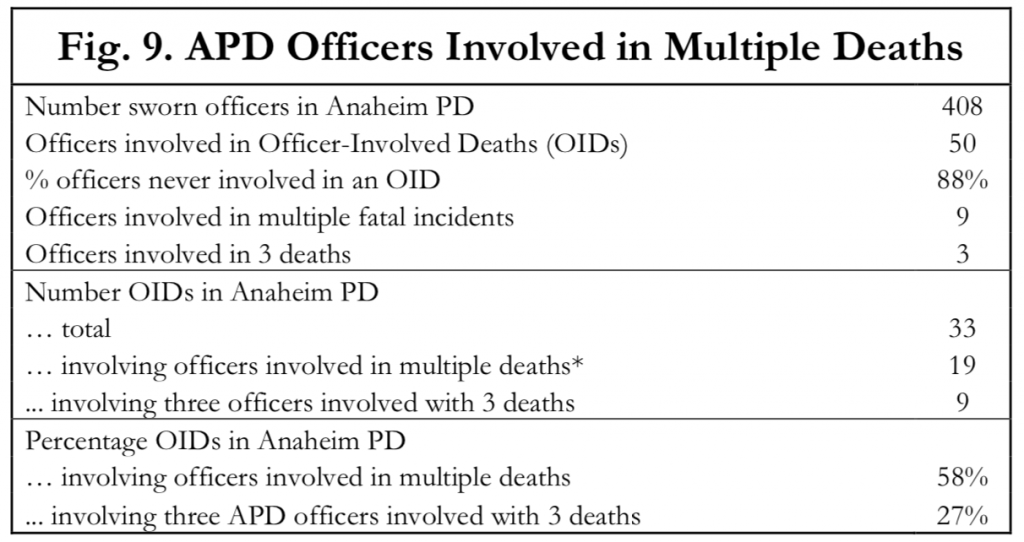 As an example, the author point to one Anaheim PD officer who was involved in two fatal shootings and two other use of force incidents, before he shot and killed a third man. "The victim of the force," the authors write, "was armed in only one of the officer's shootings."
The report makes clear that the "vast majority" of Anaheim PD officers–about 88%—have never been involved in a fatal incident. But several officers, they note, have been involved in two or even three arrest-related deaths. And it is "these officers" who have played a role in a significant percentage of Anaheim's officer-involved deaths.
The 33 arrest-related deaths between 2003 and 2016, states the report, involved a total of 50 Anaheim PD officers. Nineteen of those officers were involved in more than one fatal incident, and three officers were involved in three arrest-related deaths. The data show that 58% of Anaheim PD's arrest-related deaths— over half — involve officers who were also involved in at least one other death. More than a quarter of Anaheim PD's arrest-related deaths — 27% — involved the same three officers.
Furthermore, according to the report, in two separate instances, Anaheim PD has decided to hire officers that have previously used deadly force, who have gone on to kill a person the year after they were hired.
The report's primary recommendation is to call for the creation of a new, independent oversight body to provide robust and meaningful civilian supervision of the police. "This new body must be beholden to the community rather than the police department and other city agencies."
In addition to authors Jennifer Rojas and Peter Bibring, the report's contributing authors and researchers include Eve Garrow, Casey Kasher, Michelle Ochoa Castañeda, and Adrienna Wong.
Bibring is senior staff attorney, and director of police practices, for the ACLU of California.
Rojas, who works in the Orange County office is the community engagement and policy advocate at the ACLU of Southern California.