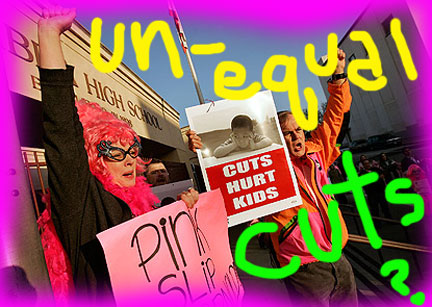 The ACLU of So Cal along with two other groups filed a lawsuit Wednesday on behalf of students at three of the city's worst-performing middle schools contending that students were denied an adequate education.
At first bounce the suit seems a bit squishy. I mean, every city and county agency has been hit with layoffs and dreadful cutbacks. But we're out of money people!
AND THEN YOU READ THE FINE PRINT and you understand why this suit is important and why, despite his appalling personal failings, John Edwards had it right when he talked about Two Americas.

Jason Song, at the LA Times has the rest of the story. Here are some clips:
The last round of L.A. Unified teacher firings led to chaotic conditions on some campuses that made learning nearly impossible, especially at Samuel Gompers, Edwin Markham and John H. Liechty middle schools, according to a complaint filed by the ACLU, Public Counsel and Morrison & Foerster. Between half and three-quarters [italics mine] of the teachers at those campuses were laid off last year, according to the class-action lawsuit filed in L.A. County Superior Court.

Because of a steep budget deficit, L.A. Unified officials issued thousands of layoff notices last year and are expected to order more this year. Citing state law, school districts typically dismiss teachers on the basis of seniority during budgetary shortfalls.

The cuts were especially devastating to Gompers, Markham and Liechty because administrators had recruited younger instructors who wanted to teach in the inner city. When those teachers were dismissed, they were often replaced by instructors who did not want to work in tough, urban schools, the suit alleges.

Many positions were also difficult to fill, so schools turned to substitutes, according to the lawsuit. Some of those teachers allowed the classes to turn chaotic or were unfamiliar with the subject matter. Several substitutes allegedly gave every student a "C" grade because they didn't know the material well enough to grade students….