On Sunday night we were very honored and surprised to win 2nd Place for Best Online Investigative Reporting at the SoCal Journalism Awards for our series investigative series called Beating Children. The awards are sponsored by the Los Angeles Press Club.
In this series, if you remember, we broke the news of three separate alleged assaults on three different teenagers who were housed in various LA County juvenile halls.
The most alarming incident was the one in which four male probation officers appeared to slug, push, and kick an unresisting teenager housed in Barry J. Nidorf Juvenile Hall in Sylmar, CA, as a supervisor looked on. The slugfest was caught on video by a camera mounted in the boy's room, and several probation sources leaked a 4:18 minute copy of the crucial part of the disturbing video to us.
In addition to the regular journalism prizes, this year the 59-year-old awards honored CNN's Jake Tapper with the evening's President's Award, and NBC's Andrea Mitchell with a Lifetime Achievement Award.
Australian photojournalist Daniel Berehulak gave a particularly affecting speech when he accepted the 2017 Daniel Pearl Award for Courage and Integrity in Journalism for his extremely risky reports for the New York Times on president Rodrigo Duterte's murderous antidrug campaign in the Philippines.
Dodger's Spanish voice Jaime Jarrin was honored as 2017's Los Angeles Press Club Bill Rosendahl Public Service Awardee for Contributions to Civic Life.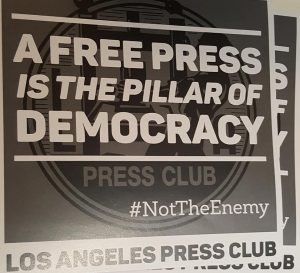 And Shawn "Jay Z" Carter, along with Harvey Weinstein, were given the first ever
Truthteller Award specifically for their remarkable and devastating series for Spike TV on the case of Kalief Browder who, at sixteen. was accused of stealing another teenager's backpack. Browder was never tried for the crime, and always maintained his innocence. Yet, Browder spent more than one thousand days on Rikers Island including nearly two years in solitary, waiting for a trial that never happened.