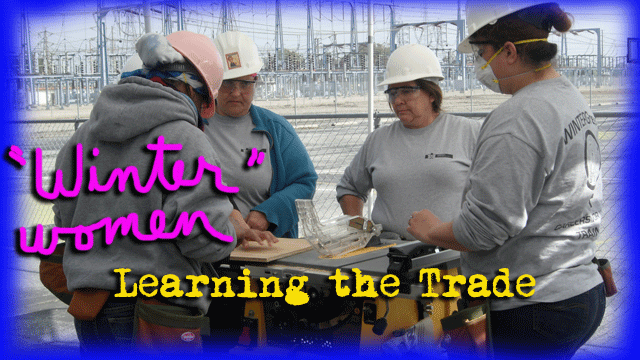 Most every weekday in a parking lot in Long Beach, clusters of LA women, ranging in ages from 18 to over 50, are learning to become skilled at the use of power tools, training to be certified in clean up of hazardous materials (HAZWOPER), grasping the skills necessary for certification to work in confined spaces. Some also become proficient in operating a fork lift.
These are "WINTER women." The classes and apprenticeships they are taking part in are provided by WINTER Inc., which stands for Women In Non Traditional Employment Roles. More specifically, Winter is a non-profit economic development agency that was started in 1996 by a group of tradeswomen who wanted help economically disadvantaged women with employment. Now Winter trains and certifies 40 or 50 women a year in construction and related professional fields
Then Winter helps the women find jobs in those fields.
Some of the Winter Women are on probation or parole. Many have been referred by judges. Others have just heard about the program and need help getting a job that pays decently.
Like construction.
"It's hard work so we also help them condition themselves," said Mary Mercado, one of Winter's program directors. Not everybody makes it through the program, she said. But those who do make it are ready to take on a new career in an environment that used to be reserved for men.
---
"I'LL BE AN OSHA INSPECTOR!"
I learned about Winter Women from my friend Frances Aguilar, a former gang member, now married and the mother of seven kids—eight with her step daughter. (You can read more about Frances here and here.)
Frances is a bright, talented, hard-working woman who had a horror-show upbringing, followed by a string of scarringly unwise choices. Yet, while Frances has long-ago turned her life around, finding reasonably paying work in this economy, with her background, is anything but easy. She was thrilled, therefore, to hear about Winter Women.
"It's great! For one thing, I'm getting a certificate to be an OSHA inspector!" she told me, her excitement spilling through the phone line.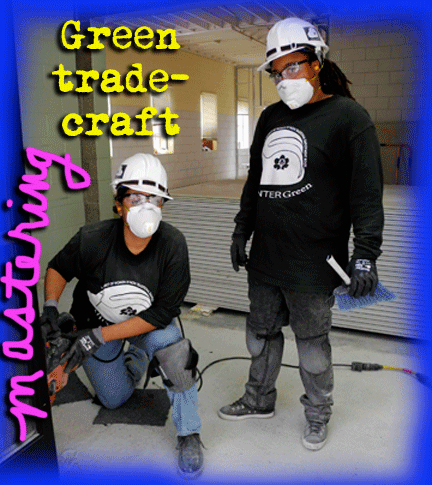 ---
LA COUNTY'S WOMEN ARE OUT OF WORK
Right now a lot of LA women, like Frances, urgently need the kind of leg up to employment that Winter Women provides.
In December 2012, in Los Angeles, the unemployment rate for women 20 years and older jumped from 7 percent to 7.3% in a single month, while men's numbers remained the same at 7.2.
For the county's harder to employ women—women without special training or who have been out of work for a while, or worse, those who have a felony conviction on their records, as many of the Winter Women do—then matters become even bleaker.
In addition, many of the economically distressed women who are out of work, are single parents heading households, thus people who need to at least aspire to jobs that pay well enough to support their kids.
Matters are not helped by the fact that the gender wage gap for all women nationally, widened in 2012, rather than lessening.
---
SOLUTION: ENTER A TRADITIONALLY MALE FIELD
Of course, for both men and women California's jobs situation is complicated. With 9.9 percent unemployed statewide, California is now depressingly tied with Rhode Island for the nation's worst unemployment rate according to figures released on Monday.
But along with this bad news, there is also the very good news that, despite its unemployment numbers, the state is actually a leader in job growth. Naturally, these new jobs are being created at a faster clip are in some professions than others.
The construction industry is one of those that is seeing the most growth, with more than 7,000 construction jobs added in California from December to January.
Unfortunately, as Mercado said, construction is not a profession that has traditionally employed a lot of women.
Or as Winter's website puts it: "Women are dramatically underrepresented in areas where employment opportunities are plentiful and wages are livable."
Winter Women is doing its best to change all that—one training class at a time
---
ROSIE THE RIVETER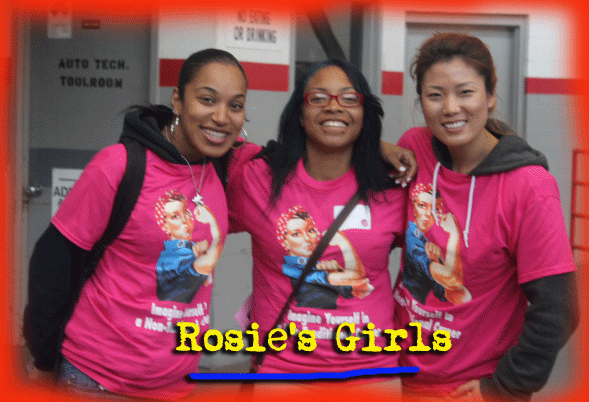 In addition to training women, Winter also trains "at risk" girls from ages 16 to 24, helping them to graduate from high school or get their GEDs while they are being instructed and mentored in professional skills, similar to those of the women are attaining, in Winter's Rosie the Riveter Youth Program-–named for the cultural icon who represented the American women who worked in factories during World War II.
---
PS: IF YOU WANT TO HELP….
As is usually the case with non-profits like Winter, they are always looking for donations and funding. (If you're interested go here.)
Also, on Thursday the 21st of March, Winter is having its yearly gala fundraiser at the Maya Hotel in Long Beach, from 6:00pm-8:30pm. Tickets are $125 per person. And everyone—from trainees to supporters and fans—is asked to wear 1940's dressy attire—in other words, fabulous garb from of the Rosie the Riveter era.
Should you wish to attend, call: 213-749-3970
(Last time I talked to Frances, she was looking for the ideal 1940's floor-length gown for Thursday night. I have no doubt about the fact that she found it.)