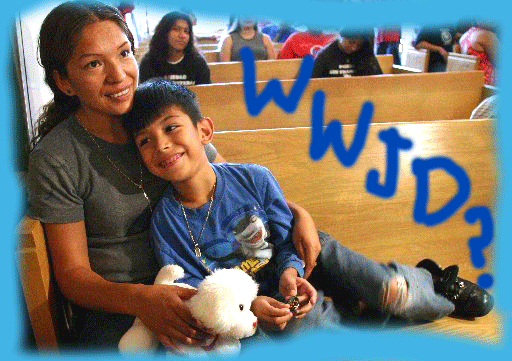 Ah, we can all be so proud of ourselves now. Got her! We have arrested Elvira Arellano. She was deported this morning. We are enforcing the law. Cool.

Of late, Elvira Arellano has become a symbol of sorts for the struggle for better immigration law. For those who've not followed the story, she is a 32-year-old woman who, for the past year, has been living in the Adalberto United Methodist Church in Chicago, an act of civil disobedience undertaken, in part, to gain a better future for her 8-year-old son, but also to focus attention on the need for immigration reform.
The Chicago church declared itself a sanctuary, in much the same way as La Placita and Delores Mission Church in Los Angeles declared themselves sanctuaries in the '80's, led by Father Luis Olivares, Father Mike Kennedy, and Father Greg Boyle. Recently, Arellano had come to LA and was staying at La Placita, or as it is more formally known, Our Lady Queen of Angels.

Elvira's grandfather came to the U.S. during the bracero program, but went home to Mexico. She came at age 23, when her parents were both sick and unable to work. Her father had muscular dystrophy, her mother had diabetes. She felt she had to somehow do something to support the family. So she broke the law, came across with a coyote at Calexico.
It is has a sad symmetry that Elvira Arellano was arrested right outside La Placita in Olvera Street, the church that some regard as the spiritual birthplace of Los Angeles.
Here's the LA Times story, and the impassioned take from the LA Weekly's Daniel Hernandez, on his blog, Intersections. Hernandez has a lot of good links for this who wish to read further.
By the way, in the past year, 12 congregations in Los Angeles County — churches and synagogues — have declared themselves sanctuaries.
Who would Jesus deport?