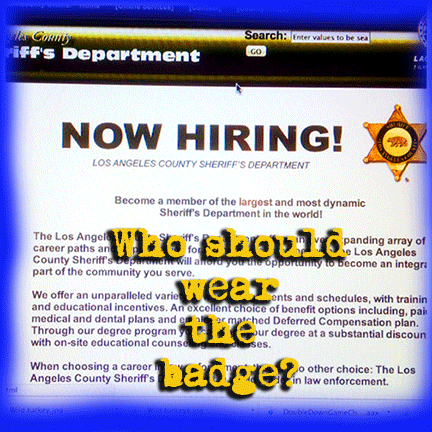 On Sunday, the LA Times published an exceptionally well-reported—and disturbing—look into some of the hiring practices used by the Los Angeles Sheriff's Department.
The focus of the data-informed story by Robert Faturechi and Ben Poston is a hiring period that occurred in 2010 after the department took over the patrols of county parks and government buildings from the L.A. County police force. Following the takeover, it seems that the ousted LA County cops were given first consideration as the LASD began hiring to fill the new positions.
Out of 400 county officers who applied, the Times learned that around 280 were hired. Through the acquisition of a pile of LASD internal hiring files, Faturechi and Poston were able to determine that approximately 188—or 67 percent—of those hired from the county cop pool had been rejected for jobs at other law enforcement agencies.
Around one third of those same hires had been disciplined previously by other police agencies for "significant misconduct on duty."
Slightly over 10 percent—39 people—were either fired or pressured to resign from previous jobs in law enforcement.
If the LASD management has hired that many people who've been discipline by other agencies—or actually bounced out of other cop jobs—what kind of background problems have they overlooked in brand new recruits whom they believe they can train from scratch?
NARROWING THE FOCUS
There have long been reports from LASD insiders that during certain periods, department higher-ups have put pressure on background investigators to push through questionable applicants in order to raise the number of sworn officers to a particular threshold.
Yet for this story, the LA Times reporters focused solely on the County police hires, which was a smart decision. By limiting their reporting to that single pool of applicants, it allowed the Times to analyse and quantify a given hiring pattern in hard numbers—numbers that are both startling, and difficult to explain away.
The Times also tells many of the stories behind those numbers, and they too are not reassuring.
For example:
About 50 disclosed to sheriff's background investigators misdeeds such as petty theft, soliciting prostitutes and violence against spouses.

One hire told investigators of having inappropriate sexual contact with two toddlers as a teenager.

In another case, Linda Bonner was given a job after revealing that she used her department-issued weapon to shoot at her husband as he ran away from her during an argument. He wasn't hit; he was lucky he was running in a zigzag pattern, she told investigators, because if not the end result "would have been a whole lot different."
And then there is:
Another officer, Niles Rose, was hired despite being the subject of several unreasonable force allegations.

Rose had been investigated for misconduct 10 times at the Office of Public Safety since 2001. In three of those cases, the allegations were found by investigators to be true, according to the sheriff's background file. A former supervisor said Rose developed a reputation as being heavy-handed with suspects.

"If you want smart force used, you make sure he's in the locker room," Marc Gregory, a former county police captain, said in an interview with The Times.
Once hired by the sheriff's department, Rose's behavior reportedly did not appear to improve. Instead, multiple allegations of misconduct seemed to accompany his every assignment, according to the Times.
AND WHAT DOES THE DEPARTMENT HAVE TO SAY ABOUT THE LA TIMES REPORT?
When asked for a response to what the Times found, the reactions were what we have, sadly, now come to expect.
Sheriff Lee Baca declined to comment, but his spokesman said Baca was not aware people with such backgrounds were hired.

Before he knew of the newspaper's investigation, Baca told Times reporters that people with records of violence or dishonesty have no place in law enforcement. He said applicants who had been fired from other agencies shouldn't be given a second chance, and that he would not hire applicants with histories of illegal sexual conduct.

"Men that take women and use them as a sexual object are going to always come up against my wrath," he said.
In addition to the "I'm shocked, shocked…!" excuse there was the devil-made-me-do-it excuse. To wit:
Baca's then second-in-command, Larry Waldie, and a small circle of aides, were responsible for scrutinizing applicants.

Waldie, now retired, said he personally reviewed many of the applicants' files. He said he was unaware of any hires with histories of significant misconduct.

Presented with some of The Times' findings, Waldie said: "That information was not brought to me … I don't recall any of these specifics so don't ask me anymore."

Waldie then said he and his aides were under "significant pressure" from the county Board of Supervisors and other officials to hire as many county officers as possible.

"We had to have grave reasons for not hiring them," Waldie said.
Since the Supervisors have not succeeded in pressuring the sheriff's department into doing much of anything it didn't want to in the past decade, the claim of "the board made us do it" is reasonably laughable.
Moreover, other agency heads—such as LA County Probation Chief Jerry Powers—have been under "significant pressure" from the board to get their hiring numbers up, ASAP, in Powers' case, in order to finish staffing up for realignment. And yet Powers has, if anything, tightened his hiring standards during the intense hiring period.
According to the Times' repot, the LASD's reaction to word that reporters had acquired the department's internal records, was also dismaying predictable.
After sheriff's officials learned The Times had access to the records, they launched a criminal investigation to determine who had leaked them.
(The Times also reports that sheriff's officials said they would review whether some applicants had been improperly hired. But it appears that tracking down the leaker was Job One.)
There is a lot more in the article itself, so read it.
Let us hope this issue does not go away, but is investigated further.
---
---
AND IN OTHER NEWS:
ON THE TOPIC OF INVESTIGATING THE SHERIFF'S DEPARTMENT…WARREN OLNEY INTERVIEWS NEW INSPECTOR GENERAL MAX HUNTSMAN
It's just a short, preliminary interview (which you can find here), but it gives us an interesting glimpse of Huntsman and how he sees his new job. Take a listen!
And thanks to Warren for giving us this early window.
---
NATION'S LARGEST SCHOOL POLICE FORCE—NAMELY THE LAUSD POLICE—WILL STOP TICKETING KIDS 12 YEARS OLD AND YOUNGER
For years, childrens' advocates have been saying that some school administrators have been bringing in school police too quickly to solve minor issues with young students, most often in lower income areas.
Some of the best reporting on the issue has been that of Susan Ferris and the Public Integrity Institute.
Here are a couple of clips from Ferris' most recent story:
Responding to demand for reforms, the nation's largest school police force — in Los Angeles — will stop issuing tickets to students 12-years-old or younger for minor infractions allegedly committed on or near campuses during school hours.

A memo this month to officers from Los Angeles Unified School Police Department Chief Steven Zipperman outlined the new policy, which goes into effect in December. The announcement comes in the wake of community demands for the school district to "decriminalize" minor school disciplinary matters and use more discretion when involving law enforcement personnel.
The move by the LAUSD police came after a new report released this fall showed how frequently younger kids were being ticketed for minor issues.
In October, the Labor-Community Strategy Center issued a report analyzing recent police ticketing data. The group found that more than 48 percent of approximately 4,740 school police tickets issued during the 2012-2013 school year were given to kids 14 or younger. Students who were 12 or 11 received 545 tickets. The single biggest offense for younger kids was disturbing the peace.

In calendar year 2011, records examined by the Center for Public Integrity showed that more than 960 kids 12 and younger were ticketed. More than 10,200 tickets in all were issued to students that year, with more than 43 percent going to kids 14 and younger.

In April of 2012, two first graders, six and seven, were ticketed after they got into a shoving match and the mother of one called police, the principal of the kids' school told the Center. In September, the Center found, a 10-year-old was ticketed for trespassing.

Getting a ticket used to mean that students were forced to miss school and appear in court with parents — and pay dollar fines or perform community service. Students were saddled with misdemeanor records if they didn't show up at court, which many failed to do.
We applaud the LAUSD Police Chief Zipperman from taking this much needed step, and thank Ferris and the Center for Public Integrity for staying on the issue.
---
STATEWIDE ACTIVIST GROUP ISSUES REALIGNMENT "REPORT CARD" FOR COUNTIES & LOS ANGELES GETS A "DOUBLE FAIL"
The San Bernardino Sun reports on the five counties who merited the "double fail' designation for their productive use of realignment funds, in a rating issued for the statewide activist group CURB.
Here's a clip from Melissa Pinion-Whitt's report:
"A lot of counties are not utilizing a lot of the alternatives to incarceration that are available to them," said Diana Zuñiga, statewide program coordinator.

The group, known as CURB, has released report cards the last three years, grading counties based on their use of realignment funding.

Only two of the 13 counties graded by CURB passed, another six failed and five more received a "double fail" grade. Kern, Riverside, Los Angeles and San Mateo counties joined San Bernardino with the lowest grades.

CURB supports funding to "connect people to housing, health care, education, job training and re-entry services that reduce recidivism…"
And here, for your viewing pleasure, is CURB's report card that includes LA's double fail