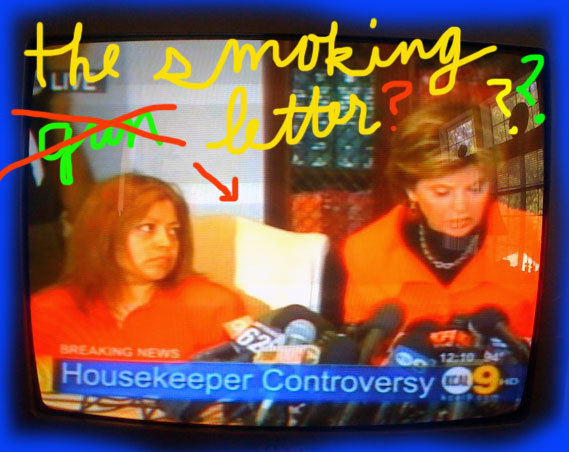 Whitman's statement that she and her husband never got the 2003 letter from the Social Security Administration relating to the possible undocumented immigration status of her housekeeper, Nicandra Diaz Santillan, and Whitman's further claim that Nicky "might have" intercepted the letter in question, appears to be false.
At the noon press conference, Allred showed, not only the letter, but the what are reported to be hand-written notes that Whitman's husband, Dr. Griffith Harsh, reportedly made on the letter.
Ooops.
Over to you, Meg.
The Sac Bee has this.
Zach Behrens at LAist reports on the press conference and asks some interesting questions.
---
UPDATE:
WHITMAN'S HUZ NOW SAYS IT WAS POSSIBLE HE SAW THE LETTER
However, he maintains it was not a red flag to him suggesting that housekeeper Nicky had falsified her papers.
Allred has mentioned she has additional evidence.

LAist has the the latest on the story.
---
UPDATE 2:
WHITMAN NOT SO SURE ABOUT LIE DETECTOR TEST NOW
Evidently, the latest is that her spokeswoman told the SF Chron's Carla Marinucci, that eMeg will do it, when Nicky AND Jerry Brown take a lie detector test as well. In other words, that would be never.
(Jerry Brown? About…um….what?)