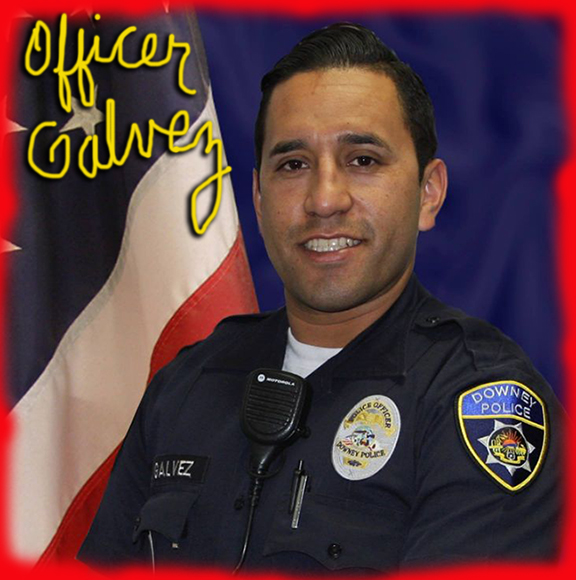 On Wednesday night around 11 PM, Downey Police officer Ricardo Galvez—Ricky to his friends-–was sitting in his own car in the parking lot of the Downey police department, when two young men and a teenager spotted him and, reportedly intended to rob him.
Instead reportedly two of the three ran up from behind, and one shot him. Galvez died while still in his car.
The 29-year-old officer had been on the force for five years and was well-liked. "A tremendous young man," said Downey Police Chief Carl Charles, of Galvez. He was also a Marine reservist, serving two tours of duty, first in Iraq, then Afghanistan.
When the news of Galvez' death was initially being reported Thursday morning, it was thought he may have been targeted. But that idea was dispelled when police apprehended the two men and a teenager—21, 18 and 16-years old, respectively—who are now being held as suspects responsible for the fatal shooting. The three admitted they'd been trying to rob the officer—whom they'd not recognized as a police officer.
According to a report by Cindy Chang, Richard Winton and Brittny Mejia for the LA Times, Glavez was just back from a K-9 training class, had gone off duty and was wearing his own clothes as he sat in his personal BMW.
The LA Times has more on the heartbreaking death of Officer Rickey Galvez.
Here's a clip:
"The man was full of joy. He always brought a smile," said Eleazar Aguilar, who served with Galvez in Pico Rivera.

"He was always the leader in the unit, there was no question about that. My heart goes out to his family. Every single Marine feels their pain today,"

Lloyd Vernis, 29, served with Galvez in Ramadi, Iraq. When Vernis opened a barbershop called The Pride on Firestone Boulevard, Galvez persuaded his fellow Downey police officers to patronize the business. Galvez got a haircut there about once a week, Vernis said.

"He loved the Corps. He loved the police force," Vernis said before breaking down in tears.

Galvez is survived by a mother, a brother who is a jailer at the Downey Police Department, and two younger sisters.
---
UPDATE: Sixteen-year-old Abel Diaz is being charged as an adult with murder for his part in the killing of Downey Police officer Ricky Galvez on Wednesday night.
Diaz will be arraigned on Monday. Prosecutors are expected to ask for $1 million in bail. If Diaz is convicted, he will face life in prison.
The other suspects in the case have not been identified by name, but are describe as two young men, ages 21 and 18.
Diaz's sister, Maricela Alvarado, 24, told reporters that her younger brother was not the shooter and had no intention of harming the officer.
According to the LA Times, Alvarado showed several reporters a text message she said her brother sent her a few minutes after Officer Galvez was fatally shot.
The text reportedly read: "Mari I love all y'all my homie fucked up n did something."
---
UPDATE FRIDAY, 10:35 PM
Los Angeles County Sheriff's Department Homicide Bureau detectives have identified the other two suspects in the murder of Downey Police Department Officer Ricardo Galvez.
The suspects have been identified as brothers Steven Knott, 18, and Jeremy Anthony Alvarez, 21.
Knott and Alvarez have been charged with murder and are being held without bail.
LASD detectives reportedly believe that Diaz and Knott crept up on Galvez, while Alvarez acted as the getaway driver.