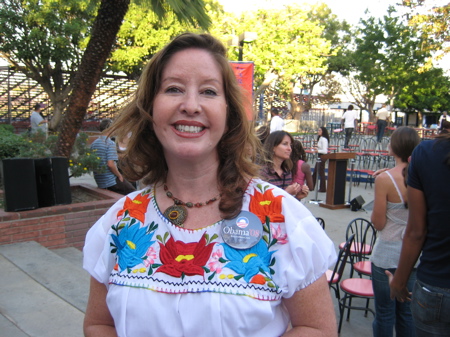 How hard would Obama fight for Romero's bill if he were mayor of Los Angeles?
Hey, you already know who I'll be blaming if the wimps, for the second year in a row, kill State Sen. Gloria Romero's bill that would restore public accountability to LAPD misconduct hearings.
But in an interview this afternoon, Romero wouldn't take on Mayor V or Police Chief Bill Bratton, who will both be staying home rather than chaperoning the timid Assembly Public Safety Committee next Tuesday.
"I did speak with the mayor and he's going to be out of town," Romero told me. "He's sending his representative and he's called members of the committee, which I applaud, and sent a letter of support. I think that's significant."
But given how important it is to restore some level of public scrutiny to bad cop hearings, shouldn't the mayor and chief show up in support? (For decades, such accountability was common practice before a flawed state Supreme Court ruling in 2006, compounded by faulty interpretations of the ruling by the City Attorney's Office, did away with it, prompting the need for Romero's SB 1019.
"You'd have to talk to their schedulers and see what they can and cannot do," she said.
I just got off the phone with the Mayor's Office. Turns out, Mayor V has been on the road a great deal, but he plans to be in Los Angeles on Tuesday. Right now he's in Miami for the U.S. Conference of Mayors, but he'll return Sunday, a day early. He could hop on a Tuesday morning flight to Sacramento without missing his exercise routine.
Romero said the mayor is sending his legal counsel, Tom Saenz, to the hearing. He's good, but staff doesn't wield the same clout as the mayor. To his credit, Saenz can refute the lies and deception of the Los Angeles Police Protective League (the cops' labor union) and dismiss the bogus charge that open hearings will endanger the lives of police officers.
I wish I could be there to witness the attacks and see which members flinch and pander to the deceitful police unions.
But those are my words. What does Romero say about the cops' unions? "The police lobby is very strong. It's very powerful throughout California, from correctional officers to security officers. The PPL is but a part of it. I respect the police officers and their right to oppose this measure. My request is for the committee members to read the bill and strip away the hysteria which has been generated around the bill and to understand these are longstanding practices we have lived with without incident for a couple of decades."
Fair enough.
Romero's bill won approval from the full Senate before the Assembly Public Safety Committee, caving to the police unions' pressures and scare tactics, refused last June to even vote on it.
"I look at this not as an issue of cop versus the community. This is about strong public safety. This is about the public's right to know. This is about restoring Los Angeles to where we were for decades and that the voters themselves enacted. This is about saying that policing plays a critical role in our community and in our state and that police forces should never be secret.
"People have a right to know what is done or what is committed under the color of authority and in our name. This is, to me, about the essence of our democracy."
Will the outcome be different than last year?

"Our hope is that the chair and members of this committee will be willing to give this bill the hearing that it deserves and be willing to give it the support to enable a vote on this measure."
With four days until the hearing, Romero would like to see Assembly Speaker Karen Bass fill a longstanding vacancy on the Assembly Public Safety Committee. I left a message for Bass, but haven't yet heard what might be in the works.
Says Romero: "My hope is that someone will be named. Otherwise you're basically taking away a vote of support."