On Tuesday, September 13, after hearing about persistent, inhumane conditions at Los Angeles County's jail intake center, the LA County Board of Supervisors used a spur-of-the-moment motion to reintroduce the possibility of building a brand new locked medical facility—or facilities—to replace the dilapidated and dungeon-like Men's Central Jail.

In August 2019, the board firmly rejected such a plan after months of hearing from residents that funding community-based diversion and other services, which keep people out of jail, was a far more effective way to improve care for justice-involved people than building another jail — even a jail billed as a medical facility with security guards instead of deputies guarding the exits.

It's been three years since the vote to cancel the $1.7 billion jail replacement contract, and a year and a half since the board received a 148-page report, which detailed how to close the dangerously decrepit jail within 18-24 months.

Yet, while the idea of building a new locked facility was dramatically rejected in 2019, conditions in the county's jails are as bad as ever and, according to local advocates, the supervisors haven't come close to fulfilling the commitments they made to transform the county's justice system into a reimagined approach that prioritizes community care over punitive and emotionally corrosive incarceration, a strategy that a wide array of experts have long said is possible if the county has the will to do it.

Most recently, however, reports by the Office of the Inspector General (OIG) and the ACLU of Southern California, point to worsening conditions in the jail system's Inmate Reception Center (IRC), all of which has heightened the board's sense of urgency over the last two weeks to do something.

Exactly what that something ought to be became an urgent topic of discussion during the September 13 board meeting.

Shackled to a bench for days

The IRC, for those unfamiliar, acts as an intake hub for the jail system, where recently arrested men are searched, evaluated, and classified for housing before they are sent to one of the county's other jails.

Yet, at the moment, according to the OIG's report for the second quarter of 2022, the jails' present overcrowded conditions mean that, after arrest, people experiencing mental health crises are frequently chained to benches and chairs, sometimes for two or more days while they wait to be processed at the IRC.

This clogged intake queue, especially for people who require medical and mental health care evaluations, is a longstanding problem at IRC, one for which the OIG had already issued 13 recommended actions in 2019.

In the intervening years, however, the LA County Sheriff's Department (LASD) has not managed to implement the OIG's recommendations.

Instead, "the problems have been allowed to worsen," according to Inspector General Max Huntsman and members of his office. "Mentally ill prisoners are regularly chained to benches for long periods with only sporadic bathroom breaks."

Both OIG staff and ACLU lawyers describe having seen feces and urine on the floor of the facility.

During the week the Inspector General's report was finalized, members of the OIG noted that some mentally ill prisoners had been chained "for over sixty hours each."

These extended delays also often mean that those held at IRC go without their medications to a dangerous degree. Some are forced to stop antipsychotics cold-turkey until they are moved to the next jail, according to a September 8 emergency filing from the ACLU seeking immediate court intervention.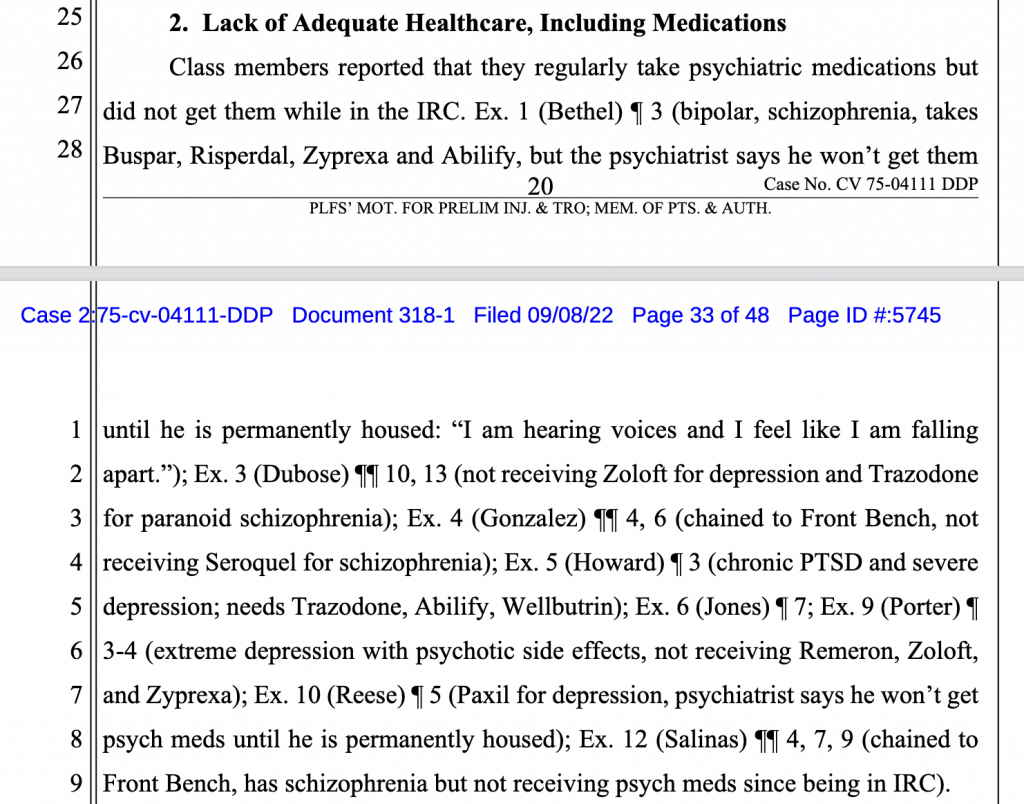 These inhumane and risk-filled conditions at IRC have, in some cases, proven deadly.

One man died in April, after waiting two days at the facility for an evaluation, according to the OIG's report.

A month later, a 72-year-old man collapsed and died after also being held for two days without an evaluation, the ACLU said in its court filing.

Others who live through the experience still often appear to be subject to what amounts to torture, such as in the case of an individual diagnosed with schizophrenia who was reportedly cuffed to the jail's front bench for more than 99 hours.

On September 16 of this year, a federal judge granted the temporary restraining order sought by the ACLU.

The order was handed down by U.S. District Judge Dean D. Pregerson, who oversees the county's 2015 federal consent decree. In the September 16 order, Pregerson stated tersely that the LA County Sheriff's Department was "hereby and restrained and enjoined from" holding an incarcerated person in the inmate Reception Center for more than 24 hours." The LASD also must not chain, handcuff, otherwise tether anyone to seating "or any other object," for more than 4 hours.

The LASD must also keep the IRC in "a clean and sanitary condition, with access to functioning toilets, potable drinking water, clean water to wash, and sufficient garbage receptacles," continued Judge Pregerson. Plus people in custody must be provided regular pill calls and other medical and mental health care while at the IRC.

Yet, despite the strong language in the 12-page order telling the LASD that it must comply with the most basic rules of physical and psychological safety, it is unclear how the sheriff's department will fulfill those requirements without somehow lowering the jail's population, thereby opening jail beds for people with acute mental illness.

While county officials successfully managed to reduce the flow of people into the jail system in the first months of the coronavirus pandemic, the population in the nation's largest jail system has once again soared above the 12,404-person maximum capacity issued by the Board of State and Community Corrections.

Numbers fall and rise

The first few months of the COVID pandemic taught the county that jail numbers can be reduced, if elected officials insist upon it. At the end of February 2020, there were 17,076 people held in LA's jails. But, by April 24, two months later, the number of people in jail had dropped by more than 5,000 to a new total of 11,883.

The steep drop in population was driven by the desire on the part of the Board of Supervisors— with the active cooperation of the sheriff—to mitigate the risk of severe outbreaks among incarcerated people.

With this goal in mind, LA's justice system leaders and the superior court worked together — with the help of the state and county-level "zero bail" schedules — to address the very real possibility of turning overcrowded jails into deadly petri dishes, if population numbers weren't drastically reduced.

Despite the zero bail schedule, people awaiting trial accounted for nearly half of the jail population in August 2020. That month, the number of people in the jails began to tick upward, hitting an average daily population of 13,838 by September 2020.

Concerned by the backslide, that same September, the LA County Board of Supervisors voted to create a jail population review council.

In November and December of 2020, the average daily population surpassed 15,000, and hovered here for 10 months, before briefly dropping to 13,028 in November 2021 and 12,691 in December 2021.

Yet, in July 2022, the zero-bail system, which had helped reduce the number of people who were held pretrial, expired and was not renewed. Now, as of October 3, the total custody population is back up to just under 14,800.

Making matters far worse is the fact that the proportion of mentally ill people confined to the county's lock-ups is also increasing.

As of June 2021, approximately 40 percent of the people in LA County's custody had a diagnosed mental illness, an increase of 51% from 2015, according to the ACLU's lawsuit.

In September 2022, Dr. Tim Belavich, director of Correctional Health Services for the county's jail system, reported to the board of supervisors that approximately 7000 of the nearly 15,000 people in county custody have at least some diagnosable degree of mental illness.

Two motions

Frustrated with what she described as an "absolutely unconscionable" situation in the jails, on September 13, Supervisor Kathryn Barger verbally introduced a motion to revisit building a locked medical facility to replace Men's Central Jail.

At the request of the other board members, Barger held her motion for two weeks, until the September 27 meeting.

"I am introducing a motion that is similar to the language I referenced, two weeks ago," Barger said on the 27th. "Since so many people have chosen to misrepresent what my motion says, it does not say, 'Build a jail.'"

Instead, Barger told her fellow board members and those community members attending the meeting personally or virtually, she was calling for the creation of a "secure noncustodial mental health treatment facility for those inmates who are severely mentally ill but cannot be diverted."

(A 2020 RAND Corporation analysis found that approximately 61 percent of the mental health population locked inside Los Angeles County's jails could safely be released into community-based care.)

The motion also called for various county departments to report back with potential models for this new facility that the board could consider.

"I have heard my colleagues and others say, 'We don't want a jail,'" Barger said. "I don't either."

But, Barger said, the board needed to do more than pay lip service to the "care first, jail last" ethos the supervisors adopted in 2019 when they made the historic decision to cancel the $1.7 billion jail construction contract.

"Otherwise," she said, "those who we should be caring for are indeed seemingly last on our list."

The majority of the board, while assuring Barger that they shared her concern, were not persuaded by her solution, which some suggested that, whether intentionally or not, may lead to the creation of what would amount to a new jail, even if the county billed it as a "secure mental health treatment facility."

The ACLU's response to Barger's motion, and to the situation in general, was direct.

"We appreciate that rather than fight the ACLU in court, LA County is admitting that conditions in the IRC and its treatment of people with mental illness are just as barbaric as we described," said Corene Kendrick, deputy director of the ACLU National Prison Project. "But the [c]ounty's proposed solution to date, to double down on incarcerating mentally ill people, is a nonstarter."

Instead, said Kendrick, the county must "put its money where its mouth is, and expand effective community programs that are cost-efficient and, more importantly, humane."

In the end, Barger's motion failed, with only Supervisor Janice Hahn joining the motion's author in voting in favor.

After Barger's motion was rejected, however, the board unanimously passed a far more detailed motion authored by Supervisors Hilda Solis and Janice Hahn addressing the same issue.

The Supes Call for One More Report

This second motion directs county departments and stakeholders — prominently including the Jail Closure Implementation Team (JCIT) and the Alternatives to Incarceration Initiative (ATI) — to synthesize all the various reports commissioned in the name of transforming the county's justice system and replacing Men's Central Jail.

The group is then ordered report back to the board in 90 days with recommendations for "the composition and number of secured, non-correctional mental health care facility beds" that the county would need to house those jail residents who fall into the two highest categories of mental health care needs, namely categories P3 and P4.

(P3 level people, according to the LA County Sheriff's Department, are acutely mentally ill residents, who are not so ill that they require in-patient treatment, meaning they could be treated in community facilities. A person in the P4 category would be hospitalized for psychiatric care if they were not in jail.)

An Unwillingness to Fund ODR

The Office of Diversion and Reentry, as WitnessLA has reported in the past, has had success in diverting jailed people in the P3 category, as well as those in lower tiers, into community-based housing and care.

ODR's clinical diversion system is already caring for those deemed incompetent to stand trial, people with mental illness and drug use issues, pregnant people, and others better served by clinical care and community housing.

Despite these proven facts, Supervisor Sheila Mitchell pointed out, the board appears to be overly focused on P4, the highest of the categories, which accounts for 200 people out of the approximately 7,000 jail residents with mental illness, she said.

Meanwhile, the board has failed to invest adequately in ODR, said Mitchell, "an existing county program with great results that can benefit the vast majority of incarcerated people today who are suffering from mental illness."

This myopic focus appears not to be shifted by county-commissioned reports such as the 2020 RAND Corporation report, which support the notion that thousands of people, rather than hundreds, could be diverted.

ODR's existing programs, Mitchell said, need only to be adequately funded and allowed to increase past their currently maxed-out capacity.

Yet, in late June of this year, Mitchell's colleagues would not support her attempt to significantly expand ODR's reach, by gradually raising the housing cap from 2,200 beds to 5,800, as prescribed by the Men's Central Jail Closure Workgroup's 2021 report .

Instead, they commissioned more reports.

While some justice advocates called in during last Tuesday's meeting with support for Solis and Hahn's motion, others made comments that mirrored those of Supervisor Mitchell.

"[Motion] number 16 before you is yet another report in a long line of reports that already spell out the solution," said Ambrose Brooks, a coalition coordinator for JusticeLA. "This motion is a gesture that does nothing to directly address the crisis inside of our jails. We do not need any more reports from the county, period. What we need is action."

Mitchell added that she understands that the board has plans to set aside some resources for ODR in the upcoming supplemental budget.

The supervisor looks forward, she said said, to seeing exactly what funding the supplemental budget would bring for diversion.

"I hope that number is significant."