On Wednesday, President Donald Trump signed two executive orders. The first seeks to deny federal funding to sanctuary cities. The second order calls for "the immediate construction of a physical wall on the southern border," and seeks to bolster the ranks of border patrol and the federal immigration officers who handle deportations.
Los Angeles leaders have vowed to fight back.
In sanctuary cities and counties like Los Angeles, San Francisco, Alameda, Oakland, and Riverside (and hundreds more, nationally), undocumented immigrants are not arrested and detained solely for violating federal immigration laws.
The executive order states that "it is the policy of the executive branch to ensure that jurisdictions that fail to comply with applicable Federal law do not receive Federal funds, except as mandated by law."
After Trump's election and initial promises to defund sanctuary cities, a number of officials in California cities and others around the nation reclassified their cities as sanctuary cities or reaffirmed their existing status.
The city of Los Angeles was expected to receive more than $500 million this fiscal year from the US Department of Justice for port security, homeland security, and combatting homelessness, among other important purposes.
This year, Oakland received $130 million in funding from the federal government for things like law enforcement, seismic retrofitting, and subsidized school lunches, according to the San Jose Mercury News. And the federal government is responsible for just under one-sixth of Santa Clara County's $6.2 billion budget.
California's budget for fiscal year 2017-2018 includes $105 billion in funding from the federal government.
The pair of orders also gives law enforcement officers the power to act as immigration officers. "It is the policy of the executive branch to empower State and local law enforcement agencies across the country to perform the functions of an immigration officer in the interior of the United States to the maximum extent permitted by law," one of the orders reads.
"We regularly cooperate with immigration authorities — particularly in cases that involve serious crimes — and always comply with constitutional detainer requests," Mayor Garcetti said. "What we don't do is ask local police officers to enforce federal immigration laws — and that's an official LAPD policy that has been enforced for nearly 40 years."
Garcetti referred to Special Order 40, a 1979 mandate implemented by then-LAPD Chief Daryl Gates and the LA City Council, which prevents police from questioning people with the sole intention of determining their immigration status.
On Wednesday, Garcetti told reporters that city officials would move forward with a legal challenge if the president withholds the funding. Garcetti pointed to the 10th Amendment, which deals with the powers of the federal government versus the powers of individual states.
"Telling cities they must deny public safety, education and health care services to children and families living within their jurisdiction will not make us more secure, it will mean fewer crimes reported and more families living in fear," US Senator (and former CA Attorney General) Kamala Harris said in response to Trump's executive orders.
While many jurisdictions intend to defy Trump's actions against sanctuary cities, Fresno Mayor Lee Brand has announced his city will not risk a loss of federal funding to protect undocumented immigrants. "I'm not going to make Fresno a sanctuary city because I don't want to make Fresno ineligible from receiving potentially millions of dollars in infrastructure and other types of projects," Brand told the Fresno Bee.
---
GOV. BROWN STANDS UP FOR CALIFORNIA
In his State of the State speech on Tuesday, California Governor Jerry Brown promised to "defend everybody—every man, woman and child—who has come here for a better life and has contributed to the well-being of our state."
Before delivering his address, Governor Brown swore in CA's new Attorney General, Xavier Becerra, who has also vowed to defy Trump's efforts to conduct mass-deportations. (Becerra's swearing in is about seven and a half minutes into the above video.)
The title of Brown's speech, which the governor wrote himself, and deviated from occasionally, was "California Is Not Turning Back, Not Now, Not Ever." (Read it here.)
"This morning it is hard for me to keep my thoughts just on California," Brown said. "The recent election and inauguration of a new president have shown deep divisions across America. While no one knows what the new leaders will actually do, there are signs that are disturbing."
The governor pointed out that 27% of the state's residents—nearly 11 million people—were born in another country, and CA's immigrants "are an integral part of who we are and what we've become" and "have helped create the wealth and dynamism of this state from the very beginning."
Brown acknowledged that federal law and Washington have the final say on immigration policy. "But as a state we can and have had a role to play," Brown said. "California has enacted several protective measures for the undocumented: the Trust Act, lawful driver's licenses, basic employment rights and non-discriminatory access to higher education."
The governor also vowed to do everything he can to protect the state's health care system, and to continue working to combat climate change.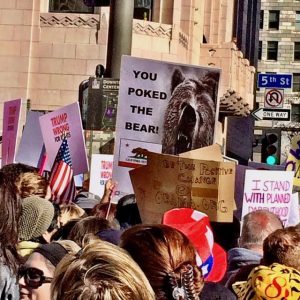 "When California does well, America does well. And when California hurts, America hurts," Brown said.
One day after Brown delivered his annual State of the State address, President Trump aimed his sights on California, specifically, along with New York, announcing a voting fraud investigation via Twitter.
Trump has said multiple times that he believes he lost the popular vote in the election because between 3 million and 5 million undocumented immigrants voted for Hillary Clinton.
"I will be asking for a major investigation into VOTER FRAUD, including those registered to vote in two states, those who are illegal and even, those registered to vote who are dead (and many for a long time)," Trump tweeted on Wednesday.
The LA Times' Cathleen Decker has more on the potential problems California may face from a president who feels slighted by the state.
ONE MORE RECOMMENDED READ
Newsweek has a not-to-be-missed longread on the growing battle between California and Donald Trump, who is stepping up to fight for CA, and what's at stake. Newsweek's Alexander Nazaryan interviews CA Lieutenant Governor Gavin Newsom—who is running for Governor in 2018—about the resistance in California and important immigration lessons from the state's own history.
"We've been here before," Newsom said. "We've not only survived, we've thrived."
Newsom points back to the 90s, when Republicans had far more influence in California, and then-Governor Pete Wilson used "the exact kind of xenophobia, the exact kind of nativism, the exact kind of fear of the other" which, Newsom says, "just didn't work out as well as they had promoted."
Wilson's failed Proposition 187, which intended to make undocumented immigrants ineligible for public benefits, as well as the tough-on-crime Three Strikes law—a major contributor to the state's prison overcrowding crisis—and other so-called reforms, are now viewed as outdated and harmful.
What California experienced in the 90s with Wilson, "the rest of the country is about to experience," says Newsom.
(Nazaryan covers quite a bit of ground in his longread, so be sure to click over at Newsweek to read and watch the rest.)