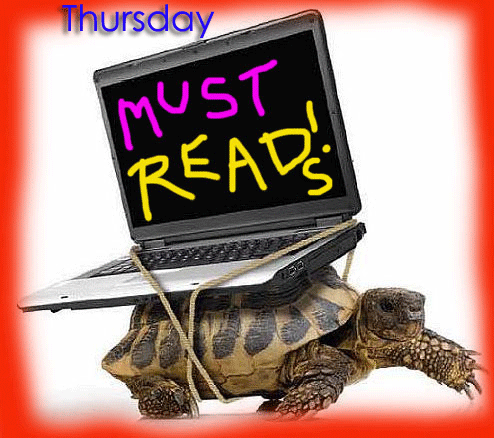 COMPUTER ERRORS MAY HAVE DESIGNATED POTENTIALLY DANGEROUS PAROLEES FOR NON-REVOCABLE PAROLE, SAYS CALIFORNIA INSPECTOR GENERAL
Dear CDCR,
If the LA Times' Jack Dolan has his story right, you've done a lousy job of sorting out who can be paroled without supervision and who needs high control parole supervision. If true, it means you've compromised public safety and betrayed those of us who have pushed hard for much needed parole reform.
And "Ooops, our computer programs need a little work," is not an adequate response.
Please advise. Immediately.
---
FORMER PROSECUTOR SAYS "EVERY CHILD DESERVES A SECOND CHANCE"
More and more people who are veterans of many sides of the justice system are saying that we should reconsider putting kids away for life without the possibility of parole—LWOP kids, they call them.
A recent voice on the matter if Anthony Barkow whose essay on the topic appeared this week's Huffington Post.
Barkow was a decorated federal prosecutor in the US Attorney's office for 12 years before he became the Executive Director of the Center on the Administration of Criminal Law at NYU School of Law.
Here is a clip from his essay:
I was a prosecutor for 12 years. During that time, I prosecuted a wide variety of crimes, ranging from international terrorism to securities fraud, from domestic violence and sexual abuse to homicide. I prosecuted cases in which offenders received very substantial sentences. I am proud of my work as a prosecutor and I have no doubt that criminal punishment is critical to keeping communities safe.

One of the defendants I prosecuted committed murder when he was 17-years-old. He gunned down his victim and shot him 17 times in cold blood in broad daylight in the middle of a residential street. The same defendant had committed another murder before he turned 18. For these crimes, he was sentenced to consecutive terms of years that were so long as to be tantamount to life imprisonment, and he will never be released. And, in that case, that was a just result.

But at the same time, there are other youthful defendants who have been sentenced to unjust sentences of life without the opportunity for parole. For example, a 15-year-old boy in Chicago, "Peter A," on instructions from his older brother, helped steal a van so that his brother could drive to the home of two individuals who stole drugs and money from the brother's apartment. Peter stayed in the van while two others went inside. While Peter waited in the van, one of the men who had gone into the home shot and killed two people. Peter was sentenced to life without parole, even though the judge said at sentencing that he wished he could impose a lower sentence and described Peter as "a bright lad" with "rehabilitative potential." But the sentence was mandatory and the judge had no discretion or choice to sentence Peter otherwise. Peter is now 29 and has spent nearly half of his life in prison. During that time, he has obtained his G.E.D. and completed a correspondence paralegal course. He has an exemplary record in prison, receiving a disciplinary ticket only once in the past six years (for possessing an extra pillow and extra cereal in his cell). But no matter how much Peter changes in prison, he will serve the rest of his life in prison without having even the possibility of asking to be released, much less getting out.

That is the critical fact to keep in mind about those seeking to end life without parole for juveniles. No one is arguing that any particular individual should be let out of prison. Ending juvenile life without parole merely leaves open the possibility that a child who commits a crime can petition for release later in life, if he can demonstrate that he is remorseful, has rehabilitated, and will not reoffend. Parole authorities can and should be trusted to make informed, reasoned decisions regarding the release and continued incarceration of inmates petitioning for parole…..
Read the rest.
---
STRAY DOGS, SAINTS AND SAVIORS: FIGHTING FOR THE SOUL OF AMERICA'S TOUGHEST HIGH SCHOOL
Madeleine Brand interviews ,education wonk and commentator Alexander Russo, about his new book, Stay Dogs, Saints and Saviors: Fighting for the Soul of America's Toughest High School chronicles the transformation of very troubled Locke High School—what has been accomplished and what remains to be done.
I've been looking forward to the book's release for months, and will have more it once I've finished reading. In the meantime, listen to the interview. Russo's a smart guy and has a bracingly clear-eyed view of why the "Locke experiment," as he calls it, is important.
---
WHY THE CRENSHAW-TO-LAX TRAIN NEEDS TO STOP IN LEIMERT PARK
WLA doesn't usually cover transportation issues but, seriously, this is a no brainer. The Metropolitan Transportation Authority Board votes on this issue today. Let's hope they understand how important a station at historic and iconic Leimert Park station is, not just to South LA, but to the rest of the city.
Supervisor Mark Ridley Thomas has an op ed in Thursday's LA Times explaining very clearly why there can be only one possible answer to the Leimert Park station question.
Metro board, please get this one right.