In December 2014, the ACLU's Border Litigation Project, which is a joint project of ACLU affiliates in San Diego, Imperial Counties, and Arizona, filed a Freedom of Information Act request asking for records relating to what they feared was abuse of children in the custody of U.S. Customs and Border Protection (CBP), a sub-agency of the Department of Homeland Security.
The group filed the FOIA request after immigrants rights activists and legal service providers noticed a significant increase in complaints of abuse by kids in CPB custody in 2014.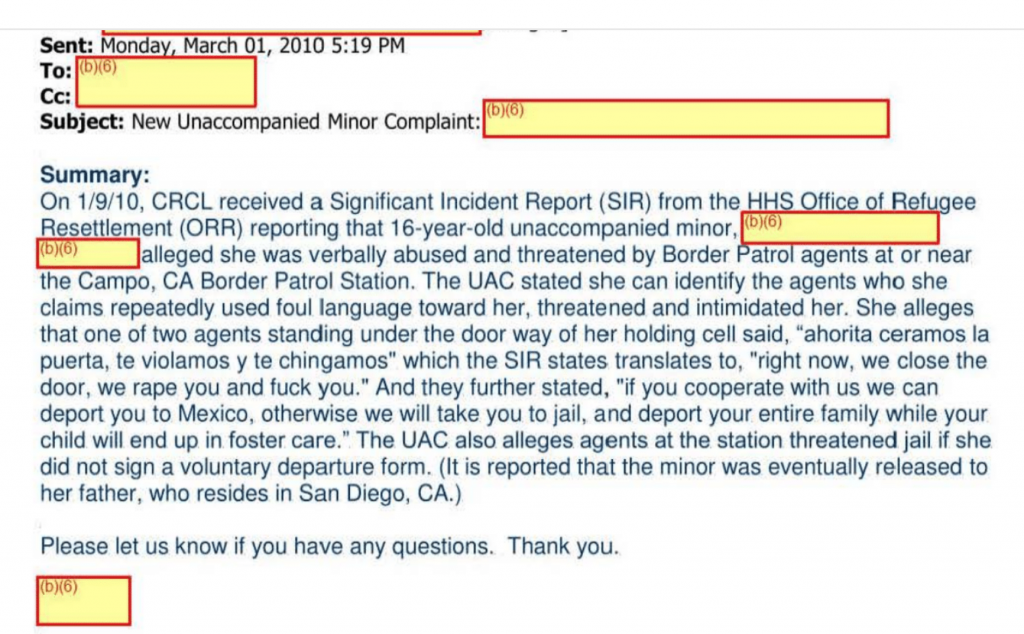 Among the complaints were stories of officials unnecessarily pointing their guns at the kids, shooting them with tasers reportedly for amusement or punishment, hitting or kicking the kids, threatening them with rape or death, and more. At the same time, the accounts of the young people, plus internal government reports, told of kids in government custody being kept in terrible conditions such as freezing rooms with no blankets.
When the FOIA request for the records was ignored, the ACLU, along with the law firm, Cooley LLP, filed a FOIA lawsuit in federal court to compel the government to release the asked for documents.
After much foot dragging, and the imposition of several court-ordered deadlines, the Department of Homeland Security finally began to slowly hand over the requested material.
In all, the ACLU and company, received more than 3000 documents dated between 2009 and 2014, which featured a terrifying number of cases "of shocking violence and abuse against unaccompanied migrant children."
Now a new report released this week by the International Human Rights Clinic at the University of Chicago Law School—along with ACLU Border Rights, and the ACLU Border Litigation Project—has gone deeply into the those 3000 documents, along with a pile of related information.
The results, outlined in the 50-page report are extremely disturbing.
"The students reviewing these records were shocked by the abuse and neglect these children were subjected to at the hands of U.S. officials," said Claudia Flores, faculty director of the International Human Rights Clinic at the University of Chicago Law School. "The fact that these children were already so vulnerable—most traveling alone in hopes of escaping violence and poverty in their home countries—made the unlawful and inhumane actions reflected in the documents even more distressing,"
---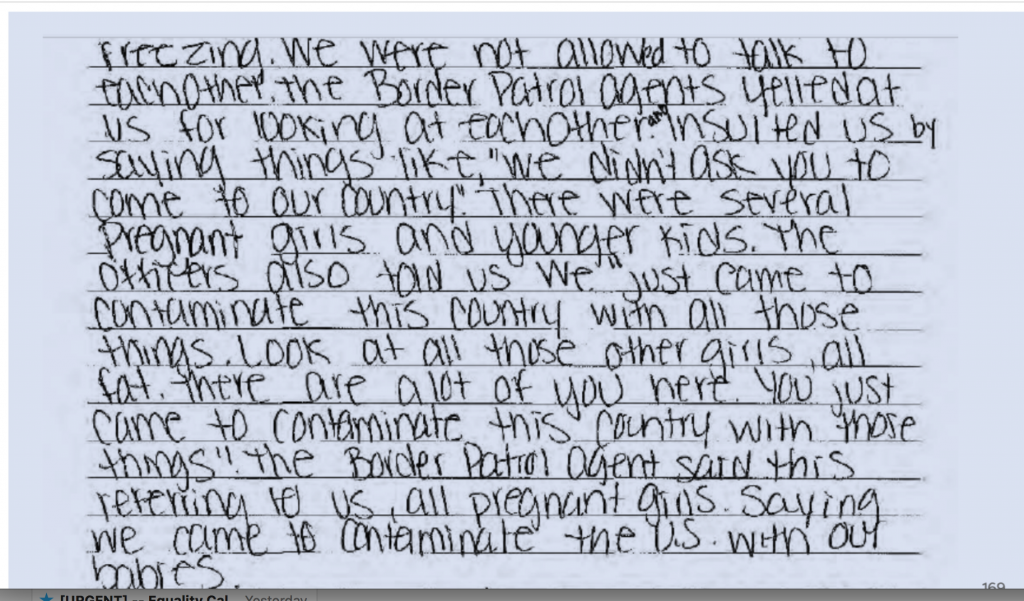 The rules
According to the U.S. government, tens of thousands of Central American and Mexican children travel alone to the United States every year to escape violence and  poverty in their home countries.
U.S.  Customs and Border Protection (CBP), a sub-agency of the Department of Homeland Security  (DHS), detains many of these children when they arrive at U.S. ports of entry or cross the U.S. border.
At one time, kids who tried to cross the U.S. Border by themselves or were either turned away or apprehended and detained in adult detention facilities. But, when the 1980s brought more and more unaccompanied kids into adult immigration lock-ups, alarmed advocates began pushing hard for a change. Finally in 1997 a legal settlement known Flores v. Reno created nationwide standards regarding how such children must be treated.
Nearly 20 years later, in early 2015, the Center for Human Rights & Constitutional Law, and others brought a second lawsuit to enforce the Flores settlement. In July and August of 2015, U.S. District Court Judge Dolly M. Gee tersely informing the government that it must apply the settlement to all minors, including those detained with family members.
Two years after that, in 2017, a new federal judge slammed DHS for continuing to disregard critical protections for children in detention and ordered the government to identify a juvenile coordinator who was to report directly to the court on the government's compliance with the Flores settlement. Furthermore, if the court was not satisfied with the government's progress after one year, the judge might appoint an independent monitor.
---

The allegations
Among the allegations that the University of Chicago Report documented were the reports that certain individual officials:
*Punched a child's head three times;
*Kicked a child in the ribs;
*Used a stun gun on a boy, causing him to fall to the ground, shaking, with his eyes rolling back in his head;
*Verbally abused detained children, calling them dogs and "other ugly things;"
*Denied detained children permission to stand or move freely for days and threatened children who stood up with transfer to solitary confinement in a small, freezing room;
*Denied a pregnant minor medical attention when she reported pain, which preceded a stillbirth;
*Subjected a 16-year-old girl to a search in which they "forcefully spread her legs and touched her private parts so hard that she screamed;"
*Left a 4-pound premature baby and her minor mother in an overcrowded and dirty cell full of sick people, against medical advice;
*Threw out a child's birth certificate and threatened him with sexual abuse by an adult male detainee;
*Ran over a 17-year-old with a patrol vehicle and then punched him several times;
The report also shows evidence of CBP holding migrant children in excess of the 72-hour maximum period permitted by law, as well as officials' deporting or attempting to deport children without due process, and using threats and coercion.
And the list goes on from there.
---
Dangerous homes
Migrants, generally, risk their lives in search of safety, stability, and opportunity," write the University of Chicago report's authors.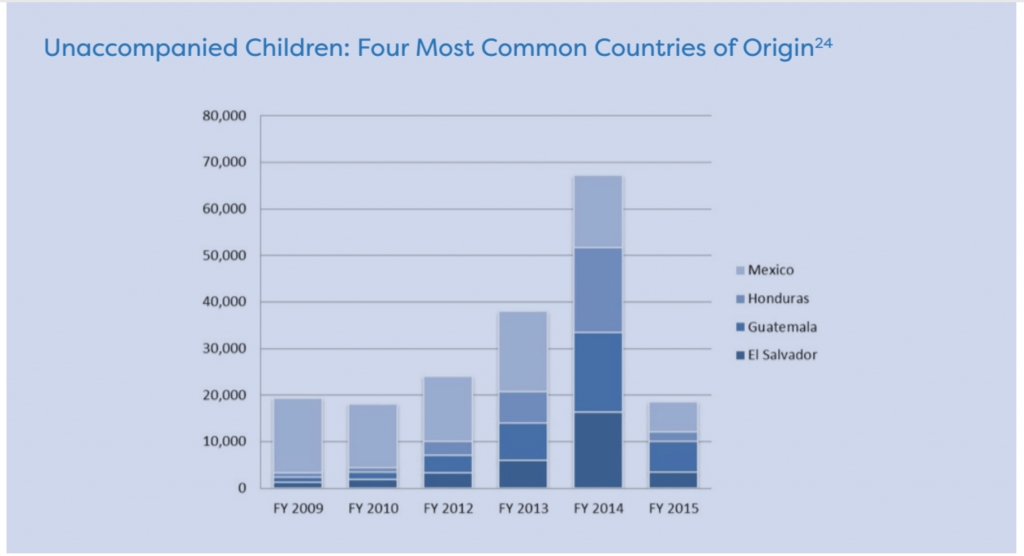 "During migration, they cross dangerous terrain under extreme conditions, rely on treacherous forms of transportation, and travel without consistent access to food or water. Migrants are vulnerable to exploitation, abuse, theft, human traffickers, and other criminal actors seeking to benefit from their desperation."
As one might imagine, children are the most vulnerable immigrants, especially when they're traveling alone.
Right now, when it comes to unaccompanied child immigrants arriving in the U.S., the four most common countries of origin are Mexico, El Salvador, Guatemala, and Honduras. According to the report, the so-called "Northern Triangle," which include El Salvador, Guatemala, and Honduras, is considered one of the most violent regions in the world. Honduras, for example is first in the world for homicides per capita. El Salvador is fourth. Guatemala is fifth. As a consequence, write the report's authors, kids who are immigrants from Honduras and El Salvador usually are escaping from the areas on those two countries that are most impacted by gang violence.
Those who make it through the journey generally try to enter the U.S. somewhere along the southern border. Many have family members already here waiting for them, with whom they hope to reunite. Often these kids present themselves to CBP officers or Border Patrol agents, who then take them into custody.

And some of those officers and agents allegedly mistreat these already traumatized kids in unconscionable ways.
The documents that form the basis of the report are, as the authors put it, "filled with terror and abuse in COB custody." They were written as reported by children to clinicians in advocacy organizations in the course of post-release physical and psychological evaluations.
"At best," states the report, "this about amounts to unprofessional, degrading mistreatment of vulnerable minors. At worst, the abuse amounts to unlawful and potentially criminal misconduct by federal immigration officials." And the documents show that this reported abuse occurs at each stage of a child's interaction with CBP, from apprehension to detention to deportation. And it is not limited to one state but occurs in California, Arizona, Texas, and also in the interior of the United States.
According to the report's authors, these ACLU-aquired documents also reveal "DHS's complete institutional failure to investigate or address suspected child abuse." There is no evidence that DHS has "taken any action to address or rectify this pattern of abuse," they write.
To the contrary, urgent intervention is needed to protect immigrant kids from the "mistreatment, abuse, and violence that is otherwise bound to recur."
You can read the ACLU documents containing the complaints used in the report for yourself here. And the full set of FOIA'd documents are archived here.