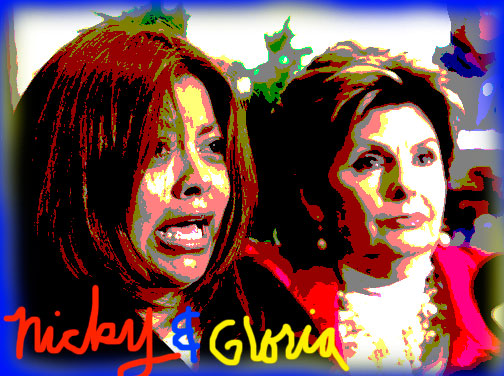 Okay, so Meg Whitman's housekeeper of 9 years duration turns out not to have been legally here in California.
The housekeeper, Nicandra Diaz Santillan, or Nicky, as her new attorney Gloria Allred calls her, says that there's no way Whitman could not have known—or at the very least, strongly suspected all these years that she was illegal.
The smoking gun—if there is smoke and/or a gun—is supposed to be letters that the Whitman's may or amy not have received from the Social Security Administration as far back as 2003, informing them that Diaz Santillan's SS# didn't match up with her name.
Diaz Santillan says she saw at least one of the letters open in the house. Whitman says that she and her husband got no such letters and that they were utterly blindsided when Nicki came to them in June of last year and confessed her status—at which point they terminated her, feeling that they had no choice but to do so.
Okay, all this you likely know already.
So here's my question, if Nicky is telling the whole truth and nothing but, why in the world didn't Allred get a copy of at least one of the damned letters from the Social Security Administration before holding a press conference?
My inner evil twin would really like to believe that Whitman is this much of a hypocrite, as I don't want to see her elected governor. And, hey, perhaps it is true.
But perhaps not. And putting the burden of proof on the accused—aka Whitman—as Allred attempted to do on Tuesday when she waved around the accusation to reporters, is not how our justice system works (at least that's not how it's supposed to work), nor should it be the way we carry on with our public—or our political—discourse.
One would like to think that attorney Gloria Allred knows that.
Here's the LA Times story on the matter. And here's the story from the AP.
---
AND WHILE WE'RE ON THE SUBJECT OF WHITMAN AND JERRY BROWN,
The California Attorney General's office (that would be Brown's office) stepped in late on Wednesday afternoon and called off the execution of Albert Greenwood Brown Jr., scheduled for Thursday, September 30 at 9 p.m., The AG's office caved after the California Supreme Court ruled that the state's protocol for lethal injection has not been adequately sorted out.
Everyone will take up the matter again next year when the CDCR has a new supply of drugs for the lethal three-drug cocktail, and there is more time to sort out the various appeals.
Or as the Fresno Bee put it:
There will be no executions in California until next year at the earliest because prison officials looked in the medicine cabinet the other day and noticed that its supply of one of the drugs used for lethal injections expires Friday, and more will not be available until 2011.
---
MEANWHILE ELSEWHERE IN THE WORLD OF JURISPRUDENCE, THERE IS……SCOTUS
CNN'S Supreme Court producer Bill Mears has a rundown of five of the biggest case that the Supremes will here in the upcoming 2010-2011 term—including the constitutionality of the AZ immigration law, the rights (or lack thereof) of vile creeps to disrupt military funerals, an intriguing death penalty case, a schools and religion case and, from California, a free speech dispute over one of our state laws that bans sale of violent video games to children.
And there are likely to be more legally juicy cases as the year wears on.
Naturally, we will be staying tuned.