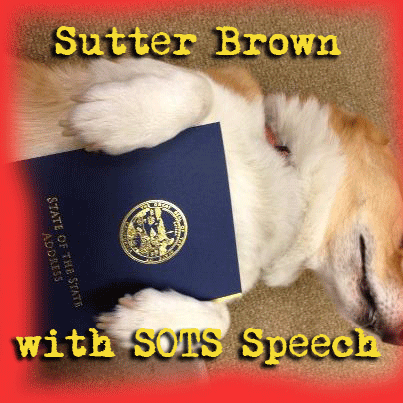 GOV. JERRY BROWN'S STATE OF THE STATE ADDRESS
Governor Jerry Brown's state of the state speech, delivered Thursday morning was inspired and inspiring, quirky, literary, with Old Testament flourishes, and mostly policy-free, but it set the tone for a clear direction. "A political speech like no other," wrote Steven Harmon of the Oakland Tribune, " "delivered by perhaps the one politician who could pull it off."
The speech has been analyzed by every newspaper around the state, so rather than add to that stack I've simply reproduced a few of my favorite snippets, all of them pertaining to education.
We seem to think that education is a thing–like a vaccine–that can be designed from afar and simply injected into our children. But as the Irish poet, William Butler Yeats said, "Education is not the filling of a pail but the lighting of a fire."
This year, as you consider new education laws, I ask you to consider the principle of Subsidiarity. Subsidiarity is the idea that a central authority should only perform those tasks which cannot be performed at a more immediate or local level……Subsidiarity is offended when distant authorities prescribe in minute detail what is taught, how it is taught and how it is to be measured. I would prefer to trust our teachers who are in the classroom each day, doing the real work – lighting fires in young minds.
With regard to higher education:
….tuition increases are not the answer. I will not let the students become the default financiers of our colleges and universities.
About giving schools and school districts extra funds based need.
This formula recognizes the fact that a child in a family making $20,000 a year or speaking a language different from English or living in a foster home requires more helpEqual treatment for children in unequal situations is not justice.
In case you didn't see or hear Jerry's speech, here's the full text.
---
AND SPEAKING OF EDUCATION, THIS INNOVATIVE PROGRAM AT AN OXNARD ELEMENTARY SCHOOL, HAS LOWERED SCHOOL SUSPENSIONS DRAMATICALLY, AND RAISED TEST SCORES.
Jason Formanek at the Ventura County Reporter has the story. Here are some clips:
The recent tragedy in Newtown has sparked heated debates about gun control and school-related violence. There is a lot of talk, but what's actually being done?

"In light of what happened in Connecticut, everybody's talking about security," said Anna Thomas, principal of Marina West Elementary School in Oxnard. "We have to be proactive and look at how we're preventing those sorts of things."

To do this, Marina West has incorporated an educational program created by Lesson One, a Boston-based nonprofit foundation, into its daily curricula. The program teaches students accountability, self-control and resiliency.

"Each of these skills is equally important, they're sequential," said Jon Oliver, program founder and author of Lesson One: the ABCs of Life. "It's like saying any letter in the alphabet is more important than the others. We need all the skills together."

[SNIP]

The Substance Abuse and Mental Health Services Administration (SAMHSA) branch of the U.S. Department of Health and Human Services recently recognized the program on its list of evidence-based practices for mental health.

Locally, McKinna Elementary has seen an 80 percent reduction in suspensions and a 13 percent increase in standardized test scores since implementing the program. As a result, the Oxnard School District Educational Foundation hopes to bring the program to additional schools.
---
LIGHT POSTING TODAY. HAVE A GREAT WEEKEND!