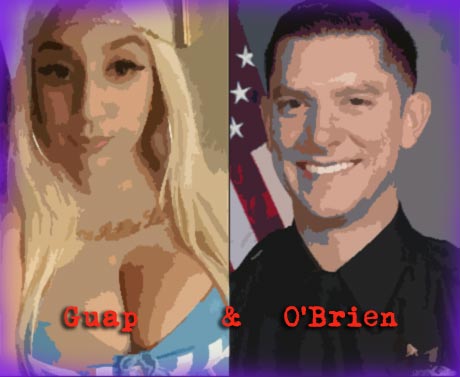 IN THE MIDDLE OF A SHOCKING OAKLAND POLICE SEX SCANDAL, MAYOR SACKS INTERIM PD CHIEF
On Wednesday, amid a major Oakland Police Department scandal involving 14 OPD officers and the alleged sexual exploitation of a minor, Mayor Libby Schaaf removed interim Chief Ben Fairow from office—just six days after the former chief resigned.
Mayor Schaaf said she received new information earlier in the week that convinced her to oust Fairow. Because of law enforcement personnel privacy laws, Mayor Schaaf did not reveal precisely why she removed Fairow. "I own the mistake I made," Schaaf said. "The important thing is I'm trying to fix it and fix it quickly."
If you've missed the Oakland sex scandal story elsewhere, here are the basics:
Last week, a teen who calls herself Celeste Guap told a television station that she had sex with more than a dozen OPD officers, three of whom she reportedly had sex with while she was 17—in 2014.
Guap only named one officer, Brendan O'Brien, who committed suicide last year. The young woman, whose mother works for the OPD as a dispatcher—says the officers kept her safe while she worked the streets, and kept her informed about undercover stings. In exchange, Guap says, she had sex with them.
Following O'Brien's suicide, the OPD (quietly) launched investigations into sexual misconduct within the department. Two officers have resigned, and three more are on paid leave. The scandal isn't contained within the OPD either: Guap says she had sex with officers from other departments, including San Francisco, Richmond, and Alameda.
Guap says many of the cops knew she was underage, and evencalled her "juve."
DA inspector Rick Orozco was also placed on administrative leave, after Guap said she had an online friendship with the inspector (then a OPD captain) while she was still a minor. Guap says that at one point Orozco told her, "I would love your taco!"
Guap also says she talked with former OPD Chief Sean Whent's wife, Julia, via Facebook last year, and that the woman knew she was "dating an officer." Whent resigned last week.
Brendan O'Brien fatally shot himself on September 25, 2015. A year earlier, on June 16, 2014, O'Brien's wife, Irma Huerta Lopez, died in the same apartment. According to the coroner's report obtained by the East Bay Express, Huerta Lopez's death was ruled a suicide, but both Huerta Lopez's and O'Brien's coroner's reports call Lopez's death suspicious. Lopez's family believes O'Brien killed his wife, and that the OPD did not thoroughly investigate the death. In his suicide note, O'Brien reportedly wrote that he had been battling PTSD from his time as a marine, and due to the scrutiny from the OPD and Huerta Lopez's family after her death. O'Brien's note said he had been drinking a lot off duty and on duty.
Before the scandal broke, the OPD seemed to be getting closer to ending 13 years of federal oversight (which came about because of misconduct within the department).
On March 23, US District Judge Thelton Henderson pulled the plug on the OPD's problematic internal investigation. Detectives violated procedures while investigating the sexual misconduct case, according to Henderson. The judge ordered Robert Warshaw, the court-appointed independent monitor to conduct the investigation, moving forward.
The new acting OPD chief Paul Figueroa is sort of an interim-interim, installed Wednesday for the very short term, until Schaaf can find an interim chief to serve while she searches for a permanent chief from outside the department.
The East Bay Express's Darwin Bond Graham and Ali Winston have the full story, which at 5 pages is quite the longread, but well worth your time. Here's how it opens:
Celeste Guap was only seventeen in February of last year when a pimp chased her down International Boulevard. She spotted an Oakland police car and approached for help. That's when she met officer Brendan O'Brien.

"He saved me," Guap said of the lanky ex-Marine, who joined the Oakland Police Department in 2013 after graduating from the 166th police academy.

Rather than detaining Guap as a victim of human trafficking and turning her over to guardians, she said O'Brien released her. "We flirted a little," she recalled, adding that she told O'Brien her mother was a dispatcher in the department.

Two weeks later, Guap saw O'Brien on patrol again in East Oakland. He and his partner were making an arrest near a taco truck. She struck up a conversation and they exchanged numbers. Shortly afterward, O'Brien and the girl began "dating" — a word Guap used to describe their relationship.

Guap said she had sex with the Oakland police officer numerous times while she was a minor.

The OPD and other East Bay law-enforcement agencies have positioned themselves as national leaders in the fight against human trafficking and the sexual abuse of children. But O'Brien and other East Bay cops betrayed this reputation with their exploitation of Guap. Officers trafficked her among their ranks and used the minor for sex for half a year.

The scandal is unprecedented: According to multiple sources close to the department and the city of Oakland, and documents obtained by the Express, at least fourteen Oakland police officers, three Richmond police, four Alameda County sheriff's deputies, and a federal officer took advantage of the teenager. (The Express is not publishing her real name because she was a minor when her abuse began.)

Three Oakland police officers committed statutory rape of Guap when she was under-age. By the state's legal definition, they engaged in human trafficking. The victim says every law-enforcement agent who had sex with her knew she was a sex worker.
---
LA STRUGGLING TO STOP HOUSING FOSTER KIDS BEYOND TIME LIMIT AT TEMP SHELTERS
As part of a settlement in a lawsuit challenging "overstays" of foster children at two problematic Welcome Centers meant only to hold kids for one day after they are removed from their families, the LA County Department of Children and Family Services moved kids to four private temporary group homes with 72-hour stay limits.
The Youth Welcome Center and the Children's Welcome Center—where kids were meant to stay for less than 24 hours, but instead became a sort of purgatory for hard-to-place kids—were closed back in February. Unfortunately, because of a severe lack of available foster families, kids are staying too long at the new emergency shelters. And at one point, when the shelters were full, children were moved back into the closed Welcome Centers.
Before it was shut down, the Youth Welcome Center, in particular, had become mired in controversy, with kids getting into brawls, staff complaining about not enough bathrooms for children's needs and privacy, as well as rumors about younger residents being recruited for sex trafficking by older residents at the center.
At the state level, Governor Jerry Brown signed a bill that will overhaul counties' child welfare placement systems, by eliminating traditional group homes, and focusing on long-term placements with foster families. The changes are slated to go into effect by January 2017. But what will happen to LA County's high-needs foster children when the long-term group homes vanish? In a story for WitnessLA, USC Annenberg School of Communication and Journalism students Sara Tiano & Brittany Reid explored the issue in a story for WitnessLA.
Come 2017, the current controversial group home model will be thrown out in favor of short-term residential treatment centers (STRTCs) which will have to meet much higher standards of care than today's group homes. Kids placed in the STRTCs will stay a maximum of six months while receiving specialized therapeutic treatment for mental health and other needs. A certain number of those (STRTCs) will be geared toward helping kids involved in both the child welfare and juvenile justice systems.
The Chronicle of Social Change's Elizabeth Green has more on the complicated issue. Here's a clip:
In 2014, roughly 7 percent of youth overstayed at the Youth Welcome Center, and 16 percent overstayed at the Children's Welcome Center. At the new transitional shelters, there were 646 entries in March and April, and about 18 percent of those, or 118, were there for more than 72 hours, Montiel said.

Montiel stressed that comparing overstay rates between the two systems is comparing apples and oranges because now the definition of an overstay has changed. In addition to the new 72-hour limit, children are now staying at the facilities during the day while their social workers look for an appropriate foster home. Before, a youth may have left the Welcome Center for the day and the clock would have restarted upon their return.

But Montiel said the hardest-to-place children are still the ones most likely to stay past the new 72-hour limit.

"It remains difficult to find sufficient homes for those babies and infants, for those sibling groups, and for those teenagers that have challenges remaining in a stable home," Montiel said. "And those difficulties are not going to change overnight."

Even with the longer window of time, the overstay rate reinforces the need for more foster homes in which to place these children. Dr. Astrid Heger, a clinical pediatrician who helped create the two welcome centers, is familiar with the challenges of working with hard-to-place children. Her clinic continues to provide medical screenings to children during off-hours before they are taken to a placement.

"Overstays aren't a result of 24 hours or 72 hours, they're a result of not having enough places to put kids downstream," Heger said.