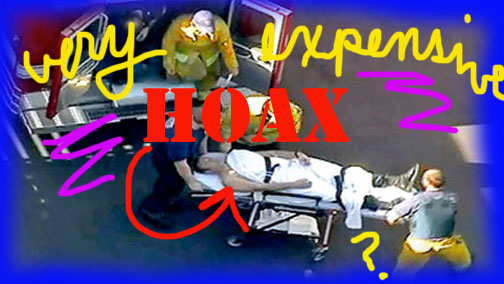 Police are being shot—and in too many cases killed-–in rising numbers around the country.
But such was NOT the case in the shooting of the LAUSD officer at the perimeter of the El Camino Real High School.
At—as the LA Times described it, —a hastily called press conference by the LAPD, at 9 p.m. Thursday night, Chief Charlie Beck announced that, in fact, there was no shooter. The school police guy, Officer Jeff Stenroos, made up the whole thing, one presumes to cover for the fact that he shot himself, although that part is not yet entirely clear.
P.S. And do remember that this faux "shooting" resulted in a giganzoid LAPD tactical alert in order to mount a massive, 300 plus officer search effort for the fictional cold-blooded mo-fo whom we all believed heartlessly shot a school police cop. That little prank cost our budget-challenged city a whole hell of a lot of money.
The LAPPL—the police union—issued a quick and very forceful apology for Mr. Stenroos' behavior, even though the union does not represent LAUSD officers. The statement, which quotes LAPPL Prez Paul Weber, reads in part:
"The Law enforcement community is disgusted upon learning that Mr. Stenroos filed a false police report and apparently may have shot himself. His lies set into motion the largest search for a suspect in recent history and inconvenienced thousands of people for hours. While Mr. Stenroos is a disgrace to the badge, his individual and dangerous actions should not reflect on the hard working men and women in law enforcement. On behalf of all in law enforcement, we want to apologize to the public that a police officer would intentionally betray all of our trust. If these allegations are proven true, Mr. Stenroos is now where he belongs, behind bars."
You got that right.
After the news broke, I talked to some LAPD officers who work at one of the Valley Bureau divisions closest to El Camino High School, and they were as flabbergasted as the rest of us. "Yeah," one sergeant said. "We were pretty shocked. And we don't know any more than what's been on TV. Like everyone else, we're waiting for the rest of the story to unfold. We're just glad it's not one of ours."
When asked how much the hoax had cost the department he said that the final number has probably not been calculated as yet. "They'll do what's called an 'after action report' to determine that. I wouldn't want to estimate, but I can just tell you, it cost a lot."
The full statement from Chief Beck is after the jump:

This evening, Detectives with the Los Angeles Police Department's
Robbery Homicide Division (RHD) arrested Los Angeles Unified School District Police Officer Jeffrey Stenroos on one felony count of filing a false police report, a violation of
Penal Code Section 118.1.

On January 19, 2011, the LAPD responded to and launched an extensive investigation after Officer Stenroos reported a burglary suspect attempted to murder him by shooting him in the chest, while he was on patrol near El Camino High School in the San Fernando Valley.

The current state of the investigation refutes Stenroos' initial account of the incident and we are now certain that there is no outstanding suspect in this shooting.

RHD Detectives worked tirelessly to ensure the case was thoroughly investigated and the community was not at risk. Detectives followed up on more than 350 clues, conducted a number of neighborhood canvasses, made hundreds of community contacts and distributed countless Community Alert Notices in hopes of gathering any valuable leads in the case.

While I understand the media and the public's intense interest in this investigation, and the desire for answers to the many questions that will be asked with this new development of the Officer's arrest, I cannot provide more detailed information at this time.