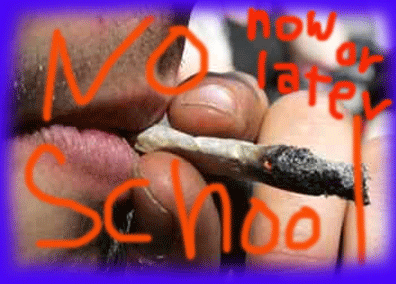 In 2001 Education Week told this story about the Bush Administration's decision to be hard core in its enforcement of one part of the Higher Education Act.

When police found a small amount of marijuana residue in her car the day before her 19th birthday, Marisa Garcia was handed a ticket and sent on her way. After she was convicted of drug possession and paid a $415 fine, Ms. Garcia thought the incident could be put behind her.

But the California State University-Fullerton student later discovered that her minor scrape with the law had cost her much more: Ms. Garcia ended up losing her eligibility for federal student financial aid because of a change three years ago in the Higher Education Act.

"It was the first time I had ever been in trouble with the law," said Ms. Garcia, who worked extra hours in a flower shop and turned to her family to help pay her tuition and expenses. "When I found out that if I was a murderer or child molester I would still be eligible, I really got mad."

Hard to blame her. With cases like Garcia's in mind, college students, financial-aid associations, and civil rights groups have been working since then to challenge or overturn the provision—with no luck. (335 organizations from American Association of Collegiate Registrars and Admissions Officers to the United Church of Christ favor overturning it.)

According to Ed Week, even Republican Congressman Mark Souder, the guy who introduced the 1998 legislation, has indicated that the law was never intended to "reach back" and affect students with past drug convictions. It was meant, said Souder's office, to derail applications if kids were convicted of drug crimes while they were applying for aid. (An explanation that has its own illogic, but whatever.)

Yesterday one of the constitutional challenges to the law finally had its day in court, but the 8th Circuit Court of Appeals rejected it. A new Ed Week blog post has the details (and here's the ruling itself).

Constitutionality aside, why in the world would we want to punish a kid for some past transgression—particularly a kid who is trying to go to college?

Remember that the average high school graduation rate in America's largest cities is at 50 percent, with cities like Baltimore, Cleveland and Detroit graduating even fewer. It would seem that if a kid does graduate and wants to go to college, we should be moving heaven and earth to help.
But instead we've got this idiotic provision that since 2001 has reportedly denied aid to approximately 200,000 students.

These are the days when I start to think some of our lawmakers really don't like our nation's children very well.

PS: And how has the media covered the story? Other than Ed Week and the wonkiest law blogs—I've found nothing. (Obviously, there are more important topics to explore.)