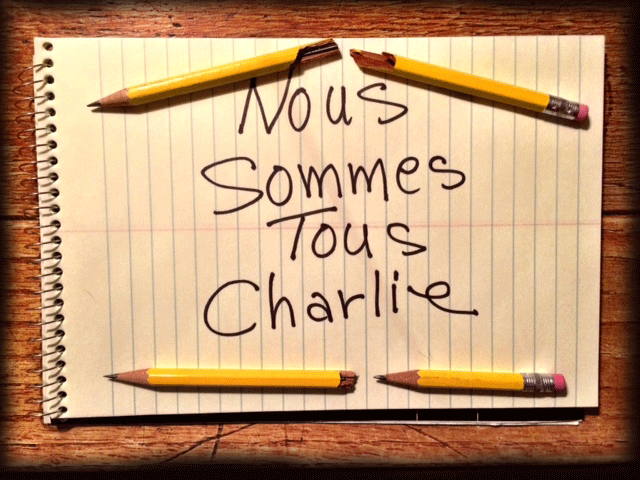 As certainly everyone reading this knows by now, gunmen attacked the offices of well-known French satirical magazine Charlie Hebdo on Wednesday morning in Paris, killing 12 people, including the magazine's editor and four celebrated cartoonists—one of them 76-years-old, another 80—along with two police officers who rushed to attempt to protect the publication's staff.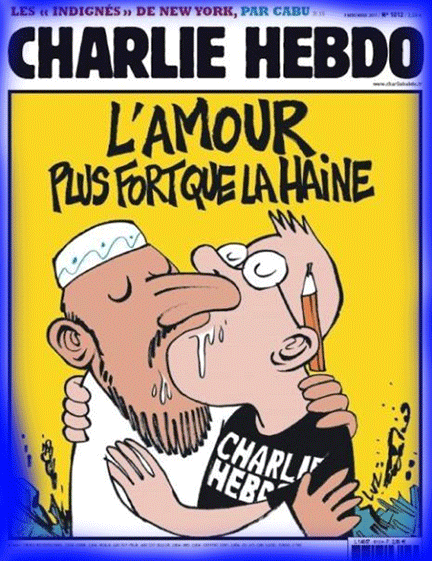 It was not the first time that the magazine had been attacked. In 2011, the Charlie Hebdo offices were firebombed because of cartoon images they had printed depicting the Prophet Mohammed in less than flattering terms. Yet, in keeping with the irreverent ethic that had guided the publication since its founding in the 1960s, the Charlie Hebdo staff didn't back off an iota. Instead, six days after the bombing, the magazine's cover featured a drawing of one of its male cartoonists kissing what appeared to be a bearded Muslim man under the headline that translates as, "Love is Stronger Than Hate."
Comedy shouldn't be an act of courage, said Jon Stewart when he talked about the magazine massacre on his Wednesday night show. For the men and women of Charlie Hebdo, of course, it was.
Repeatedly.
---
Artwork at top of page by WitnessLA. Magazine cover from Charlie Hebdo.